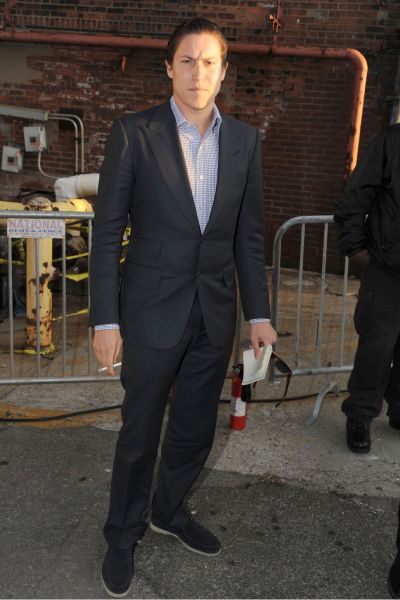 In possible "canoodling" news (if there even is such a thing), independent curator and contemporary art dealer Vito Schnabel, 29, had his picture snapped recently for gossip tabloid Star. He was spotted at the White Horse Tavern in the West Village while chatting up a woman who just may be  50 Shades of Grey star Dakota Johnson (who will always be Don Johnson's daughter to us).
The dashing art world personality currently dates supermodel Heidi Klum, 42—or does he? 
While the phone pics sent to Star magazine don't even show this mystery woman's face, the tattoo was the giveaway here, since Ms. Johnson has a tattoo on the back of her neck that looks similar. The mag reports the two people were holding hands.
 Mr. Schnabel, who is the son of superstar painter and film director Julian Schnabel, has been working as a curator since he was 16 years old, both in New York and across Europe. He recently opened the Vito Schnabel Gallery, his first permanent gallery space, in the former Galerie Bruno Bischofberger building in St. Moritz, Switzerland.
Mr. Schnabel has reportedly been dating supermodel Ms. Klum since February 2014. He has been linked to Mary-Kate Olsen and, briefly, to Demi Moore, in the past.
Here's the kicker to this story: The spy told Star that the couple left the bar and headed off "in the direction of Schnabel's West Village residence."