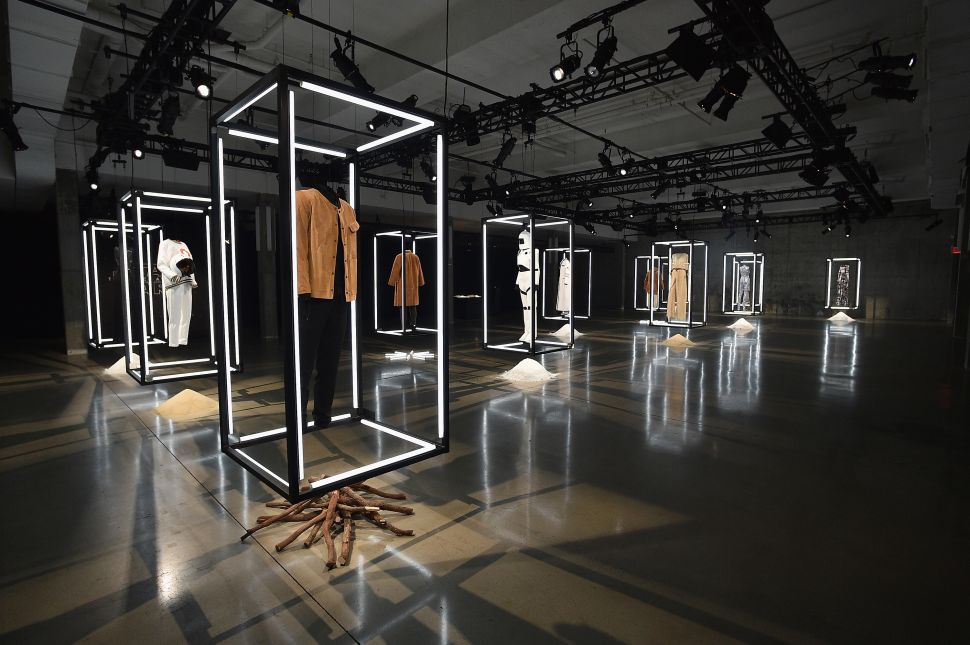 Gamer geeks and movie buffs aren't the only ones excited for the newest installment of the Star Wars saga. To add to the hype of The Force Awakens, due out December 18th, a slew of notable fashion names have teamed up with George Lucas' billion dollar franchise to reinterpret the cornerstone characters of the film as well-heeled, and deep-pocketed, fashion folk sporting one-of-a-kind wares. Following last night's reveal, which was attended by a handful of the actors including Lupita Nyong'o, Daisy Ridley, and John Boyega, the looks will be auctioned off to benefit The Child Mind Institute in partnership with Bloomingdales.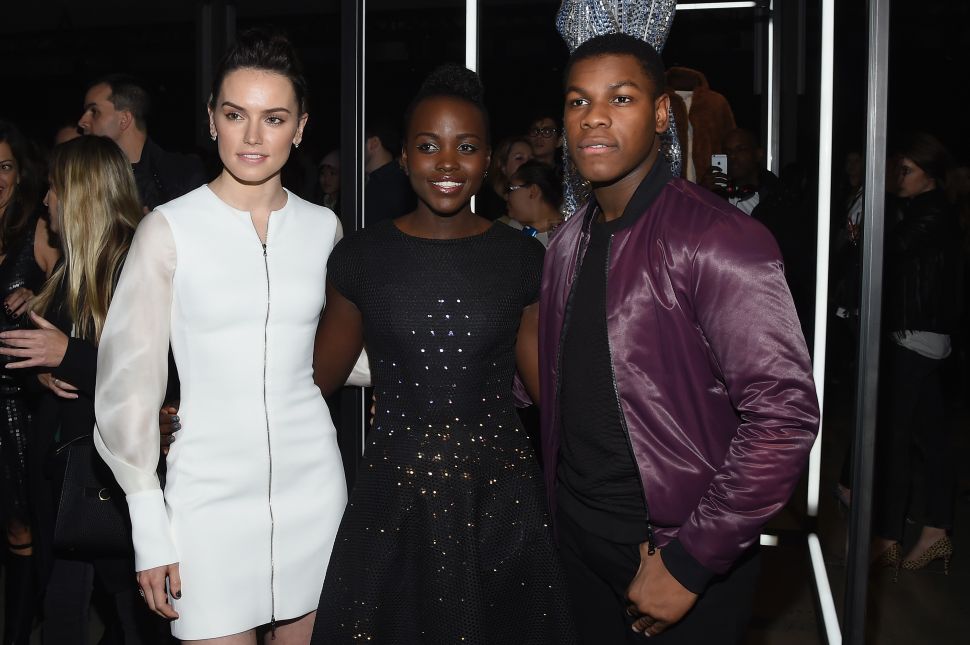 The designers involved in the project range from the storied, like Diane von Furstenberg who offered up a simple, flowy gold frock for Daisy Ridley's character Rey, to the relative newcomers like Parker. The womenswear brand founded in 2008 crafted an impossibly ornate body suit, hand-beaded for over two weeks, to outfit the first female storm trooper, Captain Phasma, played by Gwendoline Christie. Gilles Deacon produced a long sleeved double georgette gown with an all over print inspired by Ms. Christie's character too. Naturally, the actress, who also happens to be a best pal of Mr. Deacon, wore the frock first for an exclusive spread for Vanity Fair.
The revived 60s staple Halston, helmed by Marie Mazelis, outfitted Kylo Ren in a sleek black column dress, complete with headpiece, for the off-duty villain. "I wanted to show the intertwining of power and emotion," Ms. Mazelis said. "We know Kylo Ren won't just be a one-note villain."  One half of the rag & bone design duo Marcus Wainright also produced a look inspired by Rey, while his counterpart David Neville was aptly tasked with outfitting Rey's counterpart, Kylo Ren, played in the film by Adam Driver. "For Kylo Ren, we envisioned what he would wear walking the streets of the Meatpacking district," Mr. Neville said.
Menswear favorites Todd Snyder and Billy Reid both produced ensembles in homage to Chewbacca with luxurious shearling coats. "When we found the skin, which was before we were even approached for the Star Wars project, we had already nicknamed the skin Chewbacca," Mr. Reid said. "So when we were asked to participate, Chewbacca was obviously our first choice of character to create a look around." Mr. Snyder's outerwear harkened to the same fuzzy aesthetic. The designer, whose brand was recently acquired by American Eagle, touted his "Spanish Merino Reverse shearling officer parka" on Instagram ahead of the exhibit's debut. 
Cynthia Rowley, Opening Ceremony, Ovadia & Sons, and Timo Weiland also lent their names to an assortment of bespoke ensembles, along with Covergirl and Kay Jewlers. In addition to an affordable collection of Star Wars-centric baubles due out at the mass jewelry retailer this week, they have also created a gold gilded and diamond encrusted iteration of the BB-8 Droid. While it may stand just 4.25″ high, it is expected to fetch over $135,000 at auction.