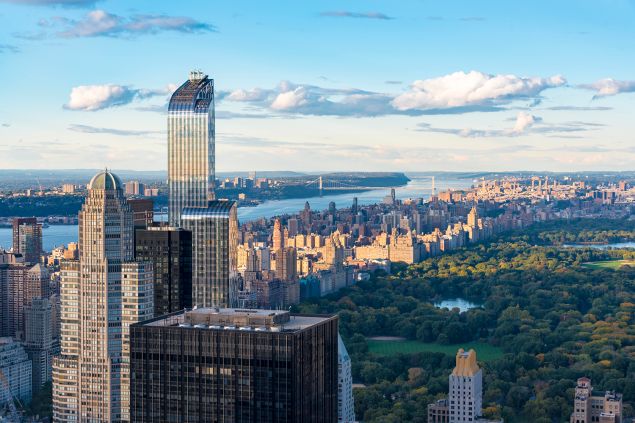 There has been a whole lot of fuss over the innumerable downtown developments this year, with each new condo decked out even more than the last, and each declared to be signaling the true arrival of the neighborhood into the real estate community. The real money, however, has remained right where it has always been: uptown.
In fact, only two of the 20 most  expensive deals of 2015 were located south of 57th Street: Jon Bon Jovi's beleaguered 158 Mercer Street penthouse, and a Greenwich Village townhouse at 16 East 10th Street—and neither made the top 10.
One57 has reigned supreme, with six units in the Extell tower making the list. The legendary $100.47 million sale of a duplex penthouse at One57 actually closed in December 2014, hitting public record the following month, but it led the way for the multitude of other over-the-top, seemingly endless One57 sales in 2015.
Another One57 penthouse topped the list for 2015, at $91.54 million. Maybe we'll see it again next year, since it's allegedly going to be back on the market at some point in the near future—it purchased as a "fun" investment.
While only four of the most expensive deals this year were co-ops, the second and third place spots were both taken up by Fifth Avenue co-ops. Both sold, surprisingly, to foreign buyers, perhaps signaling something of an adjustment in the attitudes of co-op boards.
"Co-op apartments at that level, there are very few," Brown Harris Stevens president Hall Willkie told the Observer, "and they rarely come on the market. Co-ops are still the majority of the market, and high-end co-ops are so desirable. When they are properly priced to sell, they sell well."
The previously unchallenged 15 Central Park West suffered a bit of a setback. Its $88 million penthouse sale once seemed untouchable, but what a difference a year makes! Duplex 1819B sold at a shocking $3 million loss from the purchase price of $48 million in 2014—and it's seen by some as a canary in the coal mine.
"The biggest problem in our market is overpricing," Mr. Willkie said. "There's a softening, but mostly in condos, because there's a lot of inventory coming on. A lot of buildings are being built in that luxury category. When you increase supply, it can have a softening effect."
So, what do we have to expect in coming months?
"We are coming into more of a buyer's market than we have been in a long time," Mr. Willkie said. "Buyers are extremely price-sensitive. It has nothing to do with budget; they are out there and willing to buy, and are signing contracts, but it's only on properties where they feel the price is justified."
On that note, here are the top 20 deals of the year, as compiled by appraiser Miller Samuel.
1) 157 West 57th Street, No. 75
$91.54 million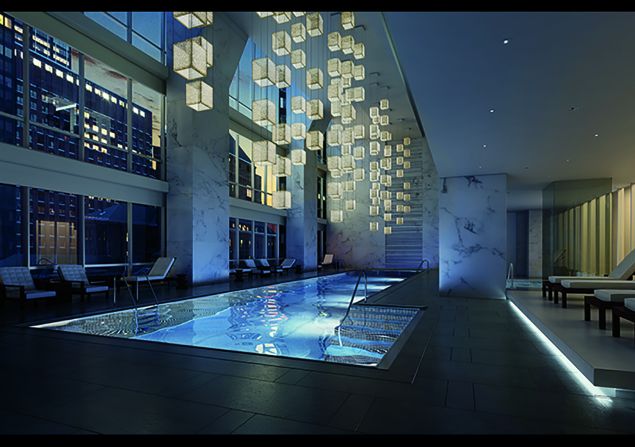 No surprise here—the biggest deal of the year was the purchase of  a 75th- and 76th-floor penthouse at One57 by a group of investors led by Pershing Square Capital Management's William A. Ackman. The "Winter Garden" duplex, so named because of a 2,500-square-foot curved glass atrium that opens up to the sky (and, of course, provides views of Central Park, the Hudson and East Rivers, as well as essentially every other landmark), was initially asking $98.5 million, and then $115 million. Mr. Ackman has said that he thinks he got a deal on the 13,554-square-foot condo, since apartments overlooking Central Park typically go for $10,000 per square foot, while he paid just $6,754 per square foot. A real bargain if we've ever seen one! Mr. Ackman, who lives in the Beresford, doesn't ever intend to actually reside in the six-bedroom, 7.5-bath apartment—no, it's just a "fun" investment for him; the "Mona Lisa of apartments," a potential flip that he believes to be "the best apartment in the world."
2) 834 Fifth Avenue, No. 1112A
$77.5 million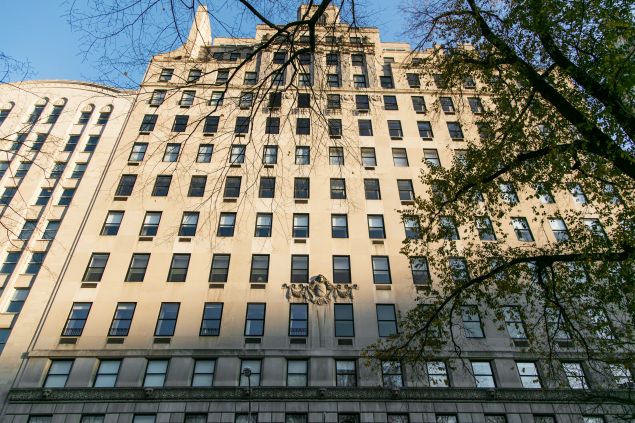 Though it might have taken second place on this list, Johnson & Johnson heir and New York Jets owner Woody Johnson's former duplex took home top honors as the most expensive co-op sale ever made in the city. Serena Boardman at Sotheby's and John Burger at Brown Harris Stevens had the co-exclusive and represented both Mr. Johnson as well as the buyer, Access Industries founder and co-chairman Leonard Blavatnik, and his wife, Emily. The sale of this five-bedroom, 5.5-bathroom knocked off the previous co-op record set last year by Millennium Management founder Israel Englander's $71.28 million purchase at 740 Park Avenue. While the co-op board at 834 Fifth is notoriously difficult, Ukrainian-born Mr. Blavatnik's estimated $19.9 billion fortune may have helped ease the way.
3) 781 Fifth Avenue, No. 1801
$67.5 million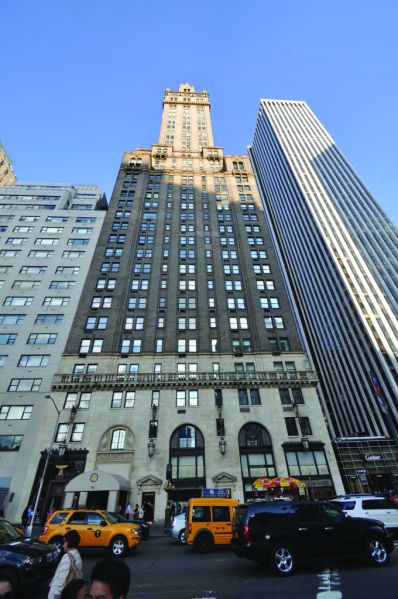 Another Fifth Avenue perch comes up next, and is the fourth most expensive co-op sale ever in the city. (March must have been a good time for co-ops, since the 18th-floor residence at the Sherry Netherland sold just a week before Mr. Blavatnik's purchase.) The full-floor, 9,000-square-foot, fully furnished unit was sold by Gilbert Haroche, a founder of Liberty Travel, reportedly to a Chinese buyer known only as Genever Holdings LLC. (Mr. Haroche died shortly after the sale.) The joint listing between Sotheby's Serena Boardman and John Burger at Brown Harris Stevens didn't get quite the $85 million it was looking for—or the $95 million it was asking in 2012—but the new owne evidently  has high hopes for its value. Less than a year later, the seven-bedroom, eight-bath apartment is back on the market, currently asking $86 million.
4) 21 East 61st Street, Penthouse
$52 million 
Sure, the six-bedroom, 6.5-bath penthouse at Extell's Carlton House didn't quite get the $65 million asking price, but fourth place on our list isn't so bad! It's also the second unit in an Extell project on this list, so continuing on with the year of Gary Barnett…Anyway, the 8,988-square-foot duplex was purchased by a buyer hidden behind a limited liability company entitled Azalea Holdings, so if the name is any indication, perhaps they will choose to adorn the two levels of wraparound terraces and roof deck with some nice florae.
5) 25 Columbus Circle, ST Penthouse 7
$50.92 million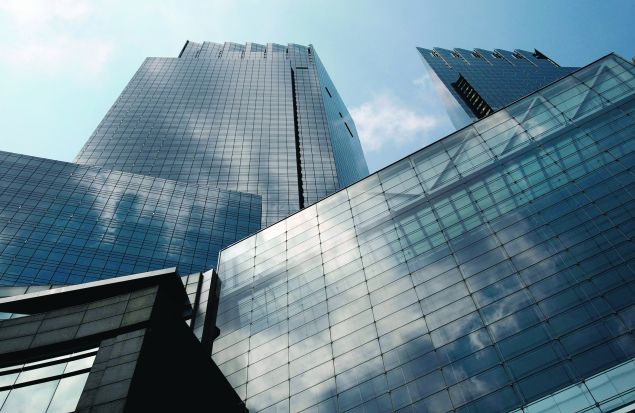 Russian financier Andrey Vavilov's penthouse set its own record as the most expensive condo ever sold at the Time Warner Center. Mr. Vavilov and his wife, Maryana Tsaregradskaya, purchased the full 78th floor in 2009, after which the unit underwent renovations and a design makeover by Tony Ingrao. The six-bedroom, 8.5-bath apartment has floor-to-ceiling glass windows—after all, how else would one be expected to see the four exposures from such a perch? The Vavilovs put the 8,274-square-foot spread on the market for $75 million, but eventually must have come to the realization they were being a tad ambitious. They relisted with Paula Del Nunzio at Brown Harris Stevens and accepted an offer from a highly descriptive entity known as Columbus Family, LLC.
6) 157 West 57th Street, No. 77
$47.78 million
The full 77th floor went into contract at the beginning of 2012, but didn't close until this year because, as broker Robert Dvorin told the Times, the buyer was having custom upgrades installed. Apparently, this four-bedroom, 5.5-bath unit simply wasn't luxurious enough as is. Mr. Dvorin, who was at Town Residential when he made the all-cash sale, said that his client was especially attracted to the views. The buyer, Unit 58A Acquisition Corp, is planning on using the 6,240-square-foot condo as a pied-à-terre, so we can only imagine what his or her permanent residence must look like.
7) 157 West 57th Street, No. 88
$47.367 million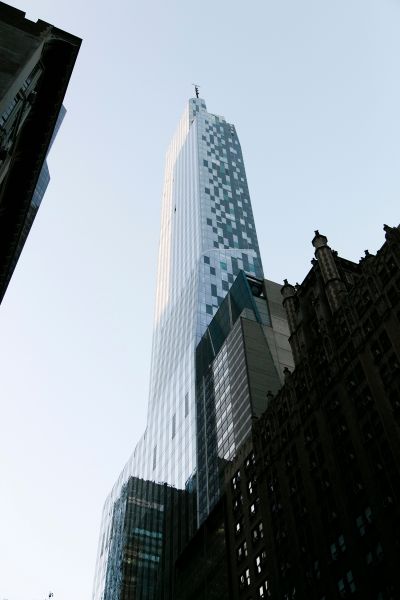 Another full-floor aerie, another foreign buyer, another limited liability company. Pac Wholly Own LLC bought this four-bedroom, 5.5-bath 88th floor unit, spread out across 6,231 square feet. The Times reported that the LLC is associated with the Pacific American Corporation, also known as the New York subsidiary of the HNA Group, which is one of China's largest private airline companies. Then, perhaps just to keep us on our toes, Pac Wholly Own "traded" the unit off to PAC Air, LLC, for the princely sum of $0, signed for by Dong Jiang Li, whose address is listed as the same suite in 225 Liberty Street that is associated with Pacific American Corporation.
8) 157 West 57th Street, No. 86
$47.3669 million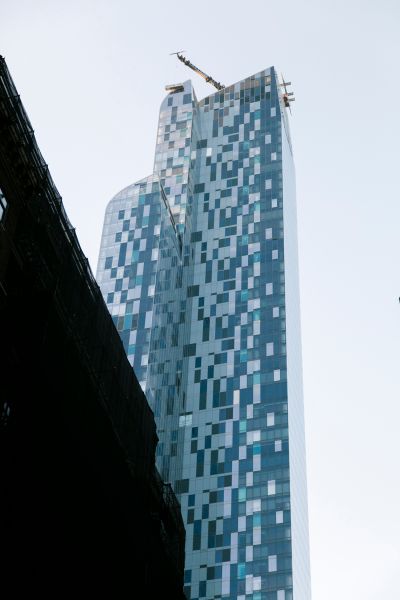 In something of a prequel to the above, another Chinese buyer selected this floor-through four-bedroom, under the exquisitely chosen LLC named One57 86. A $30.2 million mortgage taken out on the 6,236-square-foot property, however, identified the buyer as Guoqing Chen, who, along with his brother, Chen Feng, is one of the founders of HNA's Hainan Airlines. The mortgage also names Pacific American Corporation, of which Mr. Chen is both a vice chairman and chief executive. Extell Marketing Group exec Graham Spearman told the Times that the buyer "likes to be very high above the clouds," so the view from the four-bedroom, 4.5-bath property is sure to have been an enticing factor.
9) 15 Central Park West, No. 1819B
$45 million 
For a time, Robert A. M. Stern's "Limestone Jesus" had an almost mythic quality about it: its resales were astonishing, and it set a then-record in 2011 with its infamous $88 million penthouse sale. Oh, how times have changed. Not only has 15 CPW lost the title as home of the most expensive condo sale, but this duplex actually sold at a loss. While $45 million is no small feat, it's less than impressive when noting the 18th and 19th floor unit was purchased for $48 million just one year ago. Janice Chang at Douglas Elliman had the listing, which first asked $65 million, then $59.5 million, and finally the comparatively paltry sell. What could be so bad that a Chicago-based LLC known as 15 CPW PHB (signed for by Phengphian Laogumnerd, the manager of Thailand-based Songkhla Finishing Co.) was so desperate to unload the 5,610-square-foot five-bedroom at a $3 million loss? Was it the internal elevator? The 392-square-foot terrace? Perhaps it simply wasn't enough, and the new owner, with the slightly more imaginative name of Evergreen 15 CPW, hasn't deemed it right to live in, either—it is listed as a $125,000 monthly rental.
10) 1355 First Avenue, Penthouse One
$37.94 million 
Yet another record was set when a mystery buyer (shocking!) bought a three-apartment penthouse combo spanning the top four floors of The Charles, in the most expensive sale ever for a home on the Upper East Side east of Third Avenue. Corcoran's Beth Benalloul represented the American buyer, known as CRE Acquisition LLC, which is planning on creating a custom configuration of an eventual 11,740-square-foot quadruplex with 1,300 square feet of private terraces, a dozen bedrooms, and 12.5 bathrooms, as well as a private elevator. Oh, and lest the buyer get lonely, developer Ramin Kamfar said that a relative, Charles NCP LLC, has purchased the two apartments immediately below for $20.7 million.
11) 125/127 East 70 Street, Townhouse
$37 million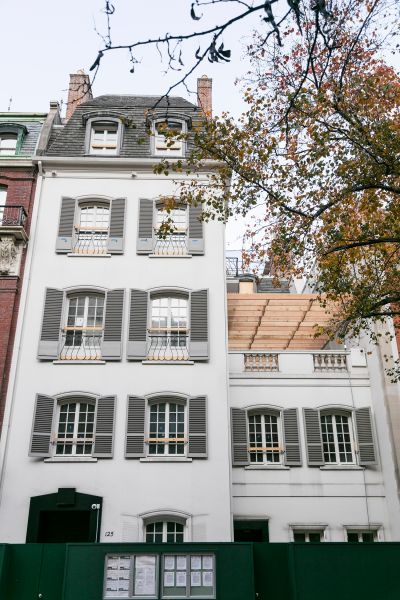 What better way for a townhouse to make its first appearance on the list this year than with the famed 40-foot-wide Mellon mansion? Netscape co-founder and Apple investor James H. Clark, the "comeback billionaire," purchased the eight-bedroom townhome from Irish businessman Tony White and his wife, Clare, who paid $22.5 million for it in 2006 and proceeded to list it for $41 million with Louise Beit at Sotheby's. Paul and Bunny Mellon built the 11,000-square-foot home in 1965, and the late Ms. Mellon, who famously designed the White House Rose Garden and was a close pal of Jacqueline Kennedy Onassis, left her mark with a planted stone courtyard complete with a reflecting pond and gazebo. It wasn't the only home Mr. Clark and his wife, Australian model Kristy Hinze, indulged in this year—they also purchased Ron Howard's $27.5 million Westchester, N.Y., mansion.
12) 775 Park Avenue, No. 12/14
$35.14 million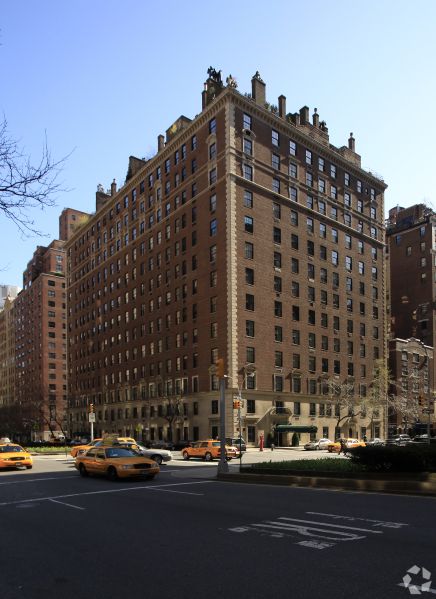 This triplex penthouse, purchased by Elizabeth and Andrew Right, has many attributes, like six bedrooms, eight fireplaces, and an interior elevator, but perhaps its close proximity to Ms. Right's father, Blackstone Group chairman and CEO Stephen A. Schwarzman, and his 740 Park co-op gave the final push to sign on the dotted line. The Rights, who met while at Harvard Business School, snatched up the co-op just a few months after former Morgan Stanley managing director Charles G. Phillips and his wife, Candace, put it on the market with Sotheby's Mary C. Kent, shaving $5 million off the $40 million it was asking.
13) 158 Mercer Street, No. 12M
$34 million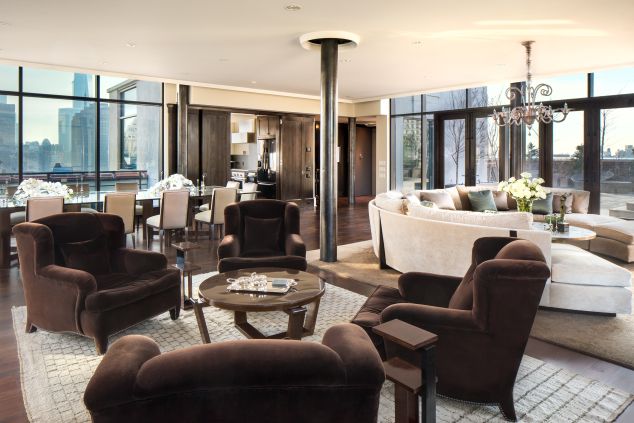 Jon Bon Jovi was living on a prayer as he tried unloading this 7,452-square-foot Soho penthouse: it first listed for $42 million in 2013, then was taken on and off the market and most recently listed with Leonard Steinberg at Compass. Two years and $8 million later, Austrian-American businessman Gerhard Andlinger decided that the price was finally right for the six-bedroom duplex, with its wood-burning fireplace and private deck. Mr. Andlinger's offer came at a good time for Mr. Bon Jovi, since he closed on a condo at 150 Charles Street in September.
14) 1 Central Park West, No. PH51B
$33 million  
One of the first big deals of the year was this penthouse at the Trump International Hotel and Tower. Listed by Corcoran's Cathy Franklin and Alexis Bodenheimer after being "transformed" in a two-and-a-half-year renovation by SLC Interiors and Hottenroth & Joseph Architects, the four-bedroom, four-and-a-half-bath was sold by an LLC called Endicott Holdings, to a mystery buyer known as DLNH and Bean LLC (yawn). The master suite with two bathrooms and a 19-foot-long dressing room, however, sounds quite nice, as do the floor-to-ceiling windows with views of Central Park.
15) 737 Park Avenue, Penthouse,
$32.66 million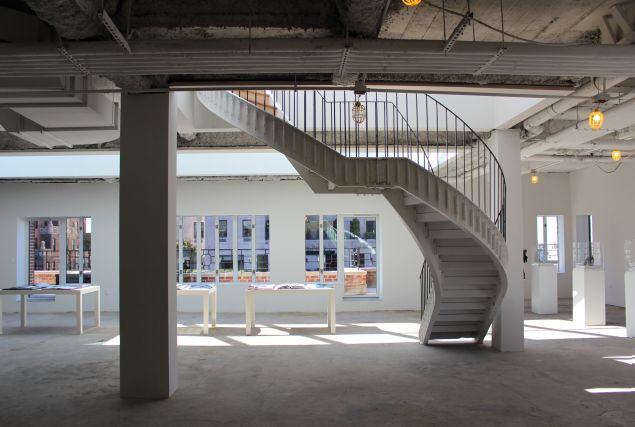 The top floor of Harry Macklowe's ritzy rental-to-condo conversion was sold as a "white box," without any interior walls or finishes, to French-born financier Raymond Svider, the co-chair and co-managing partner of BC Partners. Mr. Svider, who bought a $14.4 million summer home in Water Mill in 2013, plans to make the 6,003-square-foot Park Avenue abode his primary residence, though he has quite a bit of work to do before he can move in. Corcoran's Hilary Landis and Danielle Pessis shared the listing, which does, however, already have a wood-burning fireplace, an 8-by-34-foot skylight, and (approximately) 11-foot ceilings, and the 2,271-square-foot wraparound terrace.
16) 16 East 10th Street, Townhouse
$32 million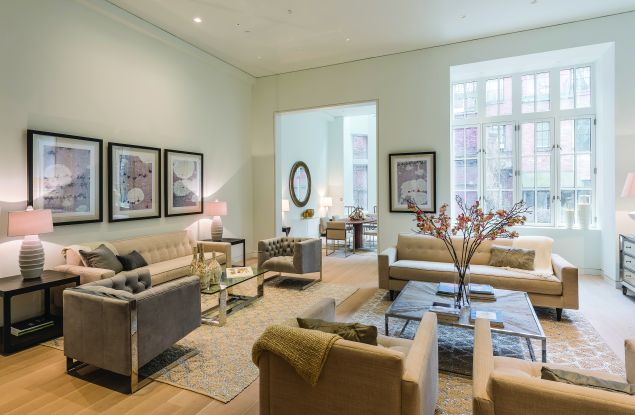 After Sarah Jessica Parker and Matthew Broderick walked away from a contract to buy this Greenwich Village townhouse in 2012, developer David Amirian and his business partner Warren Hammerschlag paid $11.2 million for it. The 10,482-square-foot, 25-foot-wide townhouse was entirely renovated, including the extremely necessary additions of a 27-foot swimming pool complete with a Jacuzzi, and a gym, steam room and wine cellar, and promptly listed for $38.5 million with David E. Kornmeier at Brown Harris Stevens. Mr. Amirian cited a "very strict confidentiality agreement" that prevented him from revealing any information about the mystery buyer, East 10th LLC, of the five-bedroom, 11-bathroom home.
17) 157 West 57th Street, No. 53B
$30.68 million 
Just when you thought you were rid of One57… At least the buyer of this 5,475-square-foot unit is a bit more creative than to some of our other adored limited liability companies on this list, with the name Hebrews 3:4 LLC. It would appear to be a reference to a Bible passage that includes the phrase "For every house is built by some man; but he that built all things is God." Well, this five-bedroom (and five-and-a-half-bath) was built by Extell, but sure. Gary Barnett also said that this buyer is domestic and will be living in the apartment with his family. We'll believe it when we see it.
18) 157 West 57th Street, No. 67A
$30.04 million
Here we go again. The buyer behind this 4,500-square-foot unit looks to be a man also named Dongjiang Li, just like unit 88. From the mortgage taken out from China CITIC Bank International, it seems likely yet another wealthy Chinese investor is behind this three-bedroom, four-and-a-half-bathroom unit, which has, you guessed it, some nice views and is super luxurious. Or, maybe the same investor is an uber fan of One57. Or maybe Mr. Li is just the representative of choice for really rich Chinese investors, who knows…
19) 1040 Fifth Avenue, No. 14A
$30 million 
After a three-year renovation by Shelton, Mindel and Associates, Related CEO Jeff Blau and his wife, Lisa, put their floor-through co-op on the market, attaching a hefty $43 million price tag to the listing held by mother-daughter CORE team Emily and Elizabeth Beare. A private elevator landing, library, 26 windows, a wood-burning fireplace, and the knowledge that Jacqueline Kennedy Onassis once resided just a floor above still did not ensnare a buyer for such a cost. Removing $13 million did, though, or perhaps the planting terrace was what attracted a buyer known as Tulpe LLC—it's German for tulip, in case you were wondering, since flowers are apparently so in this year.
20) 13 East 75th Street, Townhouse
$30 million 
Russian billionaire Roman Abramovich's acquisition of this townhouse marks the final step in his collection of an entire row of townhomes on an Upper East Side street. After spending $29.7 million on 11 East 75th Street and $18.3 million on 15 East 75th Street, he found himself in a bit of a pinch before investor Mark Fife and his wife, Lori, sold him this 17-foot-wide townhome, right smack in the middle. The Post reported that it's all part of the Chelsea Football Club owner's plan to consolidate the three residences into one massive compound. Of course, that's all dependent on the Landmarks Preservation Commission approval—and since all three townhomes are located in the Upper East Side historic district, it seems likely Mr. Abramovich will have to at least retain the facades. His latest purchase makes for a grand total of $80 million spent on the street.