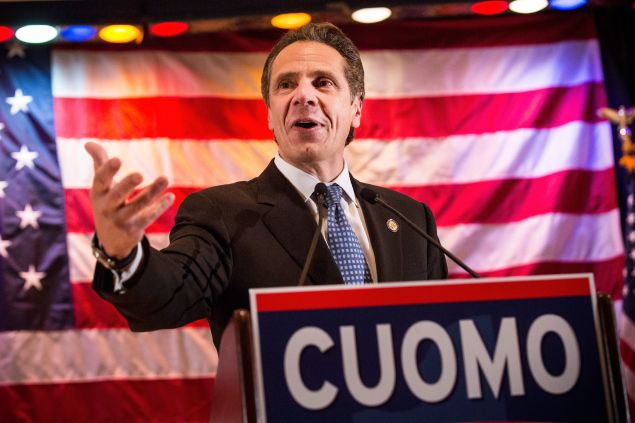 Gov. Andrew Cuomo tore into Republican presidential front-runner Donald Trump's immigration proposals as "un-American" at a pro-immigration convention in Brooklyn today—calling them a product of the 2008 economic collapse and anxieties about terrorism.
Speaking at the National Immigrant Integration Conference, the governor joined the growing Democratic pile-up on the real estate magnate over his controversial calls for a wall along the Mexican border and for a moratorium on Muslim immigration, though he did not mention the Queens-born builder by name. Mr. Cuomo, like many members of his party, attributed the popularity of Mr. Trump's ideas in some circles to fears about economic decline and radical Islamic violence—but argued they represented an attack on the nation's values.
"This is a moment in time that I believe can shake the soul of this country, and the character of this country," he said. "Because the American people are afraid, make no mistake."
Sounding a liberal note, the once fiscally-conservative Mr. Cuomo blamed the recession on "Wall Street bankers [who] ripped off the country." He acknowledged the impact of the San Bernardino and Paris shootings on the American psyche, and said that the "natural instinct" was to "close down," making the population vulnerable to demagogues.
"That natural instinct, that fear, can be preyed upon," he said. "People can say 'I know you're afraid. I know you think we have problems. I have the solution. And it's a nice, simple solution. Here's the solution: we have to stop the immigrants from coming into this country.'"
"And the American people say, 'boy, that sounds great. That sounds great. How do we do it?' 'We're going to build walls. And we're going to keep people out. And we're going to close the gate. And your problems will be over," he continued, pantomiming what he seemed to assert was the Republican response to Mr. Trump's message.
Mr. Cuomo claimed that notion was contrary to New York's history.
"This state is unique in the way it says, 'you want to build walls, we want to open our arms. And we want to invite people in. And we're not threatened by diversity, we celebrate diversity,'" he said. "You want to build walls, you want to keep the Muslims out. We believe in freedom of religion. It was one of the founding premises of the entire country."
He expanded on the notion that shutting out entire populations is fundamentally un-American.
"You're going to keep the Syrians out. You're going to keep the Mexicans out. 'This is our land.' Well, wait, who are you?" he said. "Are you a Navajo? Are you an, an Apache? Are you a Sioux or are you a Native American? Otherwise, you're an immigrant too. And it's not your land. It's the land of immigrants!"
Mr. Cuomo's main rival in the New York Democratic Party, Mayor Bill de Blasio, has also attacked Mr. Trump repeatedly—as has liberal Council Speaker Melissa Mark-Viverito.
All three have made obvious efforts to raise their national profiles, and all three have endorsed former Secretary of State Hillary Clinton, the Democratic front-runner, for president.
Mr. Trump's camp did not immediately respond to requests for comment.
Disclosure: Mr. Trump's son-in-law, Jared Kushner, is publisher of Observer Media.