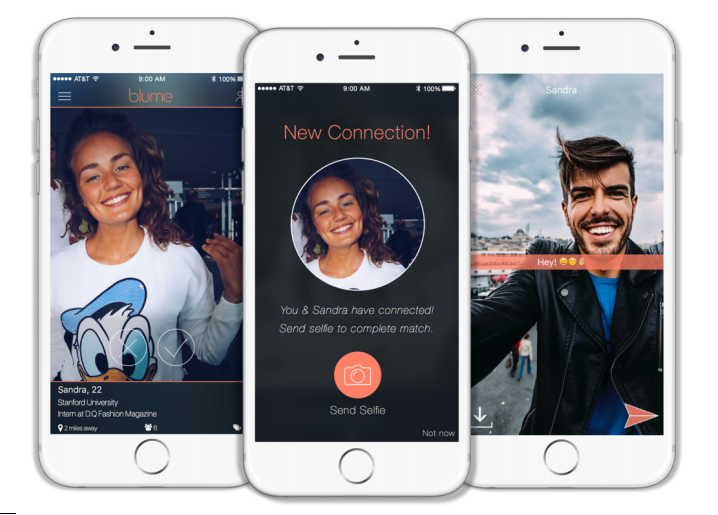 There are numerous benefits to online dating, but there a ton of drawbacks as well. One we've all heard horror stories about is catfishing, which is when a person uses a fictional persona and/or images that aren't of himself to meet and/or form a relationship with someone he met online.
It's a major problem in the online dating world, but how can one protect themselves from catfishes? The makers of a new dating app called Blume think they've figured out a way.
"Since you get to see the person behind the profile before matching via a freshly taken selfie, you're 100 percent certain about who you match with, thus avoiding getting catfished," Blume CEO and founder Daniel Delouya put it simply in an email to the Observer.
At first glance, Blume looks a lot like Tinder. It's location-based, and you like or pass on others by swiping right or left. Here's the difference: when you get a match, you and the other person must go through a quick verification process before you can start chatting. Both people are prompted to take a selfie right then and there to prove you match your profile photo, and there's no way around this—the front-facing camera pops up right away and you're not able to upload a photo or move on without taking the selfie. Once both users send their selfies, the photos will be revealed to the other person for seven seconds only before disappearing forever. If you both "accept" each others selfies, you can begin chatting.
So will this prevent catfishing? It probably will. But will it help people start more conversations and go on more dates? That we're not sure about.
It's hard to see people using this simply because of the nature of online dating and online behavior in general. Even more so on dating apps and sites than on social media, people want to publicize the best-looking versions of themselves. The thought of constantly having to take selfies on a Tinder-style app where you're gaging your interest on almost nothing but photos sounds not only like a hassle, but something that may deter users. But for those who do try the app, we bet it will actually lower their chances of having a conversation. Peoples' live selfies aren't going to make them look as attractive as their curated profile photos, and we don't mean they wouldn't look like their photo in a catfish sense—we mean they just won't look as good as their carefully chosen photos. Most would agree that spur-of-the-moment selfies are for Snapchatting your bffs, not online dating.
Think about where people Tinder: in waiting rooms, in class, on buses and trains and in bed while wearing sweatpants, no make up and eating oreos. Not only would you look strange taking selfies in some of these places, but odds are you don't feel that you look selfie ready. Whether it's vain or an unfortunate side effect of the Internet age or not, the truth is that people just don't want to use those photos for online dating.