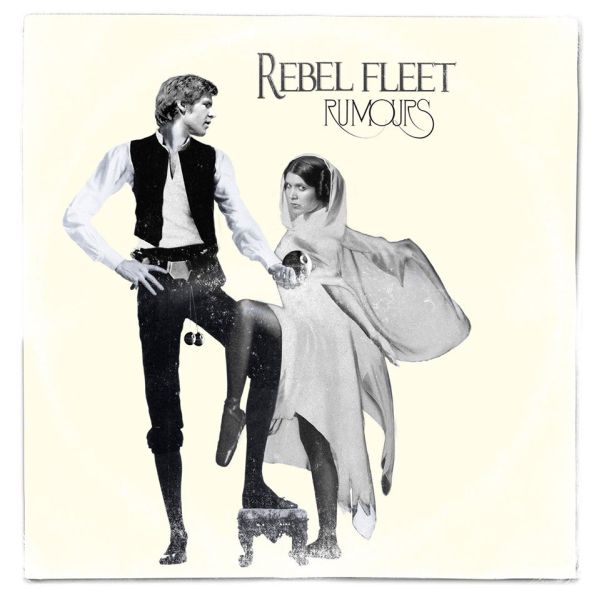 Steven Lear, otherwise known as WhyTheLongPlayFace? on Facebook and Instagram, has worked in a record shop in London for years.
He's always been a fan of music: from the Smiths to Ice Cube to Glenn Campbell to Scroobious Pip. But recently, after learning Photoshop a few years back, he's been able to express that love visually.
He started using Photoshop to create cheeky album riffs as a way to promote his store's new releases online. But when his local HMV record store—like many over the last decade—closed, Mr. Lear (who has since been moved to another HMV store) wanted to commemorate some of his creations and started posting them on his own.
12,500 Instagram followers later, his hobby seems to have taken on a life of its own.
"I am [surprised]," Mr. Lear told the Observer via Facebook chat. "It was a very slow build at first, but a few of my followers from my previous account followed me across and I think the whole Star Wars thing has gone a bit nuts in recent weeks."
Mr. Lear started by putting his own face into album cover art but quickly moved on to using characters from his favorite movies (Back to the Future, Harry Potter, and of course, Star Wars) as subjects. Now he seamlessly blends even the oddest creatures into iconic rock album covers, and with hilarious results.
"I tend to keep [the album choices] as recognizable as possible so people instantly know them," said Mr. Lear, "and I do attempt to make [them] humorous where possible. Not sure if I always succeed!"
Now, with the final set of Star Wars trilogies launching, it's not surprising that those album covers have caught fire. Mr. Lear is looking into commercially viable avenues for his project, and he's hoping to "seek some legal advice regarding copyrights etc." in the new year, but admitted that it's "a bit tricky."
In the meantime, you can enjoy Mr. Lear's work on his Instagram page, and who knows? Maybe he'll become head of marketing at Disney (DIS) faster than you can say "Admiral Gial Akbar."