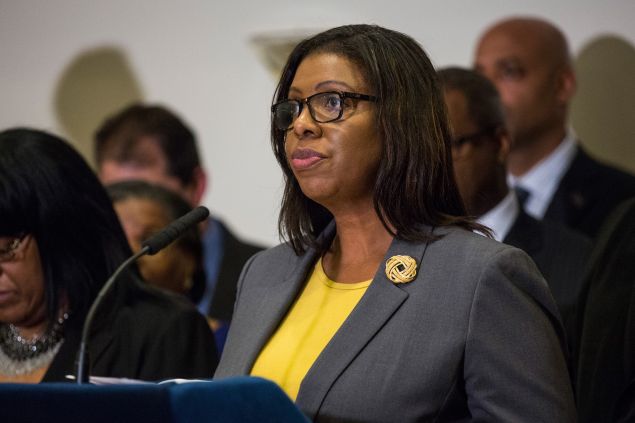 The first politician ever to win an election on the Working Famlies Party line alone said today she was "disappointed" the labor-backed organization chose to support Sen. Bernie Sanders for president.
Public Advocate Letitia James, who won a seat in the New York City Council and her current office with the aggressive backing of the WFP, wished the liberal party supported her pick instead, Hillary Clinton.
"I am disappointed in their decision today, because Hillary Clinton is the best, and right, candidate for the job," Mr. James, a Democrat, said. "I will continue to campaign for Hillary Clinton, and I am confident that when she is our nominee, WFP will join us in making history and electing Hillary the next president of the United States."
The WFP, a hybrid of progressive activists and labor unions, is based in New York but is hoping to grow its profile nationally. Its power primarily lies in states that allow fusion voting. In New York City and statewide, the WFP has successfully pushed the Democratic Party to the left, and enjoys a close relationship with Mayor Bill de Blasio.
Mr. de Blasio, however, is also a supporter of Ms. Clinton, a former senator from New York. It's not clear what type of impact the WFP will have in the presidential race because they are not organized in any of the early voting states.
Ms. Clinton is the front-runner and enjoys the lion's share of support from labor unions and elected officials. Mr. Sanders, a Vermont independent wildly popular with many progressive activists, is hoping to chip away at Ms. Clinton's support where he can.
Backing Mr. Sanders also represents a rare break from the WFP's liberal, though pragmatist, roots. In 2014 the WFP bucked Zephyr Teachout, a law professor and progressive darling, to support Gov. Andrew Cuomo's re-election bid. Mr. Cuomo's fiscal centrism had irked liberals before.
The WFP previously indicated to the Observer in June they were mulling a Sanders endorsement.