This year, we've forwent the traditional "Best of" lists for television, and instead are taking things yearbook-style: we've asked several tvDownload contributors to help us pick shows, characters and actors that fit into the superlative model, and will be rolling out the awards through the holiday season. Today's nominees are for Most Improved and Best Hair.

Most Improved:
Drew
: I'm going to go with The Leftovers and Homeland, even though I haven't seen either of the show's latest seasons.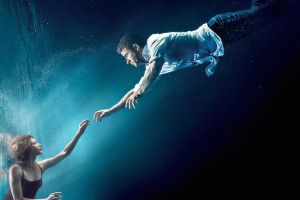 It's always a terrible feeling when you give up on a show and then suddenly everyone is talking about how amazing it's become. I thought we all agreed to let HBO and Showtime's respective bummer-fests die quietly, but instead we have Guilty Remnant flash-mob protests(?!) and people swearing that Saul-centered programming isn't just for AMC anymore.
Vinnie: Gotham.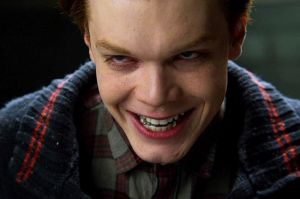 Gotham's first season was like Aaron Eckhart's Two-Face from The Dark Knight, where they tried for serious and brooding and existential and it was still like "Dude, come on. Half your body is burned you lookd ridiculous. Lighten up a little." Gotham season TWO was more like Tommy Lee Jones' Two Face from Batman Forever, in that it was borderline criminally ridiculous and so far over the top it came back around again to not make a whole ton of sense, but boy oh boywonder it was mindless fun. 
John Bonazzo: How to Get Away with Murder.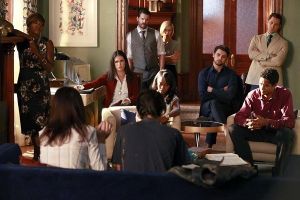 I thought the first season was fine (and the Cicely Tyson episode was amazing) but Sam's murder didn't really grab me as a story arc. This season, on the other hand, the central mystery is more engaging, and the personal lives of the characters are being explored in more interesting detail (it doesn't hurt that Viola Davis is the fiercest woman on television). Don't get me wrong, I know most of the stuff on that show would never happen in a real courtroom. But I also know that when the show comes back in February, I'll be waiting in front of my TV with bated breath.
Thomas Batten: BoJack Horseman.
Somehow this show went from being kind of lame in its first season being to incredibly moving in the second.
Jake Flores: Dan Harmon.
I'm glad Community is dead. It was good and then it was terrible and then it was incredible and then it was an existential crisis where you press your face up to your TV screen and try to make out with the characters because you know they're not long for this world. And then it was on Yahoo Screen. Rick and Morty forever.
Bex Schwartz: Lifetime.
Enormous props to everyone responsible for getting UNreal on air and for committing to working with women in the film and TV industry.
Best Hair:
Drew:
Lady Gaga in American Horror Story: Hotel.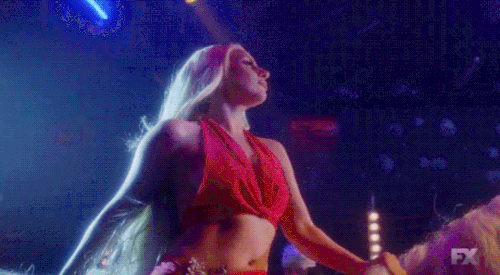 But really just in that flashback scene to the disco era where she comes in on a horse and has hair so long it requires a team of Murphy hotbods to carry it all in.
Vinnie: Editor's note: Vinnie just sent me over this screenshot: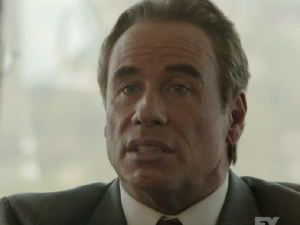 And when I reminded him that American Crime Story won't be out till next year, he replied, "But the trailer is!" Fair enough. 
Brady Dale: SHIELD agent Bobbi Morse (you might know her as Mockingbird in the comics).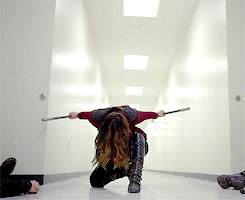 She is arguably one of the best fighters on Marvel's Agents of SHIELD, but Adrianne Palicki brings something to the character that none of her hand-to-hand rivals on the show can match: the ability to mark the end of a successful melee with a wavy-locked hair flip that neither Melinda May, Grant Ward or Lance Hunter can even come close to matching.
Jake Flores: Blacklist.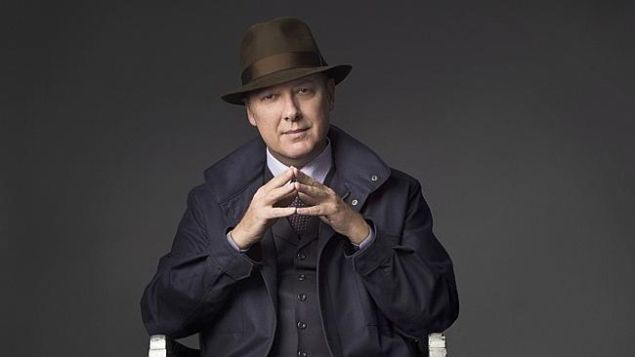 Hair was over in 2014. My vote goes to Jame's Spader's hat. He's cute as a button in that thing. It just makes you want to pick him up and throw him in the air like a little baby.
Bex Schwartz: Jenji Kohan.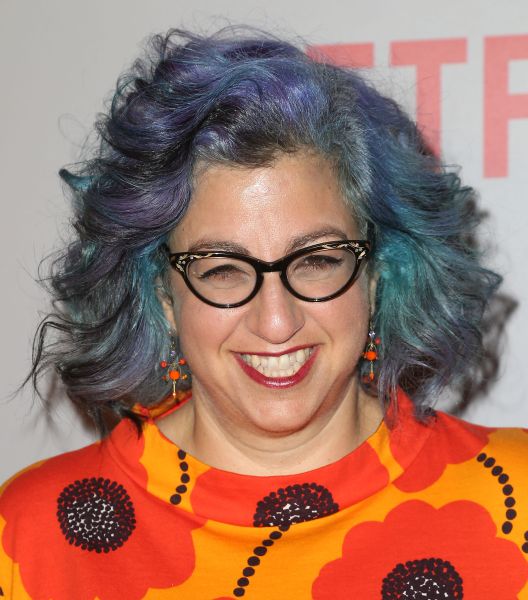 My extended family was always weird about my multi-colored hair until Jenji Kohan showed them the light.