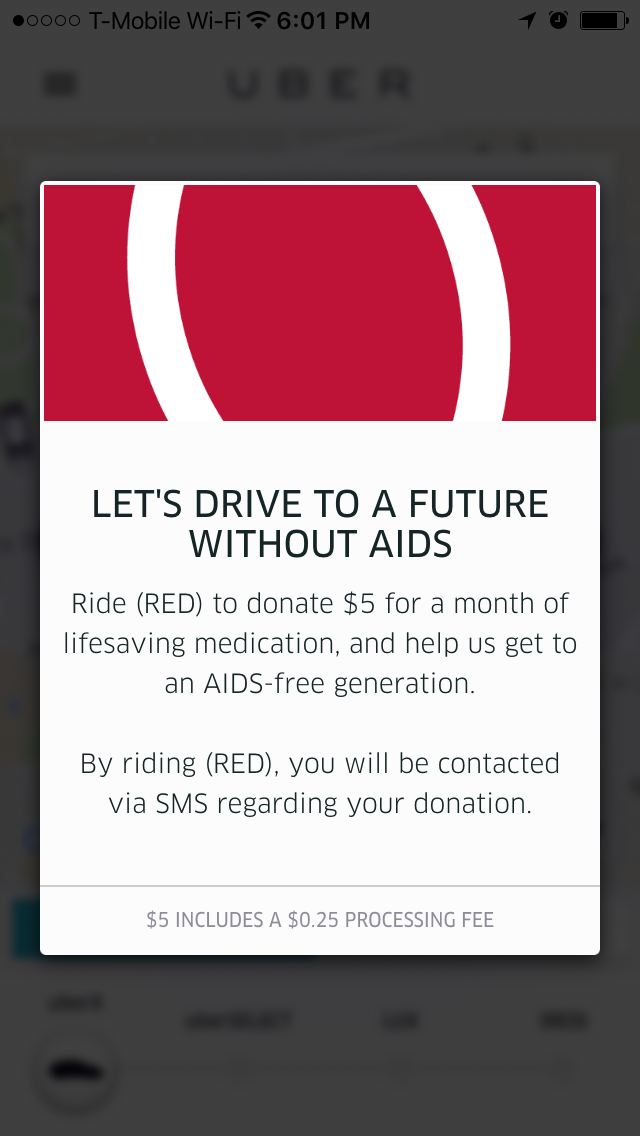 A few weeks ago on Veterans Day, Uber came under fire after asking riders to donate $5 to support homeless vets and then using a cut of the donations to cover processing. Now, the company is again seeing backlash for the same thing.
For AIDS Awareness Day yesterday, Uber encouraged riders to donate $5 to The Global Fund for lifesaving medication for those living with AIDS. Again, the company took 25 cents from each $5 donation as a "processing fee."
"We understand that processing fees are a hot button issue. We've thought long and hard about the best way to handle them since we'll be doing more giving campaigns in the future," Uber spokesperson Matthew Wing told The Observer.
We asked Mr. Wing why Uber insists on charging users for processing, and rather than provide a real explanation, he instead defended his company's actions by citing the fact that others charge processing fees too, using the Susan G. Komen foundation and GoFundMe as examples. The former is a charity non-profit (which should make it obvious why it doesn't shell out its own money for processing), and despite Uber's belief, the percent fee charged by the latter isn't a reason why they should charge one too. What is right for one company is not necessarily the best move for others, and the truth is that these companies are drastically different. GoFundMe's whole schtick is collecting donations—that's its business and it would be in (or heading toward) the red without collecting a small fee.
Despite these campaigns, Uber is not exactly in the donation business. It has an entirely different gig that pulls in plenty of revenue, and the company is now worth more than $50 billion. This fact is what's bothering riders, and as we've said before, it's only 25 cents—Uber can't spare the quarter?
Some who have taken to social media to express their disappointment over the fee have misinterpreted it, believing that Uber is holding onto it when, in fact, it goes to their "payment partners," which Mr. Wing didn't specify. In this case, the company is just being a little cheap, but that doesn't mean Uber isn't in the business of profiting from fees.
Recently, the company has been raising the "safety fee" in about 30 cities a week, making it as high as $2.50 in some markets. This has led to a five percent increase in net revenue, according to Rideshare Dashboard. While Lyft's safety fee covers costs that have to be paid to the city, those are part of a separate fee on Uber. Uber's safety fee is solely for "continued efforts to ensure the safest possible platform for Uber riders and drivers, including a Federal, state, and local background check process, regular motor vehicle checks, driver safety education, development of safety features in the app and more."
Riders feel a safe ride should be a given.
The company now also charges a "cancellation fee" of about $5 or $6 when you cancel a request. This makes sense as to not waste drivers' time, but the system is clearly flawed. Riders are complaining that they're being charged when there's a technical problem or the driver can't get to them, can't take them where they want to go or cancels altogether. I myself was recently charged a $5 fee after my driver called and told me to cancel the request because he was far away and had to use the bathroom and it would be a while.