It's rare that a model leaving the picture makes a scene more attractive, but in the case of one Williamsburg apartment, we think that might actually be the case
The androgynous and ever-changing look has always worked quite well for (apparently retired) model Agyness Deyn. But while we'd like to call her old condo at 85 North 3rd Street eclectic or quirky, it verged more on just plain ugly.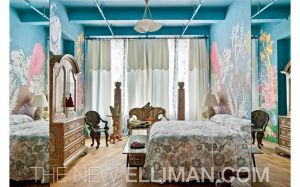 Or maybe we just aren't avant-garde enough to appreciate the mix of a leopard rug with two antique beds as decoration in the living room, old-fashioned portraits in gaudy gold frames on the walls, and, of course, the sea—or rather, seashell—themed bedroom. It looks like more like something Ariel from The Little Mermaid would be quite comfortable in, complete with a giant shell chair and what appears to be paintings of coral adorning the walls. Not so much where we'd picture the edgy Ms. Deyn, but no matter—somehow, when she listed it in 2012, she found a buyer willing to shell out (pun intended) $2.18 million for the two-bedroom, two-bathroom apartment.
Eve Lateiner and Sylvia Olnick did quite the revamp—we must say, we're quite impressed. While many might not have had the vision to see past some of the more…personalized characteristics of the 2,911-square-foot pad, it is now decorated with a modern, industrial aesthetic. They said farewell to the meditation room and fishbowl motif, among other aspects, and opted instead for a more "rustic sensibility,"as the listing describes it. Not sure how "rustic" iron columns and wood beams, along with the $3.45 million price tag they attached really are, but anyway…
They didn't get their entire desired asking price, but Stephanie McDermott did pay $3.1 million for the Mill Building loft.
Warburg's Rachel Lustbader had the listing, with  boasts 13-foot ceilings, French doors leading to the master suite, a 225-square-foot dressing room, and an onyx and marble bathroom with a soaking tub and a steam stall shower.
The one thing that the loft has managed to maintain since Ms. Deyn occupied it are extremely low taxes—just $24 dollars a year due to a J-51 Abatement. Which Ms. McDermott will probably appreciate far more than a seashell-themed bedroom.