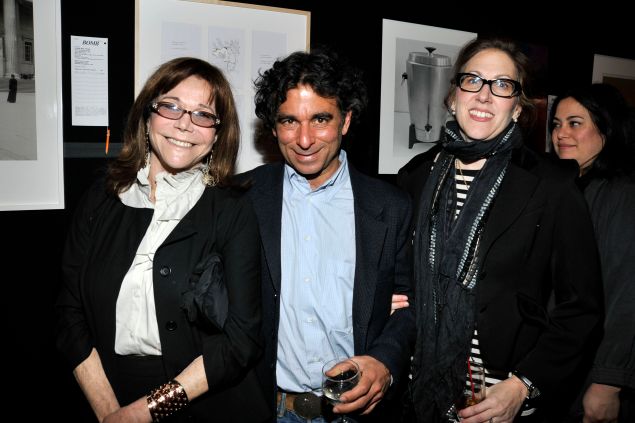 The Untitled Art Fair, now in its fourth year in Miami, is looking all grown up.
What began with a roster of 50 participating galleries and an airy tent on the beach, the fair—which now sports 130 exhibitors and an even roomier beachfront tent—has a significantly more international presence this year, according to artistic director Omar Lopez-Chahoud.
Newcomers to the roster include Rebecca Camhi Gallery from Greece, as well as galleries Chelouche and Inga from Israel. For Mr. Lopez-Chahoud, the participation of these three spaces represents a major shift for the fair and its future on the beach.
"We've never had a gallery from Greece before," he told the Observer. "It's even more important now in the midst of the economic crisis going on."
Mr. Lopez-Chahoud also feels that the addition of several site-specific projects from big-name major artists throughout the fair will take Untitled to the next level. Artist Lawrence Weiner will be creating a series of chairs adorned with poetic phrases, to be placed throughout the tent, as well as showing a limited-edition lounge chair he's made with French artist Sebastien de Ganay.
And for collectors with VIP lounge access, there will be new projects from artist Maurizio Cattelan and photographer Pierpaolo Ferrari.
Mr. Lopez-Chahoud has been with Untitled since it stepped on to the sand off 12th Street in South Beach, so he was an obvious person to ask about the week's party scene, too.
"I like the private dinners, the ones where people invite you and it's only 10 or 12 people. Those are the best. You get to relax and just talk to new people," he said.
"What I don't like is those big parties that everyone is trying to get in to, because they're so boring—you know the ones I'm talking about. Everyone's desperate, there's a long line, and you get in and then it's like, 'Really?!' "
His preferred alternative: "You're better off going to Club Deuce, having a drink with a friend and then you end up running in to even more people there."
"It's not about me getting dressed up and having my picture taken in 20 different suits," he told us. "It's about using that time to seriously talk about things we can present that people will enjoy."
Untitled
Ocean Drive and 12th Street
December press and VIP preview:
December 1, 4 – 8 p.m.
Public Days:
December 2-5, 11 a.m. – 7 p.m.
December 6, 10 a.m. – 5 p.m.
$28