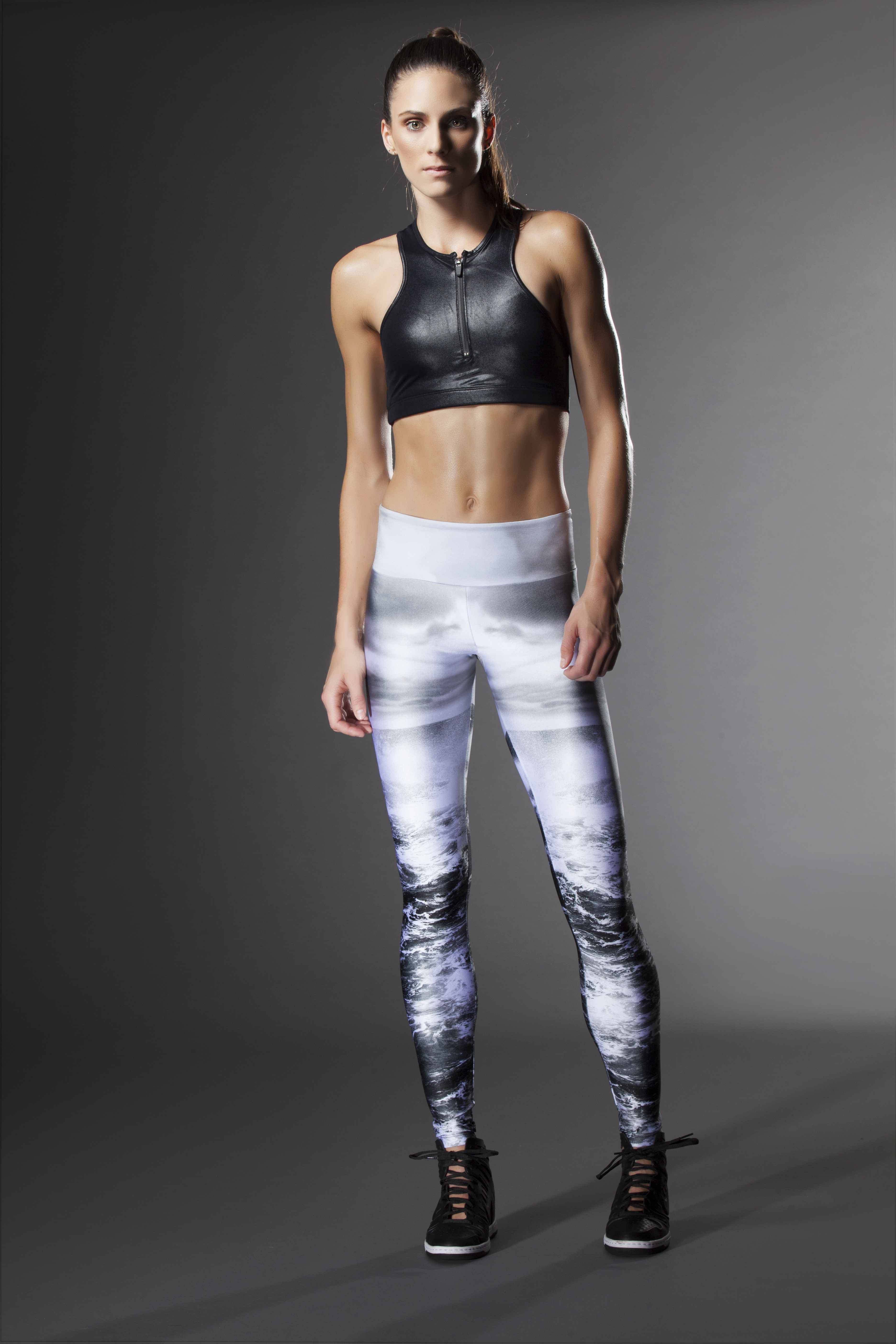 The Carbon38 founders want to make shopping for leggings just as exciting as searching for the perfect cocktail dress. To offer an alternative to simple black leggings, they've created an athleisure line for consumers who refuse to blend in during their workouts. After all, P.E. uniforms are so over. With a new in-house line, Carbon38 appeals to women searching for an edgier look that can transition from boxing to the boardroom.
Carbon38 founders Katie Warner Johnson and Caroline Gogolak met at a ballet class when they were fifteen and re-connected while studying at Harvard. Ms. Gogolak explained to the Observer how that first foray into activewear impacted the way she thought about athleisure. "This sort of activewear has been in our DNA for a very long time. When you think about it, for ballet you put on your leotard, tights, you put your hair up in a bun. Every time you take class it's like you're performing, so you really want to look presentable to your instructor and your peers." For example, at the time of our interview, she was wearing leggings in an exclusive print, with coordinating Paintbox nails, proving that even daily activities are a chance to perform. 
When Ms. Gogolak began taking yoga classes, she found that Lululemon was her only option and quickly realized that athleisure needed an update. "You're so much more motivated when you feel excited to put on a really fun workout outfit. You want to wear a certain legging, top or sports bra that you feel confident and comfortable in. The fact that there was only one brand didn't really make a lot of sense."
When the Carbon38 site launched in November 2013, it sold everything from juice cleanses to face creams. "No one was talking about activewear, so we weren't entirely sure if people would want to buy these up and coming brands," Ms. Gogolak said. The launch made them realize that their customers could find juice cleanses anywhere, but were searching for high-end, sophisticated activewear.
Carbon38 launched with popular activewear brand Michi. Ms. Gogolak calls it "boudoir meets boxing range," which makes it the polar opposite of what she refers to as "very basic Lululemon." When it comes to choosing designers, it's as carefully curated as their friends at Goop. Ms. Gogolak wanted to show consumers that they could pair graphic leggings with items already in their closets, like a favorite leather jacket. 
"Our mission is to dress this new woman and take her from 6 a.m. to 6 p.m. and beyond."
As Lululemon becomes more and more focused on mass consumers, Carbon38 believes that women are looking for luxe. The site's mission is to focus on women with purchasing power and "dress this new woman and take her from 6 a.m. to 6 p.m. and beyond." Women are investing more in boutique fitness classes and they're eager to show off the bodies they're earning. 
Ms. Gogolak boasts that Carbon38's new brand is far edgier than Lululemon. She said, "Lululemon has an excellent product, it's great quality. We're just trying to take it to that more fashionable and sophisticated consumer. If you're a woman in your 30s, you want something that you earned, that you can really look forward to wearing."
The Carbon38 founders always intended to create their own brand and recently launched a basics line with a price point that sits just under Lululemon's. Their Carbon38 collection is a mix of performance pieces with an anorak, blazer and gym dress, which Ms. Gogolak calls "après gym attire" that was made for transitioning with its wearer throughout the day. The line uses neoprene fabric that's easy to travel with and reminiscent of the scuba trend of summer 2014. 
While the edgy line will never replace the ubiquitous Lulu leggings, C38 is a favorite with fitness-loving celebrities like Jessica Alba, Gwyneth Paltrow, Adriana Lima and Allison Williams, the latter of which recently wore the brand's dress and blazer combination. Ms. Gogolak described these supporters as a "group of very powerful strong women that really represent the brand."