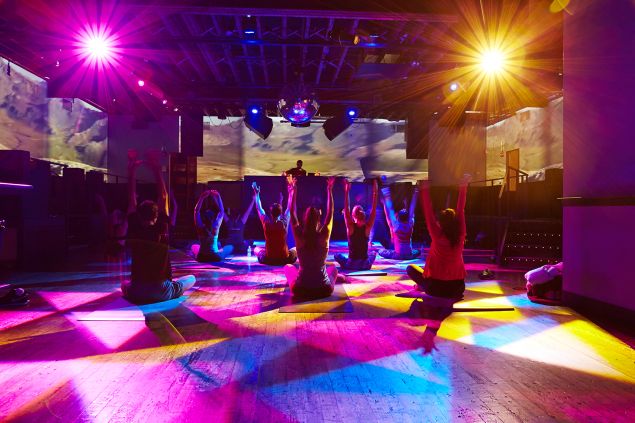 It wasn't that long ago that a listless lull fell over Williamsburg on Saturdays as the neighborhood recovered from the previous night. But now, no matter the time of day, Williamsburg is a destination. Lines outside nightclubs on Wythe Avenue turn into lines outside restaurants on Bedford by morning. And where there were once mainly post-college kids playing in bands at Union Pool well into their 20s and living in lofts zoned industrial, there are now well-compensated condo dwellers, who spend weekend days atoning for weekend nights.
At Verboten, a club in the epicenter of the Williamsburg club/hotel/bar scene, the whole cycle of Friday night excess and Saturday productivity has been seamlessly integrated into Willkommen – Deep House Yoga, an hour-long Vinyasa class. By Saturday at noon, the previous night's dance floor is transformed into a yoga studio. Teacher Jennifer Diaz ("I'm a hugger," she said, when she introduced herself to me) leads the class through a series of poses as a DJ spins soothing beats.
When I walked in this past Saturday, after exchanging my ID for a yoga mat at the front desk, the dim room was lit by video projections on the surrounding walls. A woman lay in savasana—corpse pose—beneath a disco ball.
"If you take life too seriously, it's no fun," Ms. Diaz said at the start of class, explaining that the same goes for our yoga practice. As we flowed through our asanas, she said we should feel free to shake our booties. During downward dog, I realized there was an extra spring in my step as I peddled my feet to the beats. The videos made it feel like we were traveling from desert to redwood forest to train station during rush hour. As I wound my arms together in eagle pose, rounded my spine in cat, and slid into three-leg upward-facing dog, I felt like I was inside a yoga music video.
As the class came to a close, Ms. Diaz suggested, in her soothing yoga teacher voice, that we "Nama-stay" for brunch. She recommended the Bloody Marys.
"Detox, then retox," the DJ joked.