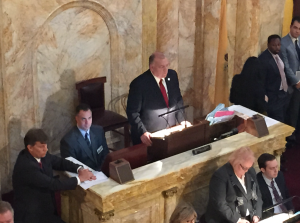 TRENTON – Facing little opposition during its third and final reading, Senate Majority Leader Loretta Weinberg's (D-37) bill to oblige gun retailers to stock personalized handguns passed the Senate 22 to 15 on Monday.
Personalized hand guns use handprints or paired devices like wristwatches to render them unusable by anyone but their registered owner. The bill would not restrict the sale of handguns without the technology, but make it so that retailers and wholesalers have to stock at least one personalized "smart gun" model.
Weinberg described the measure as uncontroversial for both sides of the gun control debate, arguing that it would benefit firearm vendors in the long term.
 "It is not an expansion, in fact it is a contraction of our gun control laws," said Weinberg, addressing herself to critics. Weinberg also noted that the bill was a drastic compromise on her original 2002 bill, which would have replaced all existing handguns on the market with smart guns once the technology became viable for the mass market.
Before the vote, Senator Gerald Cardinale (R-39) countered that the technology is not yet known to be reliable.
"I'm in fear that the ultimate result is that we may be forcing folks into a program, into stocking inventory, that will in fact sit on their shelves because the technology is not really what it's cracked up to be," said Cardinale.