No, a "satellite fair" isn't an art fair in space. That would just be bad marketing. A satellite fair is a term for a fair that rotates around a much larger fair, the way a satellite revolves around our fair planet.
The first satellite fair in Miami was The NADA Art Fair (Art Miami doesn't count as it was actually here way before Art Basel) which unpacked its bags just one year after Art Basel itself.
The nonprofit fair, spearheaded by the New Art Dealers Alliance founders Zach Feuer, Sheri L. Pasquarella, John Connelly and Zach Miner, made Heather Hubbs the fair's director, a post that she retains to this day.
Since then, many other fairs have tried (sometimes admirably, sometimes unsuccessfully) to "join the party" so to speak, and now there are at least—wait for it—22 fairs that we know will be in Miami this week. Yes, that is a lot. I was just thinking that too.
Fortunately, we've hand-selected 8 booths that are sure to rise above the din of unruly hordes lurching toward you with their undead wall decorations (see: Formalism, Zombie.)
Ok, here we go:
Ronald Davis at Nyehaus, Untitled
Oddly this beloved California artist, who in the 60s and 70s showed with two of LA's most influential galleries, Ferus and Wilder, is still very much under the radar. Hopefully that will change when a solo booth of his unique resin and fiberglass wall works drop at this fair. Beginning in the 1960s, Mr. Davis started to turbocharge the splashy stains and drips of Abstract Expressionism by combining its worn aesthetic with the new plastic-fantastic modes of production of the time. Along with classic examples of Mr. Davis' work, Nyehaus will also offer some context by presenting a small selection of the artist's celebrated LA contemporaries such as Ken Price, Peter Alexander and the great Ed Ruscha. On top of that, they've also commissioned a short essay from firebrand David Hickey. This should be a treat.
Dan Herschlein, Jonathan Berger, Glen Fogel and Charles Harlan at JTT, NADA
Jasmin Tsou has hand-picked a parcel of hot young dudes for this year's edition of NADA, tapping Dan Herschlein, Glen Fogel, Jonathan Berger and Charles "Chucky" Harlan for her booth. Mr. Herschlein blew people away at May's NADA New York with his creepily fabricated bizarro-room, complete with wax-wrought half-Herschlein surrogate, while the bizarrely under-appreciated Mr. Fogel (who has the current show up at her gallery) offers up a series of highly rendered oil paintings of postcards—front and back—from the mysterious "Jamie." Meanwhile, Mr. Berger will likely offer up some of his transformative tin tchotchkes and Mr. Harlan will present more Minimalist-inspired sculptures composed of raw building materials, but this time, with an organic element. I can practically smell the bro in this booth, and I'm pretty sure I like it.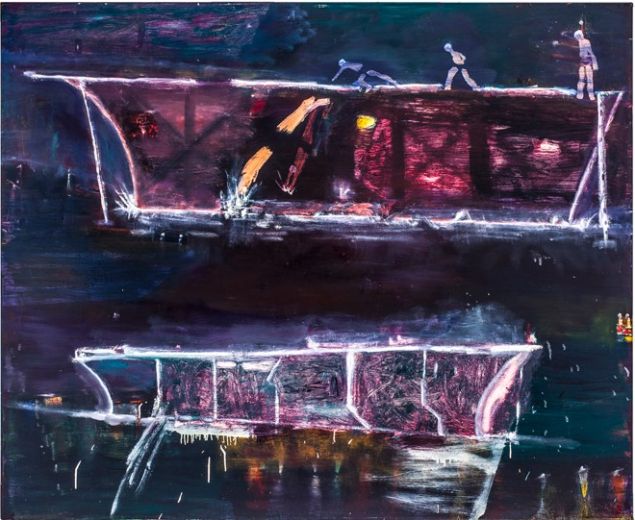 Brian Belott, Katherine Bernhardt and Katherine Bradford at Canada, NADA
Canada has a slew of killer Bs. Brian Belott is a multimedia wizard of sorts, using tin foil, socks, old calculators and even cat food to create his wall works, sculptures and handmade books. Katherine Bradford has been making kooky-yet-luminously painted vignettes for decades, often depicting oversized steam liners, superheroes and other quirky personal imagery. Katherine Bernhardt has been painting the products of our lives—anything from shirts and watches to pets and pineapples—brushily scattered across the canvas in a rainbow of radiant colors. Elisabeth Kley, Lily Ludlow, Tyson Reeder and Michael Williams round out the group; all damn good artists despite the glaring lack of Bs amongst them.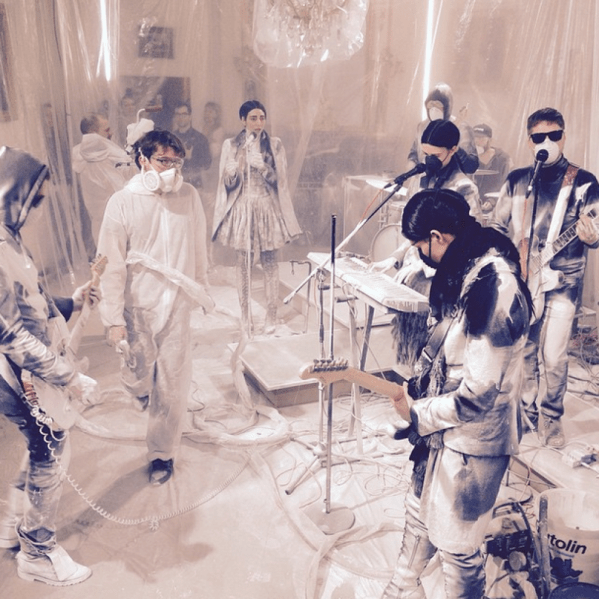 Joris Van de Moortel at Denis Gardarin Gallery, Untitled
Savvy frenchman art dealer Denis Gardarin knows a good thing when he sees it, and that good thing he saw was Belgian rocker-cum-artist Joris van de Moortel. J.v.d.M. delivered a knockout show in Brussels this past May with a group of intense chock-a-block, light-up assemblages that owe as much to the Sex Pistols as they do to Robert Rauschenberg. There's no doubt he'll be bringing his punk shenanigans to Untitled.'s tent this December, but will his band Dan Browne rock the house the way they did at Paris' Fashion Week? One can only hope.
Ann Toebbe and Larissa Bates at Monya Rowe, Pulse
Though the art world has missed Monya Rowe since she fled New York's skyrocketing rents, at least it's suddenly a lot easier for her to get to Miami (from St. Augustine, FL.) She'll be bringing Ann Toebbe, who shouldn't disappoint with a new set of hyper-detailed paint and collage works that fall somewhere between Giotto and outsider art (channeled through a supermom's mise en scène.) Larissa Bates meanwhile will present her modestly-sized autobiographical paintings that mix family members with lush, primordial vegetation; delicately rendered in gouache, gold leaf and mother of pearl. Lots of take-home goodies here, people.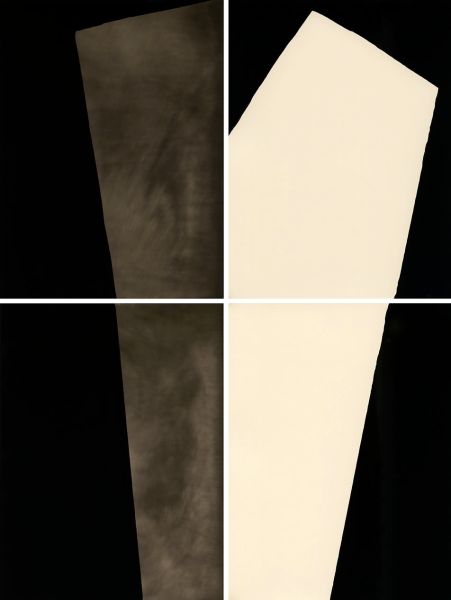 Alison Rossiter and Marco Breuer at Yossi Milo, Art Miami
This is a gorgeous booth and physics class all rolled into one. Ol' Yossi appears to have outdone even himself this year by putting his two "process" photographers together to create what will surely be a memorable display. The German-born Mr. Breuer works without a camera or film, instead choosing to scratch, sand, heat up or incise the photo paper in order to make his luminous grids. Rossiter also eschews traditional photography and instead buys expired photographic paper, exposing it—and a selection of chemicals—to light. Chance combinations lead to surprising and gorgeous results that often resemble charcoal or graphite as much as photograms.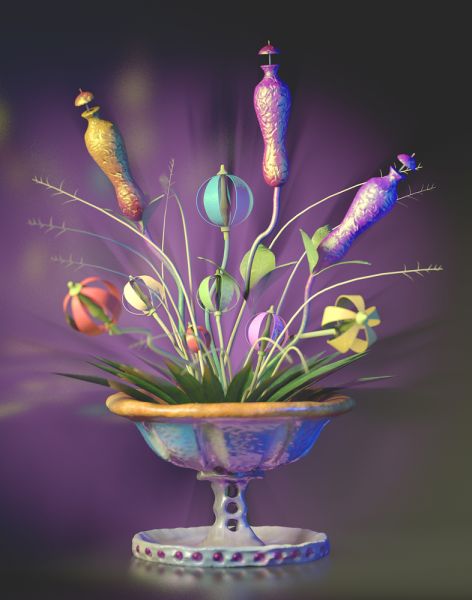 Jeremy Couillard at Louis B. James, Miami Beach Edition Hotel
Here's a virtual reality experience that you're sure to enjoy. Inspired by the baroque paintings of Hungarian painter Jakob Bogdani, Jeremy Couillard has created a character-laden world via the magic of digital animation. He's even brought some charming souvenirs from that world into real life with a series of UV prints on aluminum. His "bouquets" are made from imaginary plants that are placed within his virtual reality creations as prizes in a nonsensical video game. In a sense, they're an otherworldly meditation on the rarity and fragility of life surrounded by hostile elements—and how beautiful that life can be. Thought this is more of a shared gallery booth (with Half Gallery and Harper's Books), my guess is that works like Bouquet #1 (tan) will become hard-won prizes for collectors in Miami.
Laeh Glenn at Altman Siegel, NADA
An always surprising painter that likes to bounce between the charming graphic narratives and jazzy linear abstractions, Ms. Glenn should continue to impress in her solo booth with this venerable San Francisco gallery. A former studio assistant to fellow Los Angelean Laura Owens, Ms. Glenn has a similar sense of humor and crafty DIY touch, in fact she even makes her own shadow box frames for her modestly sized canvases. She received a nice boost from the sprawling 2013 exhibition at Gavin Brown's Enterprise titled "Made in Space," and her work has only gotten richer and more complex since then.