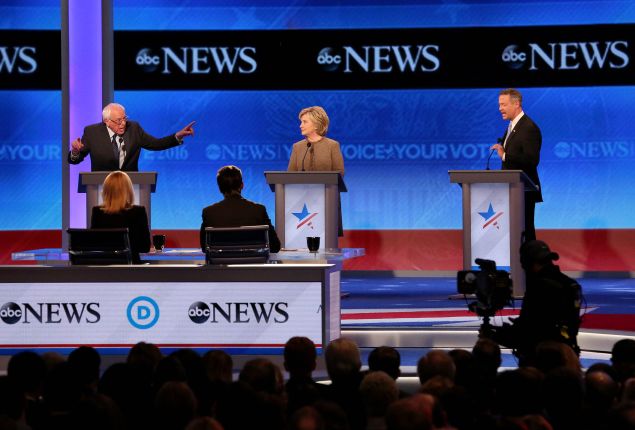 As the Democratic and Republican National Conventions draw near next summer, and nasty primary fights sizzle or start to peter out, the discussion will turn to delegates and so-called superdelegates. Who are they? What do they do?
While it's up to the voters to determine the presidential nominees for the two major parties, its the delegates who actually cast the votes, at each party's convention to select the nominees—and not all of them are bound by the votes cast in their home state's primary. Still, in recent decades, conventions have been pro forma affairs, with candidates arriving as conquering heroes and delegates coming together to nominate someone who ultimately won more than enough votes and states to make themselves the unchallenged standard bearers for their parties.
2,382 delegates are needed to clinch the Democratic nomination out of 4,763 total. On the GOP side, 1,237 of 2,475 are required to be the nominee.
Some Republican states are winner-take-all. Others, like New York, reward delegates proportionally. All delegates are doled out proportionally on the Democratic side.
There are 291 Democratic delegates from New York in total, along with 21 alternates, according to Basil Smikle, the executive director of the New York State Democratic Party.
247 of these must be pledged to candidates. On the day of the primary, these pledged delegates run in their home congressional districts. A certain percentage of these delegates are then awarded to candidates based on the outcome in that district. There are 163 delegates who compete on the district level and 84 at-large delegates who are carved up proportionally as well. (Even if a candidate who is less well-organized in New York, like Sen. Bernie Sanders of Vermont, fails to put up delegates to run, his campaign can select delegates afterward that he would be entitled to under party rules.)
The rest in Democrat-dominated New York are superdelegates, referred to as unpledged delegates by the Democratic National Committee, the national party apparatus. Superdelegates are important because they can back any candidate they want, regardless of what the voters decide. So if Mr. Sanders, Ms. Clinton's top challenger, were to defy the odds and do damage to Ms. Clinton in New York, the superdelegates could at least blunt some of his success. (According to a Republican national committee spokeswoman, the Republicans do not use superdelegates.)
This is because most of New York's superdelegates are all elected officials or party insiders supporting Ms. Clinton. Superdelegates include former President Bill Clinton, Gov. Andrew Cuomo, both U.S. senators, all Democrat members of the House from New York, and members of the DNC, including Clinton backers like Jennifer Cunningham, Jay Jacobs and Maria Cuomo Cole.
As the Associated Press reported earlier this year, Ms. Clinton holds a massive lead over Mr. Sanders in the race to secure the backing of Democratic superdelegates nationwide. As of November, 359 superdelegates said they were supporting Ms. Clinton, while 8 were behind Mr. Sanders and 2 were endorsing former Maryland Gov. Martin O'Malley. (Mr. Sanders announced today that a superdelegate and DNC member from Nevada, Erin Bilbray, was backing him.)
After Barack Obama defeated her in 2008, Ms. Clinton has made a concerted effort to lock up the endorsements of party insiders who play an outsized role in determining the Democratic nominee.
Republican and Democratic primary voters in New York will head to the polls on April 19. While Ms. Clinton could have a stranglehold on the nomination by then, the chaotic Republican field may make the Empire State relevant for the first time in many decades.
There are 95 Republican delegates in New York: 81 will be chosen at the congressional district level (3 per district in 27 total districts) based proportionately, according to Jessica Proud, a spokeswoman for the State GOP. The remaining 11 at-large delegates will be voted on after those 81 are chosen by a meeting of the entire State Committee.
Unlike on the Democrats, Republican party insiders in New York are not known to overwhelmingly favor any one candidate. More moderate or establishment contenders historically do well in the Empire State, which could mean Sen. Marco Rubio of Florida, former Florida Gov. Jeb Bush of Florida, Ohio Gov. John Kasich or New Jersey Gov. Chris Christie could compete for the support of voters and the superdelegates. The last two Republicans to win New York in the primary, Mitt Romney and John McCain, were establishment favorites who had long consolidated their support by the time New York's turn came to go to the polls.
The Republican National Committee has reportedly been gearing up for the possibility of a brokered convention, meaning the nominee won't be known when party insiders head to Cleveland in July. There hasn't been a floor fight since 1976, when Ronald Reagan unsuccessfully challenged President Gerald Ford for the nomination.
Ford went on to lose the general election to Democratic Jimmy Carter and Reagan would be elected president in 1980.
Updated to reflect the RNC does not have superdelegates.