The highest valued models in the world are gaining serious clout courtesy of their social media fame. During 2015, social media's reach became more important than ever to designers, who specifically look for models with a specific number of followers for campaigns. CR Fashion Book reported on a list of the top influencers in the modeling world, and it reads like a Victoria's Secret runway. For top models who got their start on reality television, it makes sense that the world would follow along with their filtered lives.
Frank Spadafora, a former casting director, created the D'Marie app for agencies. It puts a valuation on the social power of a model to "measure, manage and monetize their social media portfolio." By using a ranking algorithm they found that the top valued model is Kendall Jenner, followed closely by Cara Delevigne and Gigi Hadid.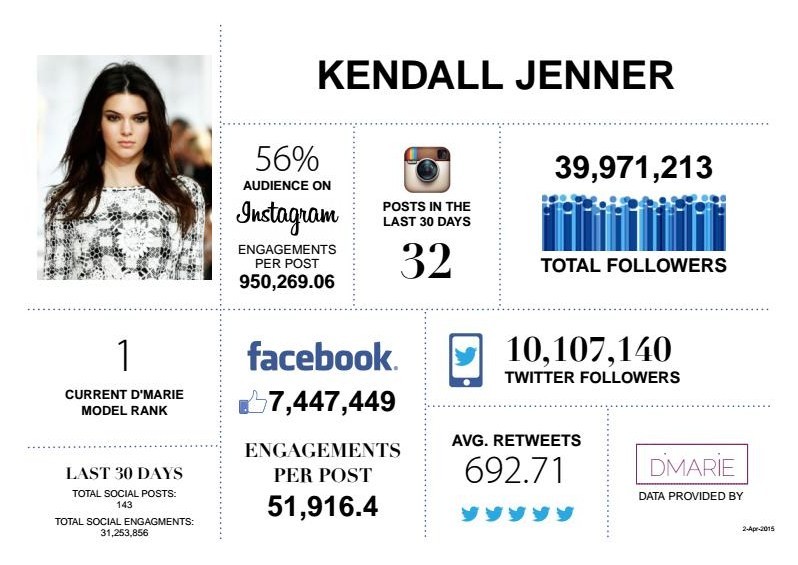 Ms. Jenner is so powerful that an Instagram post in a designer's look leads to a sold-out line. Ms. Delevigne is tracked by her movements on the app. Ms. Hadid, who began on The Real Housewives, has such a strong following that her kitten (who has only posted three photos to date), has 12.6k followers. All three women "are currently valued between $125,000 and $300,000 for a single post across their portfolio." The next wave of models includes Karlie Kloss, Behati Prinsloo and Miranda Kerr, who can all command between $25,000 to $50,000 for a single post on one of their social media networks.