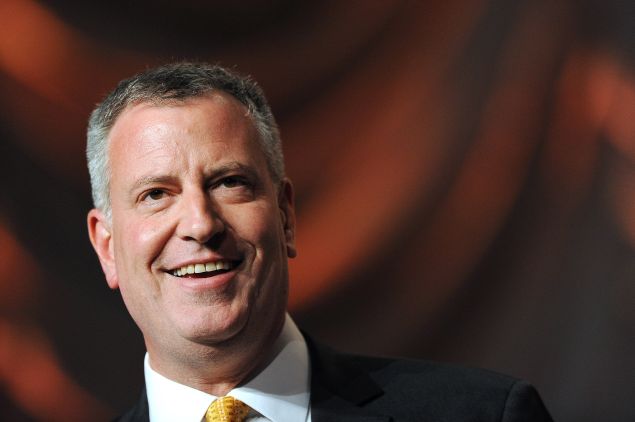 After the chaotic election cycles of 2013 and 2014, most politicos expected a quiet year to kick back before the presidential news apocalypse rolled around in 2016. Alas.
As it turned out, 2015 came as a series of shocks to the political systems of New York and the nation as a whole—shocks descending gold escalators or getting led away in cuffs, shocks that suddenly shot to the top of the echelons of power, shocks that left some people on the unemployment line and others looking like they were asleep at the wheel of an out-of-control semi.
And looking back now, there were clear winners and losers. This list is dedicated to the latter group—we'll get to the former next week.
1. Sheldon Silver: A year ago, Assembly Speaker Sheldon Silver seemed as eternal and as immovable as the sphinx whose wall-eyed impassiveness he famously shared. Then one morning in January, New Yorkers woke up (or, in the case of reporters, never went to sleep) and found out the 38-year legislator and 20-year speaker was under arrest for corruption. The lower Manhattan lawmaker's sudden fall was shocking without being surprising: there had been murmurs about the half-million he earned annually from his law firm for years. But nobody ever thought he'd have to pay for his shady dealings. Nobody, apparently, besides crusading U.S. Attorney Preet Bharara. By February, Mr. Silver lost his grip on the speaker's perch, and by November he was convicted on multiple counts of extortion and fraud, and his cold, expressionless stare was looking at years in federal prison.
2. Dean Skelos: Mr. Silver's Republican State Senate counterpart was less of an institution than the disgraced Democrat, and presided over a far narrower majority. But Majority Leader Dean Skelos was nonetheless one of the most powerful men in Albany, and came out of 2014 with his first numerical majority since 2012. He didn't get to enjoy it long. In May, Mr. Bharara's agents arrested Mr. Skelos and his 33-year-old son Adam for a shakedown scheme in which the Nassau County legislator pressured companies with business before the state to give his kid money and no-show jobs. What ensued in December was an at-times comical trial filled with audio from wiretapped conversations between the two, in which it became clear the younger Mr. Skelos was a walking, talking, crime-committing advertisement for corporal punishment. Just weeks after he notched a kill for Mr. Silver, Mr. Bharara mounted Mr. Skelos's magnificently coiffed head on his wall.
3. Bill de Blasio: A police department in revolt. The loss of Mr. Silver, his only reliable Albany ally. The Democratic National Convention snubbing New York City for Philadelphia. A much-ballyhooed blizzard that missed the city. Proposed changes to the 421a tax exemption for developers sneeringly shot down. Mayoral control of schools extended for a single measly year. A humiliating failed attempt to regulate Uber. An outbreak of Legionnaire's disease offing seniors in the Bronx. An explosion in the population of homeless people on the street. The return of nudity to Times Square. An FDNY lieutenant shot in a gun battle with an ex-con on Staten Island while the mayor was doing his midday workout at the Park Slope Y. A presidential forum nobody wanted to attend. An affordable housing plan rejected in community boards across the city. Let us know if we're forgetting anything here. Mr. de Blasio stumbled and bumbled his way through his second year in office like Chevy Chase doing a Spartan race in the dark. He couldn't take two steps without falling flat on his face. Most embarrassing of all was the way Gov. Andrew Cuomo rewarded him for his loyal endorsement and aggressive campaigning last year by putting him in a headlock and giving him what amounted to a 12 month-long noogie. And when the mayor squealed out in pain, it came in his usual register: the self-righteous indignation of an outraged college student. The only reason the mayor isn't number one on this list is that he didn't get charged with a crime.
4. The GOP Establishment: For RNC Chairman Reince Priebus, this year was going to be different. No more drawn out battles in which the donors' favorite had to claw his way to the top and stomp down surging outsiders. No, this year, the party would consolidate early on behind a single candidate, compress its primary season, and have an early convention. And the man for the job was obviously former Florida Gov. Jeb Bush, the scion of a mighty Republican political dynasty whose time in the White House had clearly come.
Yeah, that didn't work out.
Not a single vote has been cast, but the Republican Party seems on the verge of an implosion. Real estate mogul Donald Trump, neurosurgeon Dr. Ben Carson and Texas Sen. Ted Cruz—each completely unpalatable to the party's leaders—collectively control the support of roughly half of GOP voters surveyed. And it's unclear how the establishment can deflate one without inflating the others.
By contrast, the Democratic machine has cleared the field for its own legacy candidate, ex-Secretary of State Hillary Clinton, who has only to avoid stumbling over a socialist from Vermont and a governor from Maryland whose home city was in flames just months ago. She hasn't done such a good job at that, maybe because she's more baggage-laden than a 747. The Republican Party should be running a race against her. Instead, it's struggling to tame its own stable of candidates.
5. Gilbert Taylor: The mayor charged Mr. Taylor, a veteran of the Administration for Children's Services, with keeping the city's growing indigent population under control as commissioner of the Department of Homeless Services. When asked about the visible expansion in the number of people living on the street, Mr. de Blasio would tout DHS's success in getting people out of shelters.
Even NYPD Commissioner Bill Bratton admitted the administration was slow to acknowledge and respond to the crisis. And when it finally did, the mayor preferred to spend money on more or less connected pet causes like mental health and tenant harassment rather than on directly treating the problem. He trumpeted DHS's work clearing and cleaning longtime homeless encampments, but such work does not necessarily get rid of the guy taking a leak on a given newspaper editor's block.
Mr. Taylor's departure at the year's end, as the city looks to adopt new strategies, leaves you wondering if the mayor seriously believed his own messaging.
6. Michael Grimm: A warning to all politicians who manage to get re-elected despite being under indictment: don't get cocky. That's what happened to Staten Island and southern Brooklyn Congressman Michael Grimm. When the notoriously temperamental rep decided to carry on his campaign for re-election last year even after his arrest and arraignment by the feds, most insiders expected that he would look to reach a post-November deal with prosecutors that would let him step down from his seat in lieu of doing hard time.
But his victory at the polls apparently left him thinking that if he could beat former Councilman Domenic Recchia, he could beat 20 counts of tax evasion and fraud. After his win Mr. Grimm copped to one of the charges—after saying he was innocent on the campaign trail—but even then it took then-House Speaker John Boehner's threats of total ostracism from the Republican conference to get him to abdicate. He wouldn't have been doing much legislating if he'd stuck around: he was sentenced to eight months in the pen.
7. Iran deal opposition: Next time some anti-Semitic conspiracy theorist tries telling you about the nefarious influence the American Israel Public Affairs Committee—better known as AIPAC—supposedly wields in Washington, remind them of its pitiful failure to stop the Joint Comprehensive Plan of Action on Iran. AIPAC was just one of the forces arrayed against the plan for the Western democracies, Russia and China to drop sanctions against Iran in exchange for a decade-long pause it its nuclear program, a plan deeply unpopular with military hawks, Sunni Muslims, evangelical Christians and the GOP in general. The Obama administration helped negotiate the deal, and pressured Democrats in the House and Senate to vote against a promised Republican measure that would prevent the U.S. from participating in the framework arrangement. Those opposed to the pact sought to enlist New York Democrats with considerable Jewish constituencies, and at first succeeded: Congresswoman Grace Meng, Congresswoman Carolyn Maloney and Congressman Eliot Engel all announced they would vote with the GOP in denouncing the deal. But Congressman Jerrold Nadler, who represents the largest Jewish population in the country, came out in support of the accord in a bellwether moment. Congressman Hakeem Jeffries and Congresswoman Nydia Velazquez, who also represent large Jewish populations, soon followed. Sen. Charles Schumer, soon to be the Senate Democratic leader, voiced token opposition to the plan, but did nothing to lobby his conference—or even junior New York Sen. Kirsten Gillibrand—to follow his lead. A disapproval resolution sailed through the House even after it became clear there President Barack Obama had enough votes to uphold his veto, and the Democrats blocked a mirror opposition bill in the Senate. It was an enormous win for the president and the Democrats, and an embarrassing defeat for critics of the plan.
8. Laura Santucci: The mayor charged his former chief of staff with landing his party's convention at Brooklyn's Barclays Center. Taking a leave of absence from City Hall, Ms. Santucci headed the host committee and raised some $16 million to tempt the Democrats into coming to New York. When DNC Chairwoman Debbie Wasserman-Schultz announced the post-primary powwow would instead go down in Philadelphia, the mayor insisted irritably for weeks that Ms. Santucci would soon return to her old job—right up to the day before she revealed she would take a new gig at the United Nations.
9. NYCLASS: At this point, New Yorkers for Clean Livable and Safe Streets really is beating a dead horse. Despite Mr. de Blasio's campaign trail vow to ban equestrian carriages "on day one" of his administration, we're about to hit day 730 and they're still traipsing about Central Park and Midtown, giving tourists from around the world the incomparably quaint and charming experience of watching a half-ton farm animal defecate in a major city. The mayor has made a few half-hearted gestures at following through on his promise, but the Council has mostly shown it's not interested putting 350 unionized carriage drivers out to pasture.
So in July, NYCLASS said "what the hay?" and sent their most famous member, hip hop mogul Russell Simmons, to City Hall to show off the "horseless carriage" they hoped would replace the old carts. Unfortunately for the organization, while he was there Mr. Simmons compared animal abuse to slavery and the Holocaust. Now, go to any animal rights rally and you could probably find a dozen people of the same opinion as Mr. Simmons, but none of those people would be the co-founder of Def Jam Records—or speaking to a dozen reporters—and the incident made the horse-lovers look downright unstable.
Further trampling on the group's image, the city Campaign Finance Board slapped its consultants during the 2013 campaign cycle, the Advance Group, with thousands in fines in October for coordinating work they did for NYCLASS with work they did for clients that NYCLASS endorsed. No wonder there are so many neigh-sayers about the group's political fortunes.
10. Dr. Mary Bassett: Mr. de Blasio's Health Commissioner seemed cool, competent and in complete control during last year's Ebola scare. But when a far less horrifying ailment, Legionnaire's disease, struck the Bronx in July and August, the Department of Health and Mental Hygiene could not prevent an outbreak of panic.
Federal health officials praised Dr. Bassett and the city's response to the disease, but they clearly failed to communicate confidence to the public. And as the situation seemed to spiral and the death toll rose, the city's doctor had to endure the indignity of getting bigfooted out of the way as the state Department of Health and it's head, Dr. Howard Zucker, stepped in.
It was doubtless one more part of governor's endless chess game against the mayor. But Dr. Bassett had the misfortune of being one of Mr. de Blasio's checkers.
Disclosure: Mr. Trump's son-in-law, Jared Kushner, is publisher of Observer Media.