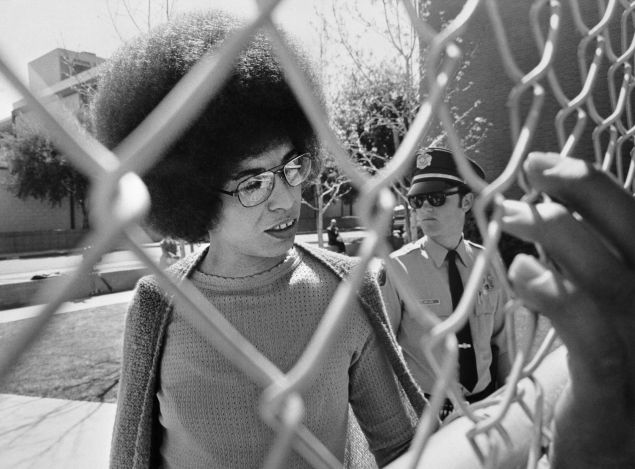 Last Thursday, while millions of Americans stood in line to see the latest Star Wars movie, a packed theater in Miami was graced with a different kind of force: Angela Davis.
One of the most prominent U.S. civil rights activists, Ms. Davis dedicated her life's work to fighting a litany of systemic injustices, among them racism, classism, sexism, homophobia, and the prison-industrial complex (a term she helped popularize). An outspoken associate of the Black Panthers and former leader of the Communist Party USA, she was placed on the FBI's Ten Most Wanted List in 1970 for her alleged role in a Marin County, California, courthouse massacre. She was arrested and during her incarceration, an international "Free Angela Davis" campaign was organized, which helped bring about her acquittal in 1972.
That a famous Communist and vocal supporter of the Cuban Revolution was coming to Miami, a city not only defined by neoliberal excess, but also ruled by anti-Castro Cuban exiles, was in itself a spectacle to behold.
Activists here struggle to have the conversation about race.
But perhaps the more curious phenomenon was the very existence of an activist movement in the Magic City. While Miami, in many ways, is finally "growing up"—a marker of which being its expanding cultural offerings, whether it is the galleries in Wynwood, the annual Art Basel fair, or the Adrienne Arsht Center for the Performing Arts—the absence of a formidable ideological critique and resistance to the city's rampant growth was rather conspicuous for a true global metropolis.
I asked Kim Diehl, a native South Floridian and board member of Critical Resistance, an international prison abolition group, what it meant that Ms. Davis had come to Miami. She said the visit served as an "exclamation point" to the efforts of local activists to build momentum for social justice movement here.
Miami presents a complicated terrain for activism. (Ms. Diehl concurred, saying the terms "activism" and "Miami" make for "strange bedfellows.") In other U.S. cities, social justice movements are rooted in struggles to dismantle systemic racism directed at African Americans. In these contexts, the elites are white and English speaking.
On the other hand, in Miami, immigrants from Latin America hold a great deal of political and economic power (though it bears noting that these elites are predominantly light-skinned and Spanish speaking). The various Latin America nations where most Miamians hail from each have their own individual colonial heritage and systems of exclusion. These influences trickle into the socio-politics of the city. (It has previously been noted that Miami is the safe haven, not only for flight capital from distressed Latin American economies, but also for the region's despots.)
'There has always been a disconnect between the postcard-picture Miami and the black working class that built it.'
Subsequently, activists here struggle to have the conversation about race. How can racism exist in a city that is a true melting pot (51 percent of Dade County's population is foreign-born), where an overwhelming majority of its political and business leadership are Latino immigrants?
"It's like we have our own mini version of American exceptionalism," Alana Greer, staff attorney and co-founder of the Community Justice Project, told me. "The same base racism exists here [as in other U.S. cities], but there is a different source of denial."
For Hashim Benford, director of the Power U Center for Social Change, a Miami-based community organization working to disrupt the school-to-prison pipeline and that served as co-host for Ms. Davis' visit, the "tale of two Miamis" has always been at the core of city's dynamic.

Hundreds of protesters shut down 195, a causeway that connects the cities of Miami Beach and Miami, in solidarity with nationwide movements to combat police violence.
"There has always been a disconnect between the postcard-picture Miami and the black working class that built it," Mr. Benford said. He explained that there was a long history of struggle for economic justice on the part of the black community. However, Miami "lacked a radical leftist infrastructure," by which he referred not to an adherence to leftist orthodoxy, but a more critically reflective approach to policymaking and addressing the city's problems.
But Mr. Benford said that that movement has been building. On a Friday evening last year, hundreds of protesters completely shut down 195, a causeway that connects the cities of Miami Beach and Miami, in solidarity with nationwide movements to combat police violence. This took place at the height of Art Basel Miami Beach, blocking access to major galleries and art events during one of the most important weeks for the region's economy.
When Ms. Davis appeared, the intergenerational crowd of over 700 rose to their feet in a thunderous round of applause that lasted over a minute. The event, called "America's Most (Un)Wanted Fight Back," was a fundraiser for its three host organizations: Critical Resistance, Dream Defenders and Power U Center for Social Change.
(For its part, Miami was host to a number of key moments in Ms. Davis' life. It was during one visit to the Magic City that she learned while watching TV that she had been put on the FBI's Ten Most Wanted fugitive list. In another visit, a bomb went off at the University of Miami just as she was about to take to the stage.)
With her gentle, resonant voice and trademark afro (though a Marxist may not take well to being described as having a "trademark" anything), Ms. Davis expressed gratitude to her rapt audience. Despite the large crowd, the gathering felt familial, like hearing a favorite aunt share lessons—if that aunt had survived being targeted by J. Edgar Hoover, Ronald Reagan and Richard Nixon.
And when it was over, the hard, glitzy shell of the Magic City cracked open to reveal something warm inside.
At distinct moments throughout the course of the two-plus-hour-long program, Ms. Davis aroused stentorian cheers. Like when she said that while great strides have been made in bringing social awareness to the ills of mass incarceration, prison abolition was the goal, not prison reform. Or when she traced police brutality and educational inequity to the fact that in the U.S., "slavery was never fully abolished." Or, when she said there was much to learn from the Haitian Revolution, which established the world's first black republic. (When she immediately followed with praise for the Cuban revolution, the Miami crowd was significantly more subdued.)
In the end, her call to action was to invest in building community. Ms. Davis advocated a reframing of community as something that goes beyond "who we live with, who we inhabit space with, even who inhabit cyberspace with."
When the program was over, the masses drew to the stage. They were persistent, but careful to self-monitor their behaviors so as not to have the police intervene. They were not just looking to take a selfie with the famed revolutionary. They wanted to give her hugs—big heartfelt bear hugs. To make bodily contact, evoking the image of adoring followers keen to touch the hem of a messiah's robe—to feel in the act the transfer of power, but here too, community.
And when it was really over, when the drum circles had dispersed and the chanting had quieted and the orange glows of the lit cigarettes in the breezy pitch of night had dimmed, it did feel like the hard, glitzy shell of the Magic City—and with it the skepticism that a reflective, conscious movement could be built within it—had been cracked open to reveal something warm inside.
Adeline Oka is a public speaker, essayist, ghostwriter and the editorial director of Invest: Miami. Follow her on Twitter @adeline_oka