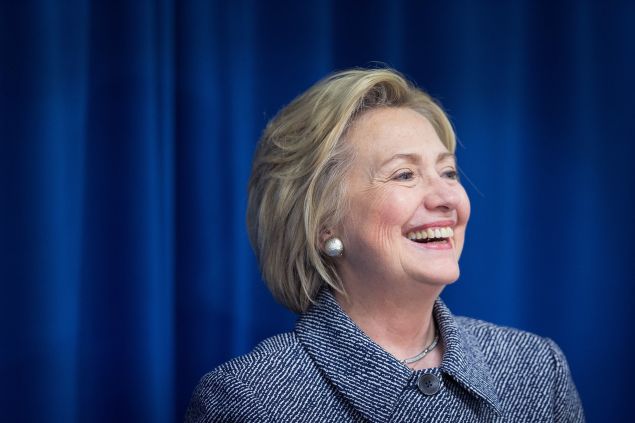 Instead of supporting the reinstatement of Glass Steagall, Hillary Clinton used her recent New York Times op-ed to propose legislation which would impose a risk fee on big banks, in hopes that stricter regulations would deter Wall Street from threatening the wellbeing of Americans like it did in the 2008 economic recession.
Glass Steagall was enacted in 1933, in response to the Great Depression, to separate investment and commercial banking activities. For decades, the legislation prevented commercial banks from gambling on the stock market, but in 1999 Glass Steagall was repealed under Ms. Clinton's husband, Bill Clinton's administration. Ms. Clinton refuses to support reinstating Glass Steagall, as she feels it will not be a cure-all for Wall Street's problems, and while she did cite economists who agree Glass Steagall didn't directly cause the 2008 economic recession, she neglected to mention it had already lost much of its power due Wall Street deregulation under Mr. Clinton's administration. The law was enacted to prevent history from repeating itself after the Great Depression, and shortly after its repeal history did just that with the 2008 economic recession. A failure to reinstate a contemporary form of Glass Steagall invites future recessions to occur. 
Most in favor of reinstatement believe the move would be a significant step toward broader Wall Street reforms. Aside from Democratic presidential candidate Senator Bernie Sanders, one of the strongest advocates for reinstating Glass Steagall is Senator Elizabeth Warren. Ms. Warren, a former Harvard Law Professor who specialized in bankruptcy law, played a central role in writing portions of the Dodd-Frank Wall Street reform law in 2010 before she was elected to the senate. This past July, she introduced a bill with Senator John McCain (R-AZ) to reinstate Glass Steagall.
With the five largest banks on Wall Street holding 45 percent of the nation's assets—compared to just 25 percent in 2000—Ms. Clinton's reforms are insufficient.
"Over the past seven years we have made some real progress dialing back the risk of a future crisis, but despite that progress, the biggest banks continue to threaten the economy," Ms. Warren said on the senate floor in July. "Starting in the 1980s, regulators at the Federal Reserve and the office of the controller of the currency buckled under industry pressure and began poking bigger and bigger holes in the wall between investment and commercial banking. After 12 separate attempts, Congress repealed most of Glass Steagall in 1999."
Ms. Warren and many other politicians support reinstating Glass Steagall to help rebuild the wall between investment banking and commercial banking, while taking into account contemporary issues in the financial sector that were non-existent or irrelevant when Glass Steagall was first introduced in 1933. "By itself, the 21st century Glass Steagall Act will not end too big to fail and implicit government subsidies, but it will make financial institutions smarter and safer, and move us in the right direction," she added.
Ms. Clinton's comprehensive Wall Street Reform plan has a lot of positive attributes—many of which Ms. Warren and Mr. Sanders agree with—but the dismissal of reinstating Glass Steagall weakens her plan significantly. In her Times op-ed she argued that "we need to tackle excessive risk wherever it lurks, not just the banks." Ms. Clinton attempts to debunk the reinstatement of the Glass Steagall Act as ineffective, but given the political power of big banks—with the five largest on Wall Street currently holding 45 percent of the nation's banking assets compared to just 25 percent in 2000—her cautious reforms are insufficient.
Supporting Ms. Warren and Mr. McCain's 21st century Glass Steagall Act should be a staple of both Ms. Clinton and Mr. Sanders' Wall Street reforms, but Ms. Clinton is opting for a less aggressive approach, which doesn't help distance her from Wall Street. Some of the biggest donations to the Clinton Foundation came from Bank of America, CitiGroup and Goldman Sachs. In the second Democratic debate, she fumbled an explanation of her Wall Street ties, going off on a rant about 9/11. Ms. Clinton's disregard for Glass Steagall is indicative of her unwillingness to actually usher in change on Wall Street by holding banks accountable for their actions. Her vague talking points are just business as usual; political rhetoric from a well-seasoned lawyer who knows what to say to garner as much support as possible.
Those who work on Wall Street have recovered from the 2008 recession—with many faring better than they were before—but most Americans are still struggling to get by after losing their homes, savings and jobs. Glass Steagall is critical to ensure future generations don't have similar experiences, while the wealthy of Wall Street remain unscathed and unpunished for gambling with the livelihood of the American public.