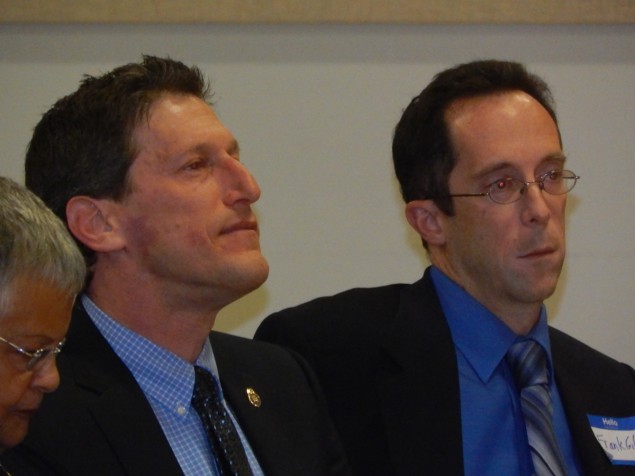 Princeton plasma physicist and now assemblyman-elect in LD16 Andrew Zwicker took home the election in his district last month by an extremely narrow 78-vote margin. When he won, the Democrat unseated Republican Assemblywoman Donna Simon. Though the next race for New Jersey State Senate will not be held until 2017—when Zwicker's first term on the assembly will be ending—that election might be an opportunity for Zwicker to challenge another LD16 incumbent: state Senator Kip Bateman.
This year, Zwicker's win can be partly connected to the record-low numbers of voters who headed to the polls to cast their ballots. Before 2015, LD16 has leaned heavily Republican. This year, however, slightly higher turnout in Democratic-leaning towns in the district propelled Zwicker to victory.
Zwicker, a Rush Holt protégé, ran for a seat in the 12th Congressional District in 2014 and lost. While that run demonstrates that he might have ambitions to run for higher office, Zwicker said that, for now, he has not considered a run for senate.
"I haven't even joined the assembly yet so my focus is purely on joining the assembly and doing my best as a first term assemblyman for the 16th district," Zwicker said. "My intent is to do that and to run for reelection for the assembly."
Zwicker said that, for the time being, he has ruled out thoughts of a run for higher office as he "has a lot to do" after he joins the assembly.
Repeating this year's success will be more difficult in 2017 when a higher-profile race is at the top of the ticket. The gubernatorial race in 2017 will drive voters to polls, potentially swinging the pendulum back to the Republican side in LD16. Whether Zwicker decides to challenge Bateman in 2017 or pursue a reelection bid to the assembly, there is some possibility he could come out on top. Though there will be a significantly higher turnout for that election, growing statewide discontent for the Republican Party at the helm of Governor Chris Christie might lead voters to look for something different, namely, a Democrat. Often, voters have the tendency to vote down the column, potentially securing election to either position for Zwicker.
Another factor on Zwicker's side is that he won this year through a grassroots campaign effort where he had little support from political bosses due to the perceived long shot nature of his bid. If he were to run for senate it is likely all eyes would be on him, getting him the party attention he needs.
If Zwicker did decide to make a run for senate in LD16 he likely would not have an easy time toppling Bateman. In addition to being an incumbent, Bateman has a long-standing history in the district. He served as assemblyman for 14 years from 1994 to 2008, the same year he first assumed office as LD16 senator. Additionally, he is the son of Senator Raymond Bateman who represented LD16 in the 1960s and 1970s.
Though Zwicker said he hasn't yet considered a run, Bateman said he "wouldn't be surprised" if Zwicker did decide to run for the senate in 2017.
"I know that I am running again and I am sure I am going to have opposition and he could be one of them," Bateman said. "He needs to learn his way around Trenton but I wouldn't be surprised if he challenges me."
According to Bateman, 2017 race dynamics might spell a very different outcome if Zwicker did challenge him than were faced in this year's assembly contest.
"The district has become very competitive," Bateman said. "But, 2017 is a lot different from 2015. There was a very low turnout in 2015. In 2017, we will have the gubernatorial candidates at the top of the ticket. It is going to be a whole different scenario."
Though he confirmed he will again be pursuing election in 2017, Bateman said that his focus right now is not on the election in two years. Instead he said he hopes to work on spending "the next couple of years trying to fix some of the problems we have in the state."
"I think if we do that we will be in a better position to go to the voters and show them some results," Bateman said. "All I am focusing on right now is trying to do the best for my district."
As he has yet to assume office and the senate races are still years away, it is unlikely that Zwicker will decide if he will pursue a senate run any time soon. For now, it is worth keeping an eye on LD16 as he begins his term as the first Democrat to ever hold office there.