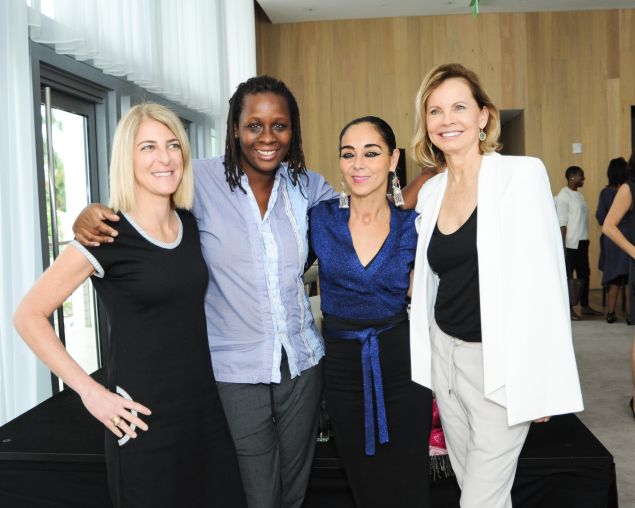 "Thinking about what a muse is: it's a noun, but it's a person, mainly a woman, used for artistic inspiration," Mickalene Thomas said Thursday at the Pratt Institute's "Women of Influence in the Business of Art" panel. "Going back to Greek mythology, it was 9 different goddesses." The statement rings true; Calliope, Clio and Polyhymnia, the muses of epic poetry, history and music were over time replaced by Marie-Thérèse Walter, Catherine Deneuve and Patti Smith, inspirations to Pablo Picasso, Dior and Robert Mapplethorpe. Yet, as they have emerged more and more on the artistic side of the equation, the fairer gender hasn't been given the respect or credit due them.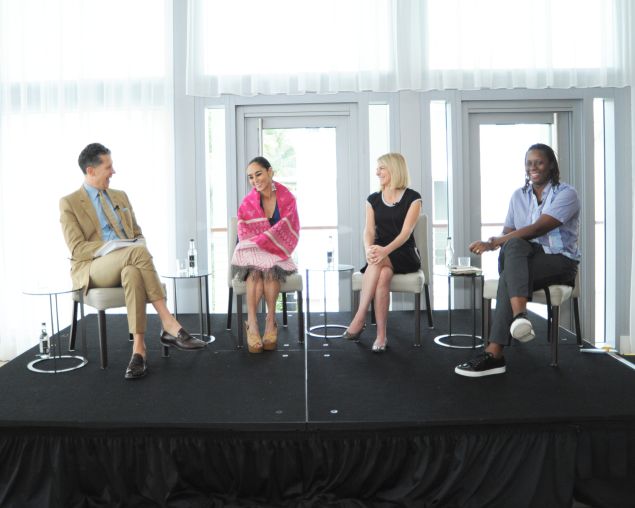 According to editor in chief Stefano Tonchi, who moderated the panel featuring artists Shirin Neshat, Mickalene Thomas and Aspen Art Museum CEO and director Heidi Zuckerman, it's a Georgia O'Keeffe piece that holds the slot as the most expensive piece of art created by a female artist. A former muse herself, O'Keefe's work brought in a reported $44 million. While that number may seem lofty, it pales in comparison to men like Mark Rothko, Pierre-Auguste Renoir, Andy Warhol and Picasso. In fact, all of those artists have created works that have sold for over the $75 million mark. Thursday's panel addressed the myriad of issues women face as artists.
"I define my work as a feminist act and a political act because I'm black and a woman," Thomas said, who's known for her work that combines art-historical, political and pop-cultural references for figurative and non-figurative paintings. "You don't necessarily have to claim that but the act of making art itself is a political and feminist act when you're a woman."
This year's Art Basel Miami, though only officially one day in, was full of representation from women, whether as artists, DJs, organizers or otherwise.  When Tonchi opened the week with Robert Cavalli at the home of the Rubells, it was Mera Rubell, not her husband Don, that presided over the events. In fact, she offered up the tennis court as a venue in the first place.
Throughout the week, women stayed in the forefront. Miami nightlife fixture Julz Goddard, known online as YesJulz, operates an all-female agency that produced a whopping nine Basel-related events. Thursday night, prior to a short Miguel performance, Julz DJ'd a set with Atlanta-based DJ Speakerfoxxx for the likes of Bella Hadid, DKNY's Maxwell Osbourne and Dao Yi-Chow, Stampd's Chris Stamp and visual artist Aerosyn-Lex. That of course doesn't count events like the pop up shop being thrown by Kim Kassel and Lizzie Tisch, co-founders of the New York-based members-only shopping salon Suite 1521, or the event that Style Mafia orchestrated. That Miami-based fashion staple headed up by Simonett Pereira built an interactive photo booth in collaboration with Italian eyewear brand Oxydo featuring a new capsule collection of sunglasses created in collaboration with French artist Clemence Seilles.
"You know, I was talking to Lauren Sherman for the Business of Fashion not long ago and she was writing an article about this very niche cross-pollination between art and fashion," Cecilia Dean, editor in chief of Visionaire said at the publication's issue 36 launch, an hour after the Pratt panel. "There's not really that many people in that space and so out of curiosity I said 'Who else are you interviewing?' and she started listing them off and they were all women."
While neither Ms. Dean nor Ms. Sherman could come up with a reason, the circumstance was sort of ironic as historically, female artists have caught flack for being too stylish. "I was at a panel discussion at Yale years ago and they were talking about Cecily Brown who had just done this story in Vogue," Ms. Dean said, giving an example. "It was a big fashion shoot that also showed her art and some people were very critical of that. They asked me about it and I said 'If you've got it flaunt it.'"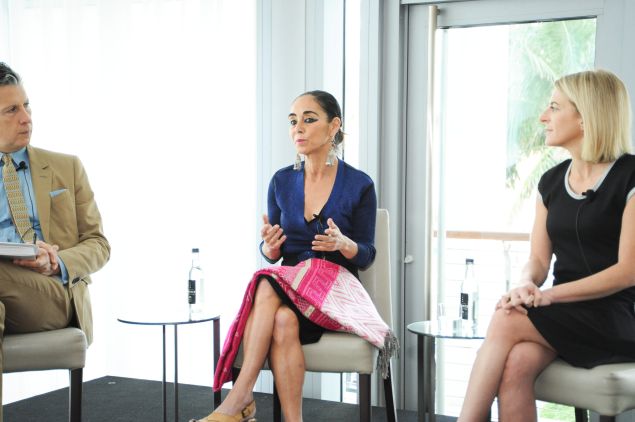 Back at the panel, the "issue" of being a stylish artist also came up. Tonchi posed the question specifically to Shirin Neshat, the Iranian-born artist and filmmaker. "I've always thought an artist's body and style is an extension of their artistic expression," she explained, looking fairly chic herself with a light shawl and high heels. "The things that I wear are what I like and it's not about impressing anyone."
"I look back at other artists who did not let their artistic expression extend to their style but I really do my style like I make my calligraphy, [it's expression]." Neshat recently was shot by Annie Leibovitz for this year's Pirelli calendar in addition to having collaborated with brands like Dior in the past.
"[It's really about] giving women the confidence to be themselves," Tonchi said after the panel when we asked about the purpose for the event. "You know, this is another part of what we do that's not just beautiful pictures. This was a way to show that we really care about the business of art and that world."
"For us it was about the position of women in the art world," he continued. "If you want to change things it starts with education, [and that's what this was.]"