MONDAY, JANUARY 25
Opening: "A New Look at a Van Eyck Masterpiece" at the Metropolitan Museum of Art
This exhibition takes a deeper look at Dutch master Jan van Eyck's 15th century paintings Crucifixion and Last Judgment to find out whether the panels were always meant to be a diptych, or if perhaps they're the wings of a triptych whose centerpiece went missing. The museum will display the paintings alongside infrared reflectography images of the canvases and X-rays of the frames to help to try and solve this mystery. A recently discovered drawing of the Crucifixion from the collection of the Boijmans Van Beuningen Museum in Rotterdam will also be on view.
The Metropolitan Museum of Art, 1000 Fifth Avenue, New York, free with museum admission
Talk: "Public Art Fund Talks: Adrián Villar Rojas" at the New School
An Argentinian artist who made a big splash at the 2015 Istanbul Biennial with his life-size installation of a fiberglass bestiary by the sea, Adrián Villar Rojas was already well-known on the international biennial circuit for his eccentric clay sculptures, including the full-bodied replica of Michelangelo's Statue of David reclining on two pedestals that was exhibited at Marian Goodman Gallery in New York City last fall. On Monday evening, the artist discusses these works and other projects, while possibly hinting at a piece for the Public Art Fund in New York in the near future.
The New School, 66 West 12 Street, New York, 6:30 p.m., $10
TUESDAY, JANUARY 26
Opening: "Nicky Nodjumi: You and Me" at Taymour Grahne Gallery
Walking the line between realism and surrealism, Nicky Nodjumi mixes social concerns with his personal history to create narrative artworks that are both enigmatic and profound. Born in Iran in 1942, the Brooklyn-based painter was already an accomplished artist before immigrating to America in the late-1960s. After getting his MFA from the City College of New York in 1974, Mr. Nodjumi began exhibiting paintings and drawings that addressed political issues in his homeland, his adopted nation and the world at large. The exhibition "You and Me" features more than two-dozen new large-scale canvases and works on paper that draw upon stories from the New York Times for themes and characters, many of whom get shuffled and imaginatively recast in Mr. Nodjumi's theatrical allegories.
Taymour Grahne Gallery, 157 Hudson Street, New York, 6-8 p.m.
WEDNESDAY, JANUARY 27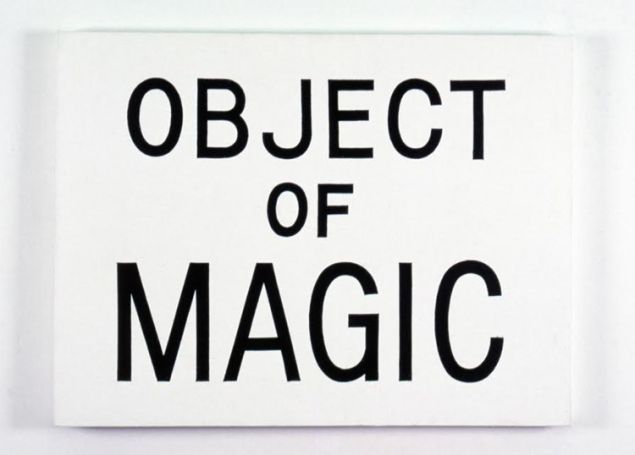 Opening: "Jonathan Borofsky" at Paula Cooper Gallery
A conceptual artist that turned to painting and sculpture in the mid-1970s, Jonathan Borofsky is best known for his towering, mechanized Hammering Man sculptures, which have been featured as public art in cities around the world. For his solo show at Paula Cooper—where he mounted his first solo exhibition in 1975—the artist digs into his archive for a selection of paintings and sculptures made between 1967 and 1983. Works on view will include a number of baffling text pieces, as well as a range of drawings and paintings that capture Mr. Borofsky's intimate dreams in cartoon and comic book form.
Paula Cooper Gallery, 521 W 21 Street, New York, 10 a.m.-6 p.m.
Opening: "Open This End: Contemporary Art from the Collection of Blake Byrne" at Miriam and Ira D. Wallach Art Gallery
Presenting 30 contemporary artists working in a variety of media, "Open This End" draws works from the collection of the 80-year-old Blake Byrne, a philanthropist and retired television executive. Organized by critic and independent curator Joseph R. Wolin, the exhibition features figurative paintings and sculptures by such celebrated artists as Marlene Dumas, Martin Kippenberger and Paul McCarthy, all of whom were collected in-depth by Mr. Byrne. There are also major video works by Martin Kersels and Paul Pfieffer, and photography highlights that include pictures by Louise Lawler, Cindy Sherman and Ed Ruscha (who's represented by 24 black-and-white prints of aerial views of empty parking lots in Los Angeles from 1967.)
Miriam and Ira D. Wallach Art Gallery, Columbia University, 926 Schermerhorn Hall, 1190 Amsterdam Avenue (MC 5502), New York, 6-8 p.m.
Talk: "Now and Then: Drawings from the 19th Century to the Present: Talk with Artists and Curators" at the New York Academy of Art
Organized in conjunction with the current exhibition at NYAA, which contrasts works from nine 19th-century artists with works on paper by nine contemporary artists, this panel discussion will focus on how artists have used traditional drawing skills to advance the medium over the course of two centuries. The panelists include NYAA's Dean of Academic Affairs Peter Drake and Director of Exhibitions Heidi Elbers, Dahesh Museum of Art Curator Alia Nour and artists Audrey Flack and Michael Grimaldi, who are also featured in this captivating show.
New York Academy of Art, 111 Franklin Street, New York, 6:30 p.m.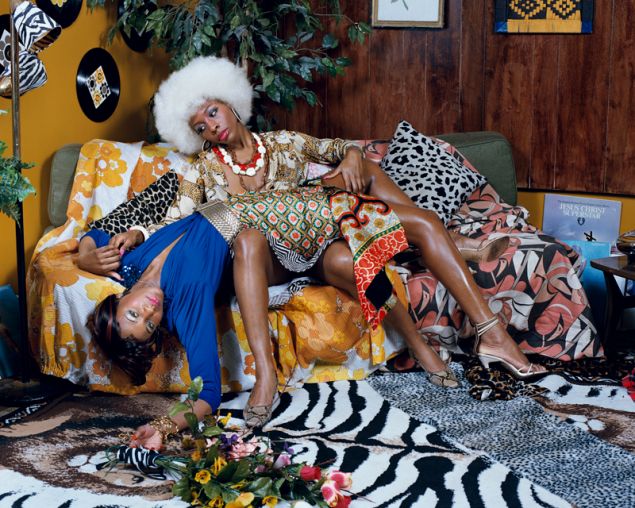 Opening: "Muse: Mickalene Thomas Photographs and tête-à-tête" at Aperture Gallery and Bookstore
This overview of Mickalene Thomas' dynamic self-portraits and staged studio shots of friends and family from her recently published Aperture book Muse will be shown alongside her curated show of photographs that have inspired her work titled, "tête-à-tête." The show focuses on the black body in contemporary society, and photographers include Malick Sidibé, Zanele Muholi (who both hail from Africa), Carrie Mae Weems and LaToya Ruby Frazier, each of whom are recent recipients of the prestigious MacArthur "Genius" Grant.
Aperture Gallery and Bookstore, 547 West 27 Street, New York, 7-8:30 p.m.
Opening: "Drawing Then: Innovation and Influence in American Drawings of the Sixties" at Dominique Lévy
Looking back at the artistic importance of the medium of the drawing to the turbulent 1960s, "Drawing Then" presents more than 70 works from 40 internationally recognized artists. Inspired by and coinciding with the 40th anniversary of the seminal Museum of Modern Art exhibition "Drawing Now, " this lively show features innovative works on paper by Eva Hesse, Ellsworth Kelly, Roy Lichtenstein and Andy Warhol, along with wall drawings by Mel Bochner and Sol Lewitt. Curated by Kate Ganz, the author of eleven scholarly catalogues on drawings, the exhibition includes loans from MoMA, the Whitney Museum of American Art and several private collections, foundations and estates.
Dominique Lévy, 909 Madison Avenue, New York, 6-8 p.m.
THURSDAY, JANUARY 28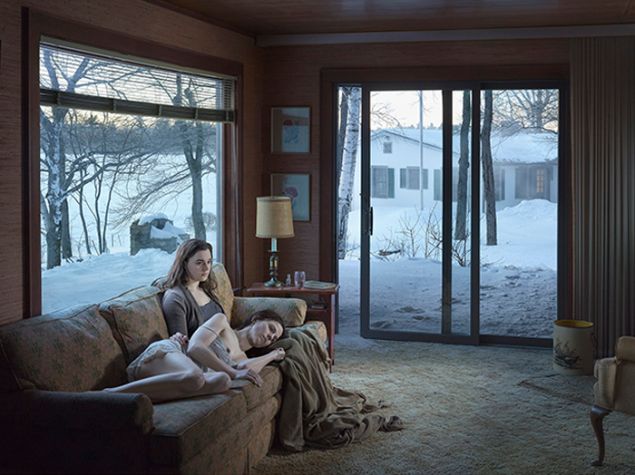 Opening: "Gregory Crewdson: Cathedral of the Pines" at Gagosian Gallery
Shot over the course of three sessions in rural Massachusetts during 2013 and 2014, Gregory Crewdson's new series of staged photographs incorporates the movie-style production values that the artist has successfully employed throughout his 20-year career. Working with a crew, Mr. Crewdson created psychological narratives for the camera in and around the town of Becket, while often referencing scenes from 19th century American and European paintings. The 31 large-scale prints on view range from the suggestive image of a nude couple resting in the back of a pickup truck parked deep in the woods to an intimate picture of an aloof father and daughter blankly gazing at a TV in a wood-paneled, basement rec-room.
Gagosian Gallery, 522 West 21st Street, New York, 6-8 p.m.
Opening: "Berlinde De Bruyckere: No Life Lost" at Hauser & Wirth
Offering new sculptures and drawings by Berlinde De Bruyckere, the exhibition "No Life Lost" is centered around this Belgian artist's critically acclaimed installation Cripplewood, which premiered in her homeland's Venice Biennale pavilion in 2013. A massive construction that reproduces the fallen trunk of an uprooted elm tree, Cripplewood resembles the muscles, tendons and bones of a human being—thereby metaphorically addressing issues of death and decay. Another highlight of the show is the 2015 sculpture to Zurbarán, which references Spanish Baroque painter Francisco de Zurbarán's portrayal of the Lamb of God. Showing a colt tied up on a table and ready for slaughter, the disconcerting piece represents the artist's response to the unfortunate fate of many refugees attempting to reach European shores.
Hauser & Wirth, 511 West 18 Street, New York, 6-8 p.m.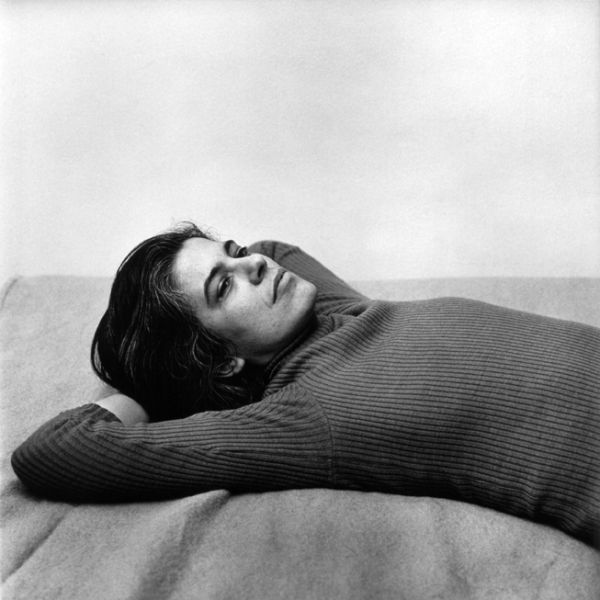 Opening: "Peter Hujar: Lost Downtown" at Paul Kasmin Gallery
Presented in collaboration with the Midtown photography gallery Pace/MacGill, this show takes a look back at Peter Hujar's portraits of New York's downtown dignitaries during the '70s and '80s. This succinct selection of black-and-white prints features such intimate portraits as Candy Darling on her Deathbed (1973) and John Heys in Lana Turner Dress #1 (1979), but also includes marvelous images of author Susan Sontag, artist David Wojnarowicz and filmmaker John Waters. Sadly, Mr. Hujar died of an AIDS-related illness at age 53 in 1987, but his photographs triumphantly live on in numerous museum collections—and now this remarkable show.
Paul Kasmin Gallery, 297 Tenth Avenue, New York, 6-8 p.m.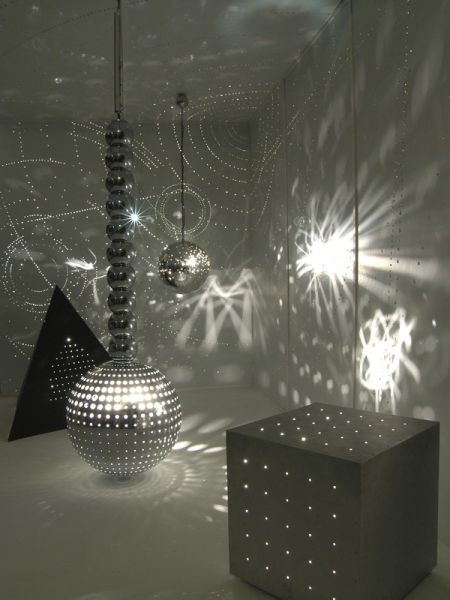 Opening: "Otto Piene: Sundew and Selected Works 1957–2014" at Sperone Westwater
This significant survey occupies the three full floors of the gallery and covers six decades of work by the esteemed German artist Otto Piene, one of the co-founders of Europe's legendary Zero group. Many works from Zero's most active period (the 1960s and 1970s) alongside later works from the artist's career will be on display, including the 1970 inflatable sculpture Red Sundew 2, red "fire" paintings made during various intervals of the Mr. Piene's career and numerous pieces—including his Lichtballette (light ballets)—in which the artist experimented with light, a favorite subject and medium of the Zero group. It's great timing for this show, which will capitalize on the resurgence of the Zero group, partially thanks to the comprehensive and celebrated exhibition held at the Guggenheim Museum in 2014.
Sperone Westwater, 257 Bowery, New York, 6-8 p.m.