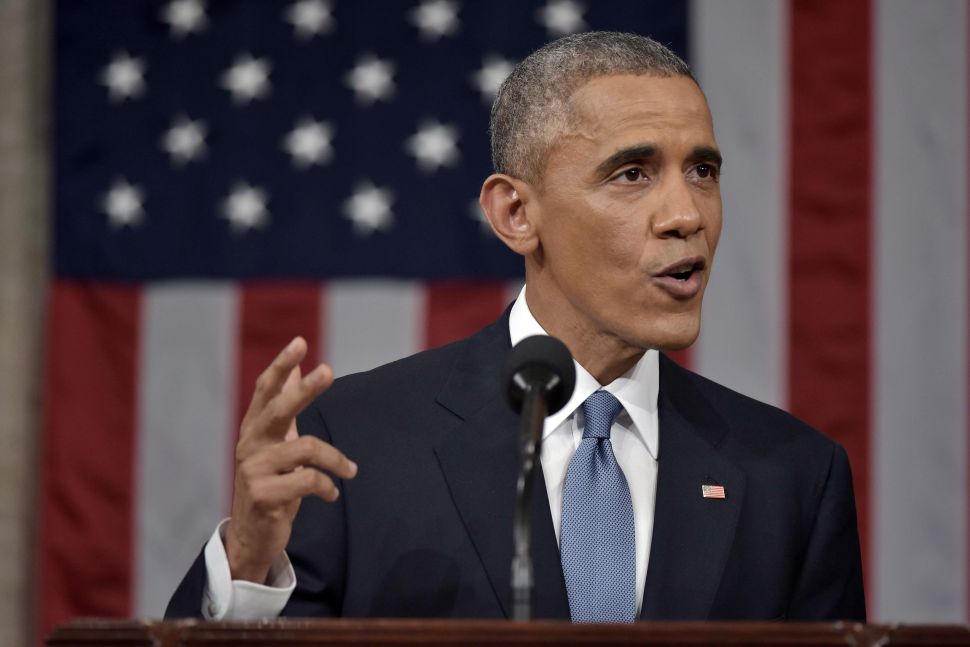 First, the bad news. We had to listen to yet another stump speech purporting to claim that the president's policies have been successful but that there is "more work to do." The good news? This is the last one we'll hear from this president.
Obviously, the next president's State of the Union address will be just as vapid, self-congratulatory and condescending as this president's, but at least the speaker will be different. Maybe things will be worded differently. Maybe the issues addressed will be different. No matter what, the change itself will be nice – for awhile.
President Obama's last State of the Union was not very different from his previous ones; he touted his policies  and outlined what he wants to do in his final year of the presidency. Here are five takeaways:
He aimed for positivity
Mr. Obama early on in his speech rattled off several polarizing issues that he wanted to address, but said he would "focus on the next five years, ten years and beyond."
And what followed was a lofty speech with few specifics, like saying Americans throughout history have "reshaped the way we live, the way we work, our planet and our place in the world." He listed the three questions he wanted to address in his speech, which were all broad topics and harkened back to the "hope and change" that originally got him elected.
He spoke about how the economy is doing better now than when he inherited it, and listed some bipartisan issues that he wanted to work on with Congress – like making college more affordable.
What I found most refreshing was how Mr. Obama stayed away from blaming Republicans in the condescending way he usually does.
He espoused behavior he doesn't follow
At one point, Mr. Obama said that democracy "doesn't work if we think the people who disagree with us are all motivated by malice, or that our political opponents are unpatriotic."
This is a nice sentiment, but we've seen Mr. Obama allude to these very things in his other speeches, especially when it comes to fighting terrorism or gun control. On these topics, Mr. Obama demagogues his opponents and suggests they don't have America's best interests in mind, which brings me to my next point:
He at least claims to regret he has made the country more polarized
Mr. Obama said one of the "few regrets of my presidency" was "that the rancor and suspicion between the parties has gotten worse instead of better."
Now, he promised to do better, but he's been in office for seven years, so his promise to try better in his final years rings hollow. But at least he recognizes that he has not healed the nation as he promised during the 2008 campaign and in the early months of his presidency.
The issues he will focus on in his final year are minor and probably won't happen without executive action
Despite the past week of discussing gun control, the issue only got a passing reference in Mr. Obama's speech. Instead, Mr. Obama focused on making college more affordable (by somehow making community college free), addressing wealth inequality and developing clean energy sources.
These obviously aren't the biggest issues of the day – they're not national security, or the economy or taxes. But they are issues that can seem like everyone should agree, but when the actual proposals come out – are very clearly partisan.
Take clean energy. Developing clean energy sources is a swell goal. But mandating that oil companies reduce their oil production in favor of more expensive, less viable sources that would increase energy costs (especially for low-income families), is not something Republicans could sign on to. But Mr. Obama will travel the country and tout these "common sense" views in order to vilify Republicans and portray them as extreme and living in the past.
So even though he says in his State of the Union address that democracy crumbles when disagreement leads to distrust, he will display that very sentiment in order to score political points and shore up his legacy, whatever that is at this point.
He was channeling Bernie Sanders, not Hillary Clinton
Very little of what he said seemed to channel former Secretary of State Hillary Clinton's campaign platform. There was, however, one particular passage that seemed to channel Vermont Sen. Bernie Sanders' campaign.
"Food Stamp recipients didn't cause the financial crisis; recklessness on Wall Street did. Immigrants aren't the reason wages haven't gone up enough; those decisions are made in the boardrooms that too often put quarterly earnings over long-term returns. It's sure not the average family watching tonight that avoids paying taxes through offshore accounts," Obama said. "In this new economy, workers and start-ups and small businesses need more of a voice, not less. The rules should work for them."
I don't know about you, but that seems lifted straight from a Sanders speech and not a Clinton one. As Vice President Joe Biden said earlier in the day, Mr. Sanders has "credibility" on the issue of wealth inequality, while Ms. Clinton is "relatively new" to the issue.
Mr. Obama seemed to tap into the populist view – one that is eluding Ms. Clinton on the campaign trail.