FRIDAY, JANUARY 22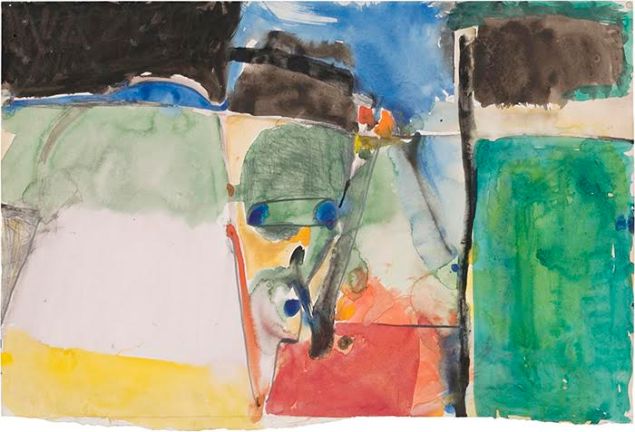 Opening: "Richard Diebenkorn: Early Color Abstractions 1949-1955" at Van Doren Waxter
Richard Diebenkorn is one of the most celebrated artists to come out of the Bay Area Figurative Movement—a group of San Francisco Bay area artists that included David Park, Elmer Bischoff and Wayne Thiebaud—who eventually forsook the dominant Abstract Expressionist style of the '50s to revisit figuration. This show of early color abstractions features 30 recently discovered works on paper that reveal the influence of the AbEx painters Arshile Gorky and Willem de Kooning on the young Diebenkorn, who made these gestural works while living in New Mexico, Illinois and California before he went figurative.
Van Doren Waxter, 23 East 73 Street, New York, 6-8 p.m.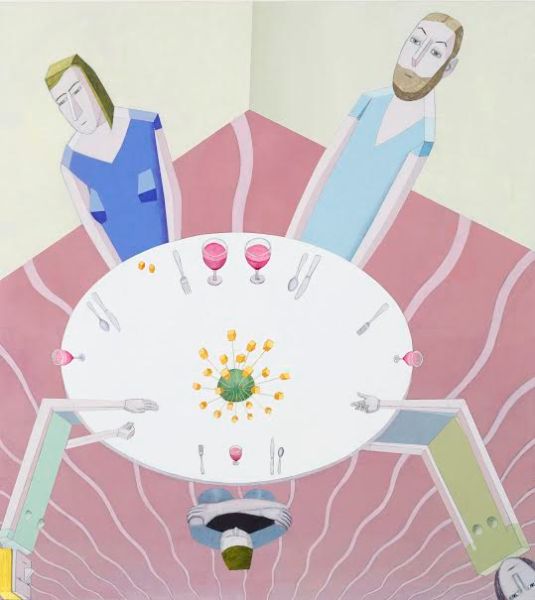 Opening: "Mernet Larsen: Things People Do" at James Cohan
A mature painter who has recently been getting a lot of buzz thanks to her influence on younger artists, Mernet Larsen creates strange narrative scenes depicting people and the places they occupy as hard-edged, geometric forms with perspectives that have gone awry. It's the 74-year-old's first solo show with the gallery. The 2016 painting Punch presents five abstracted figures seated around a table as viewed from above, while 2015's Misstep captures a blocky, Pez dispenser-like couple treading over an elevated edge towards a tiny realm far below.
James Cohan, 291 Grand Street, New York, 6-8 p.m.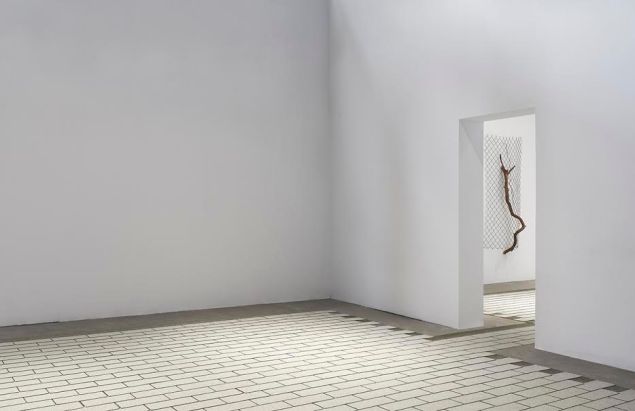 Opening: "Charles Harlan: Flood" at Pioneer Works
Charles Harlan constructs Minimalist-inspired yet whimsical installations and sculptures from industrial materials and the detritus of suburban environments. Fresh off a string of high profile solo and group exhibitions in Europe and the States, the artist brings three monumental installations—along with a couple of smaller, more intimate sculptures—to his commissioned solo show at Pioneer Works. Fence unfurls 33 feet of standard chain-link fencing from the rafters and across the gallery floor. Water becomes the focused resource in Harlan's 10 x 10 foot eponymously titled brick basin, and Shingles, made from translucent roofing tiles, is metaphorically turned on its head to create a sensual floor sculpture, which playfully—and purposefully—recalls the work of the Minimalist master Carl Andre.
Pioneer Works, 159 Pioneer Street, Brooklyn, 6-9 p.m.
SATURDAY, JANUARY 23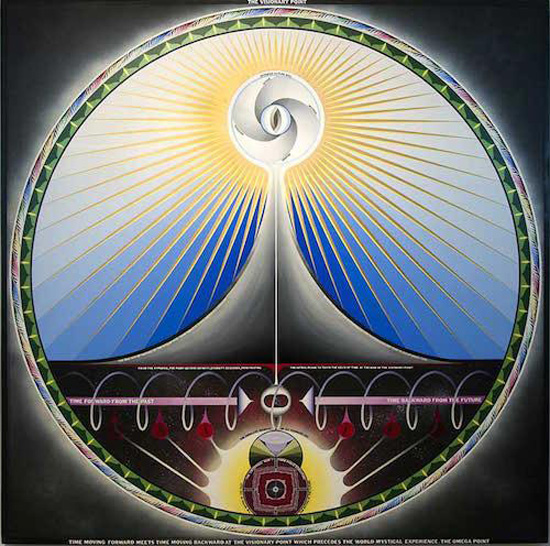 Talk: "Self-Taught Artists Consider the Cosmos" at the American Folk Art Museum
Responding to the deaths of self-taught artists Paul Laffoley and Ionel Talpazan last fall, Mr. Laffoley's art dealer Douglas Kent Walla of Kent Gallery is joined by folklore scholar Daniel Wojcik and visionary artist Misha Bittleston to discuss the "common interest in cosmology and otherworldly phenomena" that the three atomic age artists share. The timing of this panel—smack in the middle of the Outsider Art Fair—couldn't be better.
American Folk Art Museum, 2 Lincoln Square, New York, 4-6 p.m., $20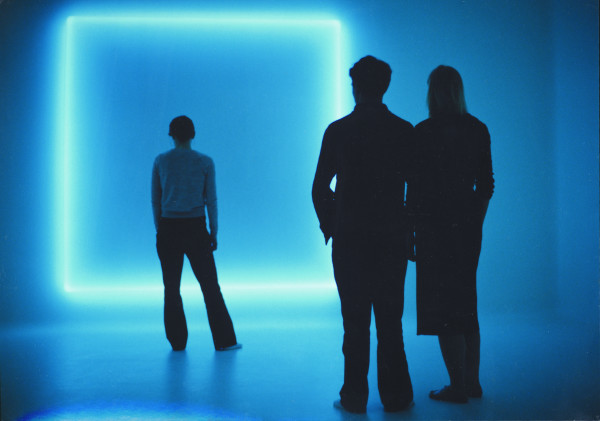 Opening: "Doug Wheeler: Encasements" at David Zwirner
This historical grouping of the five Encasements by Doug Wheeler, one of the pioneers of the Light and Space movement in California in the 1960s and '70s, has never been shown together. Between 1967 and '69, the artist created 20 such light encasements made from big sheets of vacuum-formed plastic with implanted neon lighting along the sides. The resulting light paintings, when shown in a darkened white space, become completely immersive, offering an experience that's not to be missed. Arrive early, because when the gallery presented Mr. Wheeler's first critically acclaimed solo show in New York in 2012, the line wrapped around the block.
David Zwirner, 537 West 20 Street, New York, 10 a.m-6 p.m.
Opening: "Rochelle Goldberg: The Plastic Thirsty" at SculptureCenter
A Canadian artist based in New York, Rochelle Goldberg has been wowing art viewers with her hybrid sculptural works in group shows at the Swiss Institute, Martos Gallery and Clearing. Ms. Goldberg offers audiences a chance to see more of her black metal-and-ceramic works throughout the cavernous lower level of SculptureCenter. Highlights in this enigmatic show include several large ceramic fish with exposed metal vertebrae, a ceramic bucket with hands and a giant metal fish hook fixed with a chunk of ceramic bait.
SculptureCenter, 44-19 Purves Street, Long Island City, 6-8 p.m.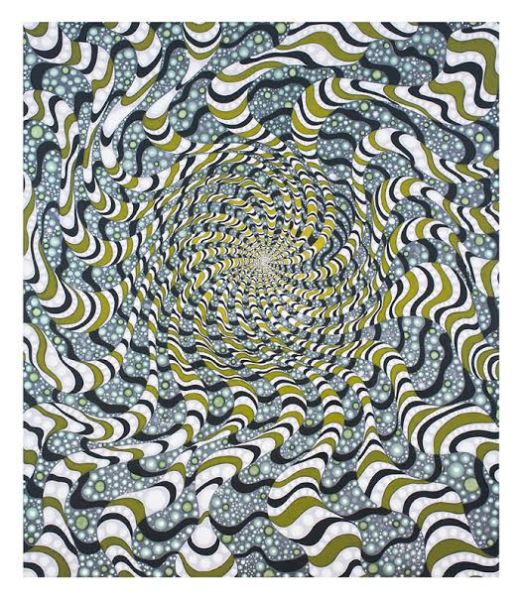 Opening: "The Swerve" at Ortega Y Gasset Projects
A group exhibition curated by artists Lauren Frances Adams and Jennifer Coates, "The Swerve" presents paintings and sculptures by nine emerging and mid-career artists who make artworks that play with pattern in fascinating ways. The title of the show comes from Stephen Greenblatt's book of the same name which examines ancient theories about how falling atoms sometimes swerve to create new life forms. Regarding the artists on view—a group that includes Glenn Goldberg, Joyce Kozloff, Bruce Pearson and Barbara Takenaga—the curators theorize that they swerve "to tease out meaning from complex visual matrices," creating new forms of art in the process.
Ortega Y Gasset Projects, 363 Third Avenue, Brooklyn, 6-9 p.m.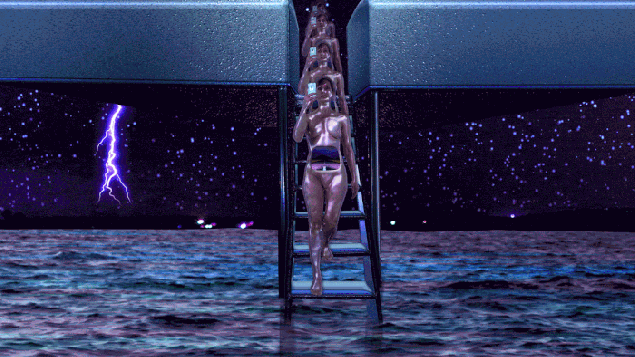 Opening: "Carla Gannis: A Subject Self-Defined" at Transfer
A digital artist who's known for her videos and photographs that mix contemporary culture with Old Master paintings, Carla Gannis presents new work that deals with issues of identity and branding. The video Nude Descending a Staircase—a riff on one of Marcel Duchamp's most famous paintings—shows the nude artist walking down stairs in a futuristic environment while repeatedly taking selfies. Meanwhile, the animation Babel finds Ms. Gannis humorously wrapped in the Tower of Babel as depicted in Pieter Bruegel the Elder's celebrated canvas.
Transfer, 1030 Metropolitan Avenue, Brooklyn, 7-11 p.m.
SUNDAY, JANUARY 24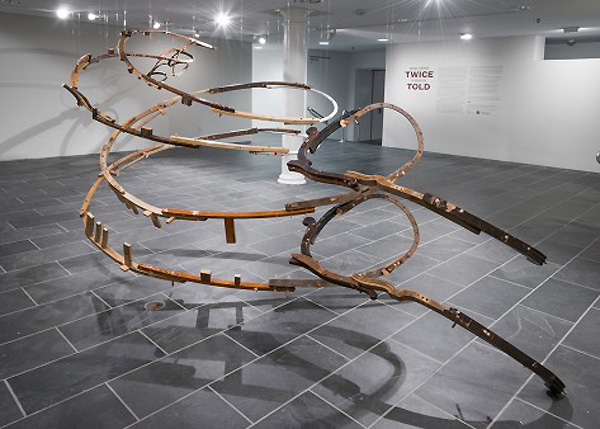 Gallery Tour: "Marc Andre Robinson: Twice Told" at the Studio Museum in Harlem
Marc Andre Robinson makes abstract sculptures that metaphorically comment on issues of oppression. Having worked with traditional carpentry techniques and found furniture over the past decade or so, the artist's massive 2015 sculpture Twice Told uses reclaimed chairs that have been deconstructed and reassembled into two parallel, extending whip-like forms. Join a tour of the exhibition, presented as part of Target Free Sundays, and discover the buried references in Robinson's work, beginning with his shows title, which is taken from writer and civil rights pioneer W.E.B. DuBois' notable 1903 book The Souls of Black Folk.
The Studio Museum in Harlem, 144 West 125 Street, New York, 1-2 p.m.