Come June 2016, the U.K.'s most prominent contemporary art institution will get a whole lot bigger—ten stories bigger to be exact.
The Tate Modern's highly anticipated expansion is well underway, and this spring it will unveil a brand new ten-story Switch House tower and south entrance connecting three new underground performance spaces called the Tanks.
The expansion is so big it will increase the size of the museum by 60 percent, which seems appropriate considering the sharp rise in attendance the institution has seen in recent years. The space was originally built to accomodate 2 million visitors annually, but it's been averaging 5 million. (According to figures from the Tate, while it's only half the size of New York's MoMA it has twice as many visitors each year.)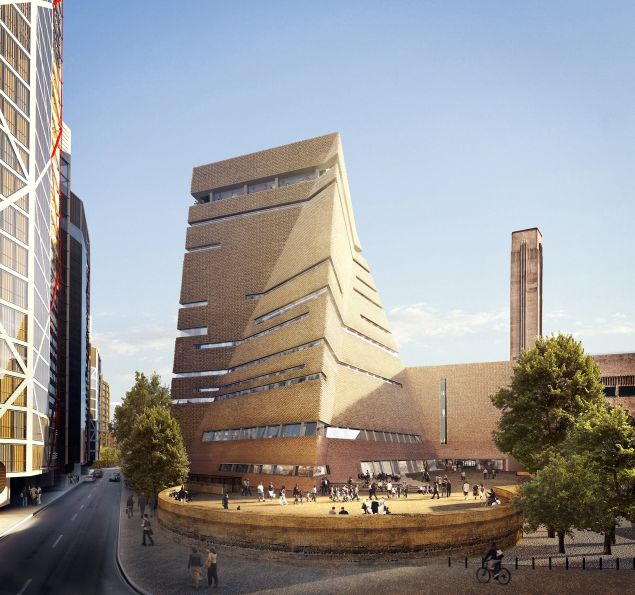 At a presentation held in New York on Friday—coincidentally at the former Chelsea townhouse and studio of the artist whose work will inaugurate the new space, Louise Bourgeois—Tate director Nicholas Serota discussed the impact the new building would have on the museum's future.
"The real gain from this project is the ability to show more of the Tate's collections," he said.
He also explained that the unique "ziggurat" shape of the Switch House is the result of zoning limitations and considerations about blocking light to neighboring buildings.
When the Tate reopens on June 17, 2016, it will present a complete rehang of its collection with a focus on presenting acquisitions made since 2000. Mr. Serota emphasized that while the Tate's collection has always been strong in modern masters, from Picasso to Rothko, it's made a concerted effort at the start of the 21st century to expand globally and collect artists who have been otherwise under-presented in the past.
A highlight of the Switch House's new exhibitions programming, which will fill three additional gallery spaces, will be the Artist Rooms series. The works come from 1,600 artworks gifted to the museum by British art dealer Anthony d'Offay, which together comprise the largest gift by an individual to the institution to date. The works are to be shared jointly between the Tate and the National Galleries of Scotland.
The first in the Artist Rooms series is to be a grouping of drawings, two late works, suspended sculptures and a vitrine installation by French-American artist Bourgeois.
The museum is also getting serious about diversity.
"The commitment going forward is to female and non-Western artists," newly appointed Tate Modern director Frances Morris told the Observer. She described Bourgeois as "the oldest of the young, the youngest of the old [artists]" and said "she could never be reduced to one moment."
Before the Tate Modern expansion opens to the public on June 17, it will be open to 3,000 U.K. school children for an exclusive preview on June 16.