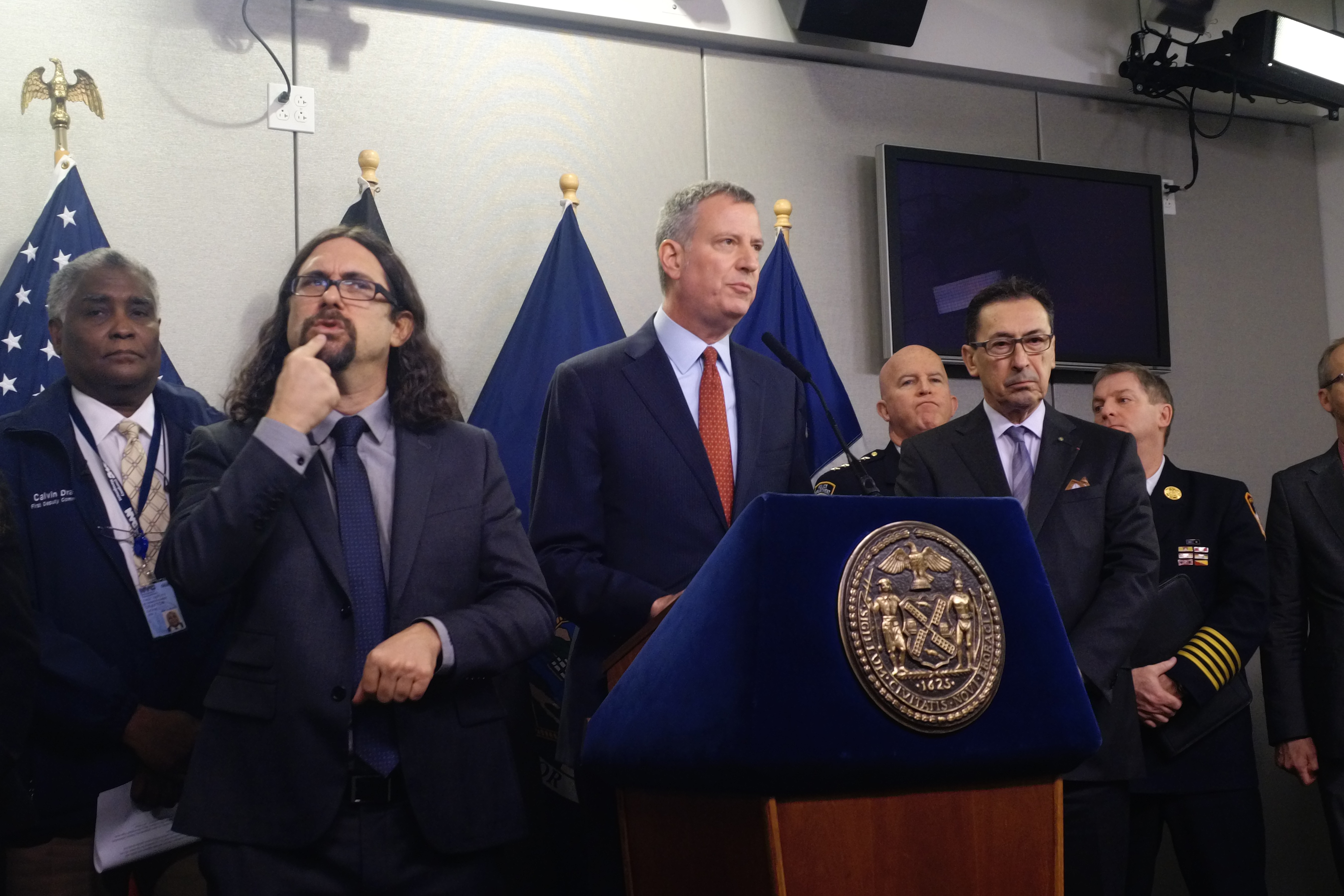 Just stay home this weekend.
That was the message from Mayor Bill de Blasio and Gov. Andrew Cuomo—a message they delivered separately, of course—ahead of tomorrow's expect 12 to 18 inches of snow and white-out blizzard conditions.
"I can't tell you how many times we've had to say this, but if you don't have to go on the roads, if it's not an emergency, don't go on the roads," Mr. Cuomo said at an afternoon briefing in his Manhattan office. "It's not just that you endanger yourself, you endanger the emergency personnel who have to go out and help you."
And if for some reason you can't stay at home and binge watch Netflix, definitely don't get in your car, Mr. de Blasio said.
"Try to stay in to the maximum extent possible," the mayor cautioned at an afternoon press briefing at the Office of Emergency Management. "If you need to get around, try to focus on mass transit."
And speaking of mass transit, both men indicated today that they expected the Metropolitan Transportation Authority to remain up and running during the storm—unlike last year, when Mr. Cuomo ordered the system shut down with little notice to Mr. de Blasio ahead of a blizzard that never quite materialized.
"The MTA and the state will make the ultimate decision, but we will be in close consultation," Mr. de Blasio said. "From everything we can tell right now, a lot of the subway system will be unaffected."
Mr. de Blasio had promised there would be better communication for this storm than the one last year—prompting a.m.NY to depict the two men as "Snow Angels" on its cover this morning—so Mr. Cuomo's scheduling a separate storm update just an hour-and-a-half after Mr. de Blasio's raised some eyebrows. But both said they'd been working closely together.
"I spoke to the governor already. First deputy mayor Tony Shorris has been in touch with his counterparts in Albany, and also with the MTA, so there's a high level of coordination," Mr. de Blasio said.
Or, as Mr. Cuomo put it to a questioning reporter, the conversations have been "significant"—before adding with a smile, "bordering on intimate. Does that do it for you?"
Last year, Mr. de Blasio issued a travel ban to force cars off the road ahead of the fizzled out blizzard. He stopped short of that today, declaring only a "winter weather emergency tomorrow," which simply requests people stay off the streets. He warned people whose cars are stuck or who park inappropriately make it difficult for firefighters, ambulances and police officers to reach people who need help—and said those cars would be towed.
"I want all New Yorkers to feel this is their responsibility and their mission to stay off the streets," Mr. de Blasio said. "It's so the streets can be clear for Sunday and Monday, and it's also so we can save lives if people are in danger."
Mr. de Blasio said the Sanitation Department was ready to salt roads at "first flake" and would plow as soon as there was two inches of snow. Mr. Cuomo said the National Guard was "on the ready," and said the MTA would store trains to keep up weekend service.