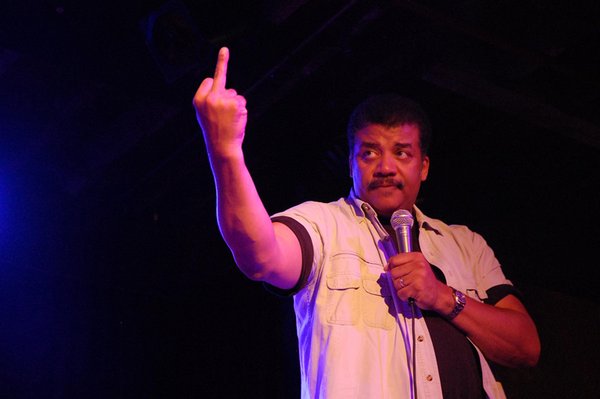 Rapper B.o.B. has been the talk of social media this week, as he joined Tila Tequila in proclaiming that the Earth is flat. Even after physicist Neil deGrasse Tyson refuted the claims, B.o.B. stuck to his guns, releasing a diss track called "Flatline."
Not everyone on Twitter is in the Flat Earth club, however. Comedian and Slant News writer Dillon Stevenson, whose Twitter name is Ol' QWERTY Bastard, tweeted out some "Real DeGrasse Tyson" raps overnight that made fun of B.o.B and defended Dr. Tyson by turning him into a tough guy:
Mr. Stevenson told the Observer that he came up with Dr. Tyson's rap responses to B.o.B. by simply turning the doctor's public persona on its head for laughs.
"Neil deGrasse Tyson is a very fun person to play with as a character comedically," Mr. Stevenson said in an email. "People know his voice and tone, so it makes it easy to juxtapose and play with in ways you wouldn't normally hear him speak."
The comic was particularly glad that his idea had broad appeal on social media, thanks to likes and retweets.
"I'm always happy when people respond well to a comedic idea I have," Mr. Stevenson said. "I'm usually just trying to entertain myself and make myself laugh, so it's great when I don't have to be the only one who thinks I'm funny."