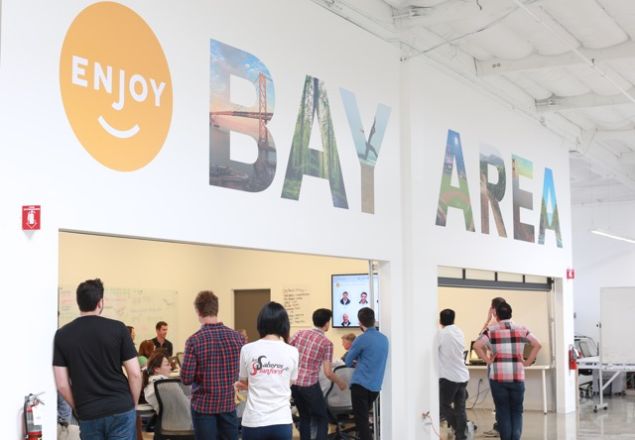 One of the great things about today's personal-technology products is how simple they are to set up and learn.
Hahahahahaha.
Truth is, even today's user-friendliest devices aren't actually easy for normal, non-techie people to master; they're just easier than the competition. That's the market opportunity for Enjoy, a new retail-and-training service launched eight months ago by Ron Johnson.
You remember Ron Johnson. Back in 2000, Steve Jobs recruited him from Target to create and build Apple's retail operation. It's not too much to say the Apple Stores revolutionized retailing, creating a selling environment many have since copied.
In 2011, Johnson became CEO of J.C. Penney, charged with dragging the venerable retailer into the 21st century. Seventeen tumultuous months later, amid falling sales and a cratering stock price, he was out of a job. "A round peg in a square hole," he says now, leaning back in a conference room in Enjoy's Silicon Valley headquarters.
What you really have have is a combination of near-instant gratification plus a security blanket for anxious buyers.
Last year, after raising $80 million from backers including such Valley heavy hitters as Kleiner Perkins, Oak Investment Partners and Andreessen Horowitz, he launched—at age 55—his first startup. Enjoy is currently available only in the New York City and San Francisco Bay areas, though Mr. Johnson says the service will expand to more regions this year, based on lessons gleaned from his two test beds.
On one level, Enjoy is simply an online retailer. You go to the site, buy a product and receive it. The difference is in what comes with it: a trained, knowledgeable human being, who at no extra cost delivers it to you in as quickly as four hours, then spends an hour with you helping you set it up and teaching you how to use it. It's like an Apple Genius Bar that comes to you, on your schedule.
The buyer picks the location, which may be a home, office or even a café, and appointments are always set for a specific time—no cable-guy-style "delivery windows." Mr. Johnson boasts that 97 percent of Enjoy deliveries arrive ahead of schedule. The goal, he says, is not merely to make a sale; it's to "create an experience."
To get a taste of that experience, I arranged the mock purchase of a $2,899 DJI Inspire 1 drone—a piece of hardware that, in its complexity and cost, kind of terrifies me. In short order, I received an Uber-style email introducing my Enjoy "expert," a personable young man named Daniel Duran.
Like all Enjoy experts, Daniel is a salaried employee—tipping is prohibited—who splits his time between appointments and training in the portfolio of gadgets Enjoy sells. (After his time with me, Daniel was scheduled to pay a home visit to install an Ecobee smart thermostat.)
We met at Enjoy's offices and decamped to a nearby park, where Daniel showed me how to assemble the Inspire, mount the camera, and configure the iPhone app needed to control it. (Had I been a real customer, he would have also guided me through the new process to register it with the federal government.) At one point, he politely but quickly took control of the console, preventing me from allowing my nearly $3,000 fantasy purchase to smash into a stand of trees and advising me of the perils of nearby electromagnetic interference.
It's easy to see how attractive the service can be. Add the fact that customers can reach out for more help even after their delivery, and what you really have have is a combination of near-instant gratification plus a security blanket for anxious buyers.
There are some obvious questions about the business model. One is how Enjoy can get away with selling at list price in a market notoriously full of price-cutting competitors. Mr. Johnson sidesteps that one by strictly curating the list of products he sells, limiting it to extremely popular items that generally aren't steeply discounted: iPhones and iPads, Sonos speakers, GoPro cameras, Bang & Olufsen headphones and the like. "The best products tend to maintain their price," he observes, adding that—although Enjoy doesn't advertise the fact—it does price-match competitors.
Another way to avoid the vagaries of the retail business is through deals similar to its agreement with AT&T, where Enjoy delivery and set-up is available in the Bay Area and New York as a no-cost option for customers who purchase their iPhones or other smartphones from the AT&T website. Johnson has talked with at least one health-care provider about performing similar house calls for consumer wellness devices.
"Jeff Bezos probably sold nothing but books for the first three years of Amazon's existence" before branching out into other products, he notes. Of Enjoy's current focus on consumer electronics, he says: "If we do that well, that will give us the opportunity to think about other things."
There's also the question of whether Enjoy's high-touch service is truly scalable. To meet its promises, each new market it expands into will require a cadre of well-trained employees, carefully located inventory hubs and logistics that will have to take into account regional differences in climate, traffic and a host of other variables: Same-day delivery in, say, freeway-choked Los Angeles poses quite different problems than Chicago on a winter's day. It's one thing for Amazon to tackle those issues with its Prime Now service, another for a startup with 150 employees.
Mr. Johnson seems not only unfazed but energized by the challenge. For now, he says, Enjoy is as much about learning as selling. Uber, he points out, did 9,000 rides in its first 12 months; he says Enjoy will approach that number of visits by the time it celebrates its first anniversary in May, and the need for its service will only grow from there.
Unless, of course, tech products get a lot easier for consumers to master on their own.
Hahahahahaha.
Rich Jaroslovsky is an Observer technology columnist and vice president of SmartNews Inc. Reach him at richj@observer.com or on Twitter @RichJaro.