A dark cloud has settled over Billionaire's Row.
Well, at least over the top of the glassy exterior of One57. Everyone might still be oohing and ahhing over the $100 million sale in Gary Barnett's tower, but a few floors below, a 51st floor perch has sold at a (somewhat) surprising loss.
The seller, hidden behind the (now aptly titled) Gloomberg 57, LLC, purchased the four-bedroom, 4.5-bath condo for $20.37 million in May of 2015. We can't imagine this is what the mysterious entity behind Gloomberg 57 had in mind after they bought the unit, which they almost immediately relisted for $21.9 million. Less than a year later, a new owner, with the understandably jauntier name of Golden Goose Enterprises LLC, has scooped up the 3,466-square-foot unit for just $17.75 million—it was most recently asking a mere $18.995 million.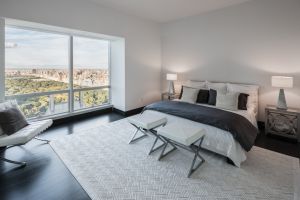 Per public record for the $9.76 million mortgage the new owner has taken out on the property, the sole member of the LLC is Eric J. Kuhn. Perhaps this Eric J. Kuhn, the founder and chairman of Varsity Group?
What could be so bad about an apartment in 157 West 57th Street that the seller was willing to part with it for less than they paid? Isn't this supposed to be the land (or at least, the street) of the multimillion-dollar flip? Per the listing, which Compass brokers James C. Cox Jr. and Frank Giordano shared with Engel & Volkers brokers Howard Morrel and Leslie A. Hirsch, it seems quite nice—10'7-foot ceilings, an 800-square-foot "grand salon," and Central Park views from the master suite.
"The owner needed to sell now, for financial reasons," Mr. Cox told the Observer. Well, that clears that up. "It was twofold—the buyer needed to close in 2015 and the seller needed to close in 2015."
"I think the current owner had been looking in the building for quite a while, and this represented a great opportunity for him," Mr. Cox added.
It does seem eerily similar to the failed flip of a duplex in 15 Central Park West last year, when a unit sold at a $3 million loss in Robert A. M. Stern's "Limestone Jesus," a building which had held the previous record for most expensive residential condo sold in the city. Oh, how the mighty (sometimes) fall…