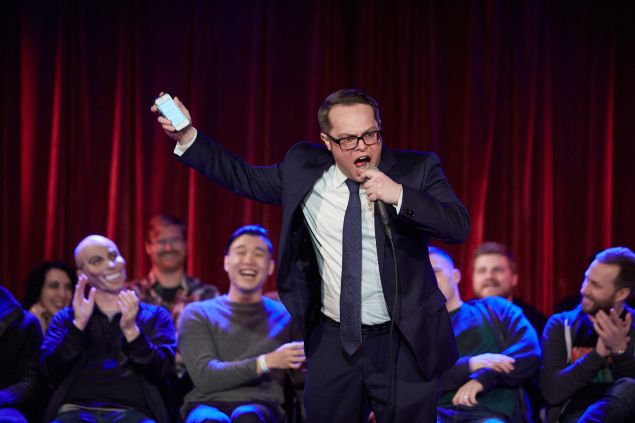 A few weeks ago I went to a birthday party for a young stand-up comic at a bowling alley. It  was cut short, though, because everyone wanted to get to an open mic—a free show in which lots of comics work out a joke or two, mostly in front of each other—at a nearby bar. It turned out that the birthday girl herself was hosting the event, perhaps because comedians have a hard time enjoying themselves without microphones.
Which explains why John F. O'Donnell's annual party for the city's stand-up community, 50 First Jokes, enjoys such popularity among both comedians and fans. (By "party" we actually mean show, albeit one with far more performers than usual.) The event began at a Lower East Side bar as an excuse for comedians to get together and celebrate the New Year, and slowly grew, to the point that this year's 10th annual event took place at a sold-out Bell House in Gowanus.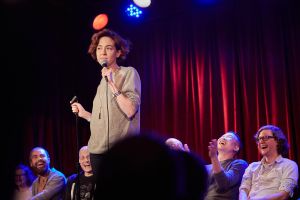 The concept of the evening is simple: 50 or so comics each get two minutes to tell jokes. "It'll be something that they haven't said onstage before," Mr. O'Donnell told us, in front of about 350 people. Since there's a belief in stand-up that comedians often try to play to two audiences—the front of the room (customers) and the back (their peers)—it makes sense to simply make the latter and the former indistinguishable.
The event is divided into halves, during which 25 or so comics and Mr. O'Donnell sit together onstage, each waiting to be called up to do their bits so the audience can watch them judge each other. "The fact that everyone is on stage gives it a real camaraderie," the show's producer, Sachi Ezura, told the Observer in a phone call. "That, I haven't seen anywhere else."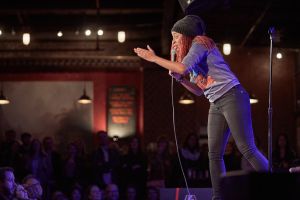 Through the first half, Nick Vatterott sat in his seat, wearing a facemask with a giant grin. He removed it once at the mic. "This thing was great. I was so tired of fake smiling for three years in a row," he said. "Yeah, you're all real funny."
During the intermission, Mr. O'Donnell told us, "As much as I can, I try to stay present and enjoying watching all of my friends perform." He opened each half with his own new material, including never-used jokes he'd written for a TED Talk by a convicted sex offender.
Nerd comic Mike Lawrence opened the second half with a recap of an interracial porn flick in which a racist white woman is brought around to accepting those different from herself after a long romp with a black man and her step-daughter.
Immediately following Mr. Lawrence, Sasheer Zamata, a current cast member of Saturday Night Live, opened her own set about race by saying, "Perfect time for me to come up here."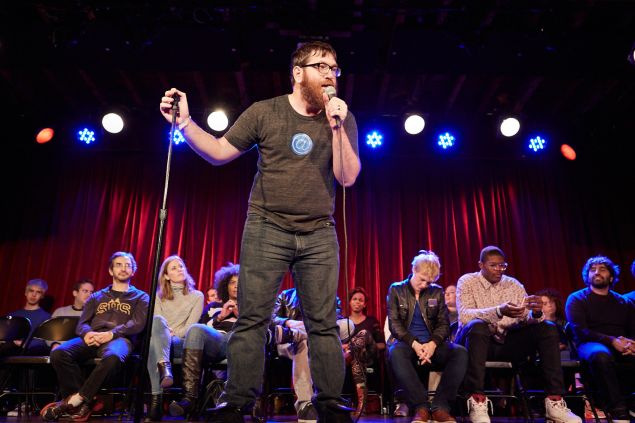 Later, Will Miles got up and told a story about a homeless man who started off asking a subway car for money and then grows oddly homophobic as he lets the ladies of the train know he's available.
"Perfect time for me to come up here," said Emma Willmann, who followed Mr. Miles with a set about how she accidentally went to a lesbian overeaters group but decided to stick around (and maybe get some numbers).
The gag took a wry turn following the Upright Citizens Brigade's Amber Nelson (who, according to fellow comic Julio Julio Julio, performed a memorable bit as physicist Stephen Hawking at last year's party). Ms. Nelson got up to talk about drinking alone, being ignored in a hotel bar, and how men start hitting on women as soon as they can tie their shoes. "But as soon as you are old enough to deal with it, no one wants to fuck you," she mused.
So Jim Tews came up after Ms. Nelson and opened with, "Perfect time for me to come up here," which got a laugh just because it barely made sense.
The line seemed to be killed at that point, unused by the next 14 performers, until Monroe Martin opened with it for no apparent reason at all—a turn to the absurd, which is how these types of jokes die.
"This show and 'Schtick or Treat' at Halloween are the two can't-miss annual comedy shows in New York City," Sam Varela, a comedy producer in the city, told us afterward. But 50 First Jokes remains the best venue at which to see a jury of funny deliberate live—and render their own verdicts.