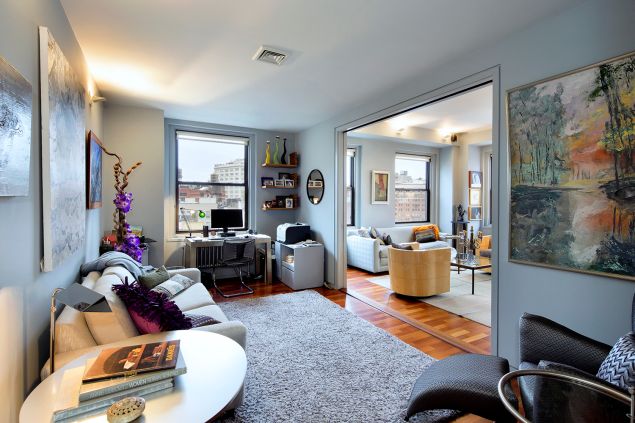 "This is a quintessential loft building—from before all the new buildings," Brown Harris Stevens broker Lisa K. Lippman said as we entered the eighth-floor rental at 90 Franklin Street, currently listed for $12,000 a month. If one isn't sure of just how true a loft the 1,900-square-foot space is, perhaps the poured concrete separating the kitchen from the just-slightly-raised hardwood floors of the living area will do the trick.
The current tenants are departing after nearly four years, though they made themselves very much at home during their residency—the eclectic décor ranges from gold-framed artworks in the living room and glassy ornaments on the kitchen shelves to a voodoo/Barbie doll hybrid perched on a wooden built-in.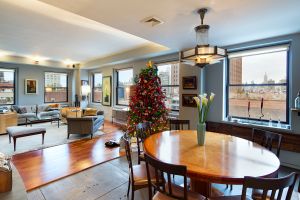 "This has some taste-specific colors," Ms. Lippman said diplomatically of the entirely blue apartment, "so we might ask the tenant to bring it back to white."
A second bedroom is configured as an office and is the same blue-gray hue as the master suite, which has a walk-through closet that leads to a robin's egg-blue bathroom. A second full bathroom is off the foyer, with a brighter color scheme. Along with its azure theme, the unit's other predominant feature is its views—northern and western exposures that include the Empire State Building and the neon-red sign of the Roxy.
"We've had a couple people say the kitchen isn't new enough, but to me, it's pretty nice! Double oven, two sinks—good quality," Ms. Lippman noted as we passed by the shiny stainless steel appliances. "Rental buildings don't have some of the bells and whistles that are in things built for ownership—like the laundry room," she added, pointing to a room off the kitchen.
"You're going to find someone who is affluent, because it's not an inexpensive rental," Ms. Lippman said matter-of-factly, "and they want to try out the neighborhood. Obviously, this is a nice area—it's true Tribeca." No directional prefix necessary!
One other perk? "You can't see 432 Park here. You can see 432 Park from every place else, I swear, in the city," Ms. Lippman said happily.