"I'm so glad we're here while there is still some light!" Stribling broker Sean Turner exclaimed as she ushered us through the living room of an eighth-floor condo at One Vandam, opening a sliding-glass door that revealed a covered, west-facing terrace on a bitterly cold January afternoon. (Mercifully, though, the arctic blast below seemed somehow muted at altitude.)
We had barely reentered the 2,221-square-foot apartment (one of 25 units spread over 14 floors) before Ms. Turner promptly whisked us into the kitchen, which can be either opened up to the rest of the apartment or, if one prefers to remain mysterious while cooking, can opt to close—through which we arrived at a smaller terrace. "This is a view over Soho—since it's a historic district, it's very rare to see in this [southerly] direction with unencumbered views," she noted.
After taking in the views provided by the apartment, currently listed for $6.2 million, we headed into the lavender-accented master bedroom, which, while colorful, took a backseat to the coziness of the dressing room and en-suite bath, with its radiant-heat marble floors.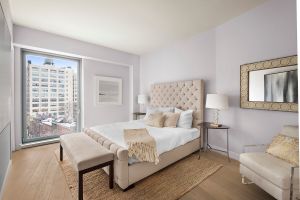 The other two bedrooms, each also with en-suite baths, were done in the generally neutral tones of taupe and beige, with a few strategically placed pops of blue and green. "The powder room is where you can have more fun," Ms. Turner opined, "fun" apparently defined as emerald-green tiled walls and a large marble slab sink. "This is very special," she said, pointing at the round, leather-outlined mirror. "It's a Jacques Adnet Circulaire original."
"This is a building I've worked on from the very beginning," Ms. Turner informed us, gazing up at the 10-foot ceilings and walls that were nearly entirely, and not so subtly, adorned with various pieces of art. "We immediately thought, well, Soho—the people that love to live here, they love to shop, they love fine things, they love to go out a lot…and they love artwork."