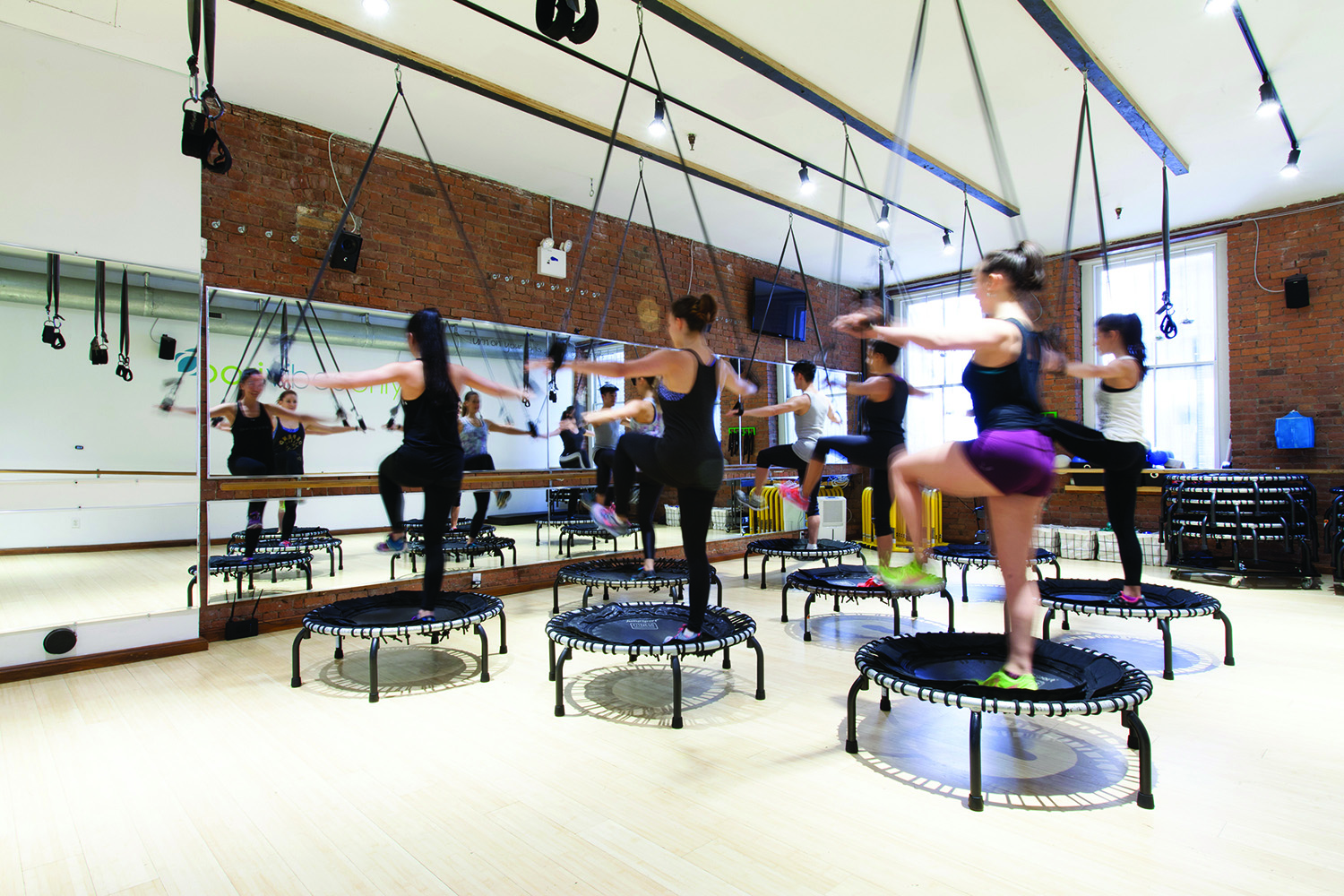 The days when you could randomly roll up to the gym having consumed two Chinese meals and a glut of weekend wine are over. Client-based companies are demanding more from us, especially in the fitness world, where commitment is the only way certain picky exercise gurus will allow a new client to sign on. Clients will only see the results they're searching for if they promise their firstborn to the latest hot workout wunderkind. Almost…
Busybody services are all the rage. The infamous SIN Workouts (which stands for Strength in Numbers) program promises to eliminate barriers by creating individually tailored training programs. Founded by Vanessa Martin, a former competitive athlete, SIN representatives book a client's class, arrive at their home with a green juice and arrange for fresh clothes at the studio. SIN trainers are even known for lurking outside an exercise studio to claim a client's favorite bike.
Even yoga, which is thought of as a relaxing escape outside of Manhattan, has its own accountability programs. Lyons Den Power Yoga, founded by one of the original SoulCycle instructors, offers an agenda including daily yoga, weekly meetings and journaling, all in the name of accountability.
At the top of the bossy fitness list is bari, a trampoline-based class with an in-house nutritionist and check-up meetings with clients to guarantee they're following the coaching and nutrition programs their trainer sets. 
Alexandra Perez Bonetti, the young Wharton graduate who founded bari, sets detailed, realistic goals for clients with her in-house nutritionist and difficult hybrid workout. Although she claims this class can work for anyone, it is definitely beyond entry level, exercise-wise, although not as difficult as many other New York offerings. Once they commit to the most intensive programs, clients have check-in appointments every four to six weeks to track changes and tweak initial programs. These visits act as built-in accountability, especially for clients who have trouble being consistent.
Bari has the necessary celebrity clientele to guarantee a class is "the next big thing," with models Martha Hunt, Linda Vojtova and Erin Wasson all singing its praises on social media. The class utilizes suspension bands for the Pilates crowd, dance cardio for everyone obsessed with ((305)) Fitness and trampolines to bring back childhood memories of backyard jump sessions.
By her Tribeca studio, Ms. Bonetti told the Observer how she created New York's favorite fitness fad. As a management consultant, her work took her from Canada to Texas. When she was asked to transfer to Dubai, UAE, she quit and started bari, when Physique 57 and SoulCycle were the only boutique classes available.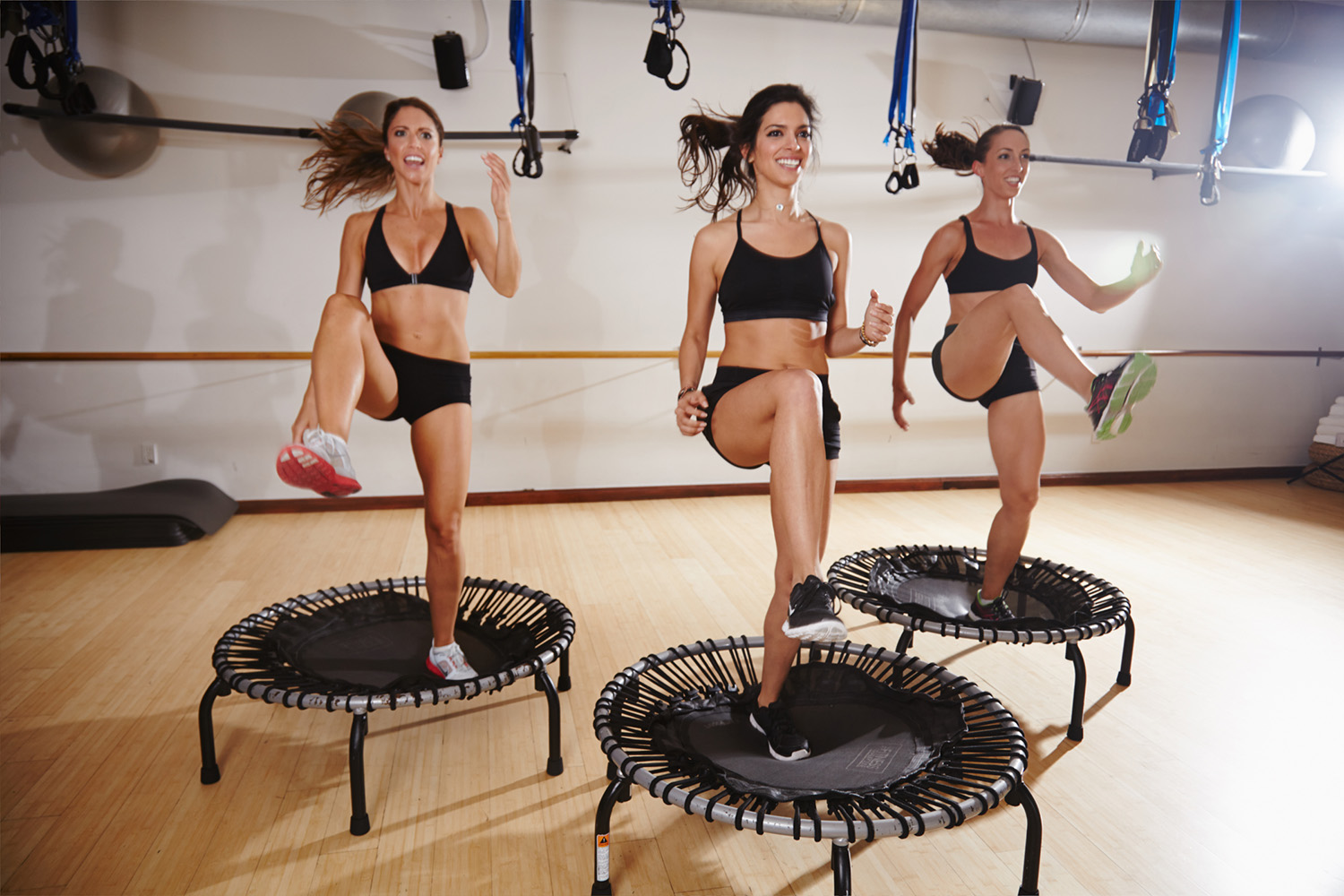 At first, there were no trampolines, but after a client who was a professional athlete was injured in the pre-season, Ms. Bonetti bought one to help with his rehabilitation. Then, a movie director in her 70s wanted a more joint-friendly exercise, and the trampoline was brought to bari.
Ms. Bonetti looked for months before finding her rented Tribeca studio, which she financed with her own savings and investments from family and friends, putting in a total of $250,000. Her total investment has eclipsed $1 million, and bari is franchising and introducing the class online.
Ms. Bonetti spent bari's initial days managing the desk, cleaning, teaching and handing out flyers. Today, she relies on a team of "bari babes" who regulars flock to and maintains locations in the Hamptons, California and the Dominican Republic, along with private residential training at One57 and the Plaza Residences.
The "bari babes" are an eclectic bunch, made up of Broadway performers, Rockettes and young professionals who teach before and after work. "One of our instructors is in private equity, another is at Goldman Sachs and yet another is with Under Armour corporate," shared Ms. Bonetti.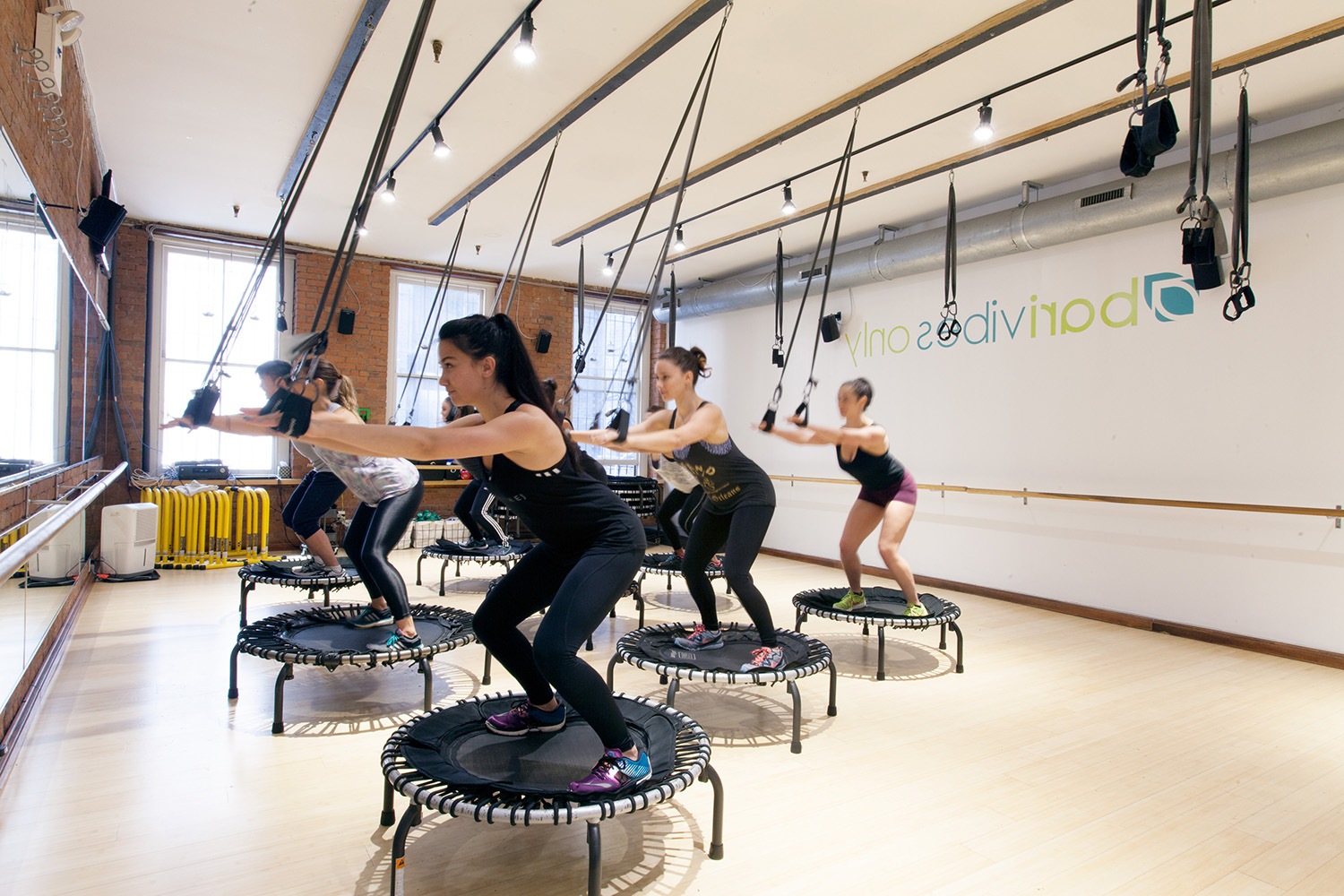 "People grow up thinking they don't know how to dance or move. Ninety percent of people who walk into bari say, 'I'm scared because I'm not coordinated.'"
For those who find the idea of hopping on a trampoline intimidating (after all, it's not exactly riding a bicycle), there's a required introductory course—an entrance exam for the more advanced offerings. Many fitness classes prove difficult for beginners, or even intermediate class-goers, especially when they involve elaborate props. As rowing machines and reformers become de rigueur, it's almost expected for fitness fanatics to somehow have the innate ability to utilize a piece of equipment they've never encountered. Bari is one of the few classes to explain the basics in the beginning, instead of expecting clients to come to class prepared. 
"People grow up thinking they don't know how to dance or move. Ninety percent of people who walk into bari say, 'I'm scared because I'm not coordinated,' " explained Ms. Bonetti. The coordination acts as fast-paced meditation, where people are able to step out of their minds, because if they don't they'll flail around hopelessly. Unlike the gym, a client can't contemplate dinner plans while mindlessly running on the treadmill.
Beginners are encouraged to take advantage of an initial consult with one of bari's trainers. The meeting's purpose is to set specific goals, create a workout schedule and nutrition plan. "We work with models a lot, and if they're getting ready for a show, if they need a number, then we measure it and we track it," said Ms. Bonetti.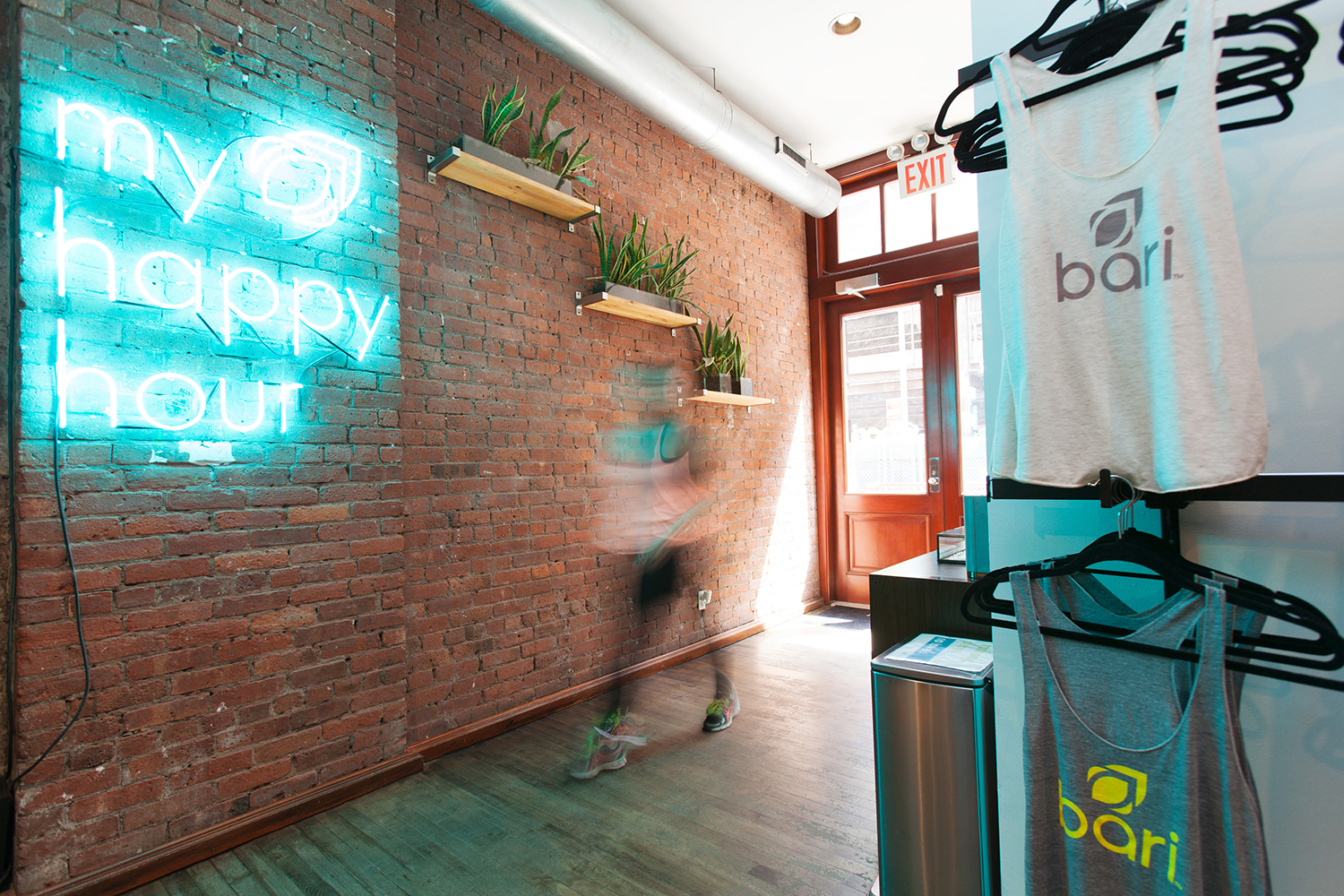 The trainer uses measurements, photos and pounds to track progress. The nutritionist then works with client's home chefs to put together a menu or joins the client at the grocery store, cleaning out refrigerators and buying healthier products. During classes, advanced technology takes measurements and monitors heart rates.
The list-loving Ms. Bonetti believes people need a detailed plan, which bari provides. While Ms. Bonetti might be in tip-top shape from her classes, she's realistic about setting goals. When she first started in the industry she would suggest carb-loaded dinners, only to have her peers reject them for alcohol-less green juices, but she persevered with bari.
Regulars tell Ms. Bonetti it's the variety and accountability keeping them coming back, making it a hit with more than just models. The busy Ms. Bonetti echoes many New Yorkers: "I don't have time to learn, I don't want to go to a nutrition school, I don't want to read 17 articles, just tell me what to eat and I'll do it. You know, I'm good at having a plan—you need a plan."
Bari has found success because it's not an unused gym membership or ClassPass emails going unopened. It's a complete lifestyle change made possible by trained professionals, a range of instructors and tiny trampolines. In a city where a new class is introduced constantly, and few see results when they're always trying the latest trend, many New Yorkers are searching for a community to monitor their progress and guarantee they return.
For some, the idea of a trainer monitoring their every move is much too Big Brother—but for bari fanatics, it's a necessary change from stopping in and out of an ever-changing assortment of boutique classes. Accountability is the fitness business's new friend and in the world's bossiest city, it seems people enjoy domineering programs, especially when there are many ways to avoid a gym visit: whether it's a long day at the office, a last-minute cocktail invitation or an exclusive event—all sound better than an intensive workout.