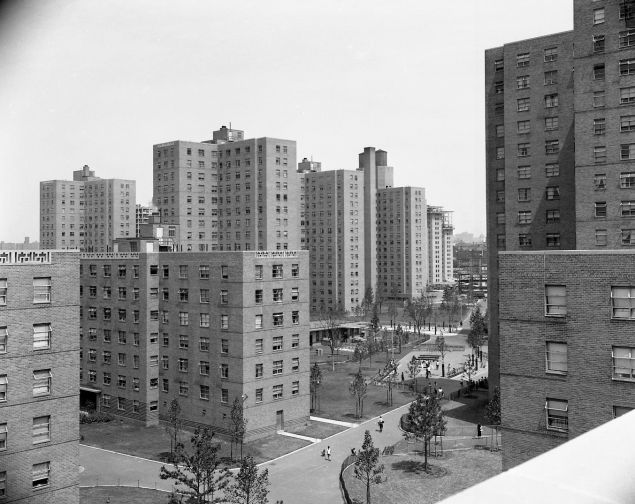 New York has been on the front lines of the affordable housing struggle for decades, with around a million people who struggle to afford—or simply do not have—housing. Now, the city's efforts have been chronicled in the Museum of the City of New York's Affordable New York exhibition, curated by Thomas Mellins.
Five leaders in the affordable housing sector gathered Tuesday for a panel hosted by the museum. Moderated by Ingrid Gould Ellen, a professor of urban policy and planning at New York University, the evening kicked off with a discussion over the city's growing population, now estimated at 8.4 million, up substantially from the population losses of the 1970s.
Described by the museum as a cornerstone of his administration, Mayor Bill de Blasio launched $41.1 billion affordable housing plan in spring 2014 that planned to build an additional 80,000 units of affordable housing—and preserve another 120,000 units. A major goal of the plan was to increase the number of units available to those making under $40,000 per year by 200 percent. Additionally, Mr. de Blasio has pushed for more action to be taken to redress homelessness.
"The facts about our affordability crisis are unforgiving," deputy city council leader Ritchie Torres told the audience. "And we're managing more challenges than previous administrations have had to manage with far fewer resources from the federal and state government,"
The issue of density was key for the panelists. Although New York's population has grown over the past four decades, the average density has declined from around 57,900 per square mile in the '70s to about 53,400 per square mile in 2010, mostly due to the loss in population in high density areas like the South Bronx, Harlem and the Lower East side.
"There are neighborhoods today that are at risk because the demand for housing is far outstripping the supply," the Department of City Planning's executive director, Purina Kapur, said.
Citizens Housing and Planning Council deputy director Sarah Watson focused on making housing more efficient, including introducing more shared housing, as around half of Manhattan households currently include only one individual. Sharing can lead to "naturally created density," Ms. Watson said.
Ms. Watson also advocated for new shared housing schemes and the reintroduction of single room occupancy rentals, made illegal in the 1950s.
Still, affordable housing can lead to increased density, which is not often popular amongst the general public, Ms. Gould Ellen noted.
"I suspect it's human nature to be fearful of change, and people are fearful of what density might bring to their neighborhoods, they're fearful of change to the character of their neighborhoods," Mr. Torres said. "Some people are fearful of change to the complexion of their neighborhoods, and that's certainly out there. The word 'density' in development has become something of an epithet, and it's closely associated in public mind with displacement."
The panel's final member, National Coalition for Asian Pacific Americans Community Development director Seema Agnani, advocated for respect for New York's diversity in creation of new affordable housing.
Other topics touched upon included the New York City Housing Authority, which Mr. Torres called "irreplaceably affordable" housing, and the increase in nontraditional commuting traffic, leading people who live in Manhattan to travel elsewhere to work. Ms. Watson also addressed an audience question on the Airbnb service, which she said was likely illegal in many forms.
Mr. Torres said he is not optimistic that a tax on flipping properties can come into place, and argued often it is more important to work to preserve existing affordable housing that build new housing.
"How do you manage historic and unprecedented growth at a time of declining federal investment in both housing and infrastructure?" he said. 
With the state of affordable housing in New York far from certain, several questions remain unanswered.
The Affordable New York exhibition will run until Feb. 7.