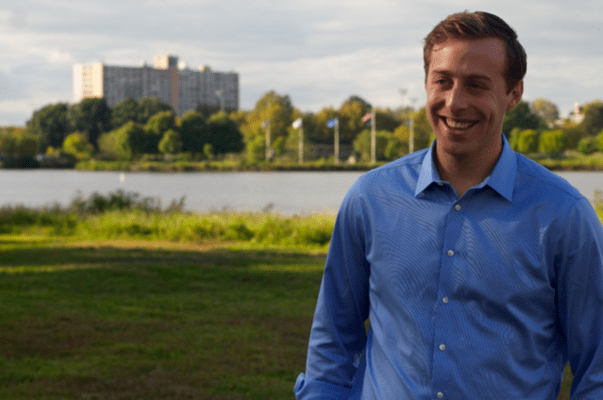 Alex Law, whose campaign against U.S. Representative Donald Norcross faced a sluggish county clerk's office as it tried to gather important bracketing information this month, issued a statement today on an incident in which he, Deputy Camden County Clerk John Schmidt and County Spokesman Dan Keashen offered competing accounts of an incident at the clerk's office. See Law's full statement on the dust-up with Camden County below.
Mr. Keashen has put himself in an unenviable position: someone trying to defend an easily disprovable lie. While I was flattered to learn he follows my Facebook page as closely as many other voters in the first district as evidenced by his awkward Harry Potter reference, his statements were wildly untrue. This is the thing about bullies, when they realize their power is slipping away, they lash out. Here is the truth, all of which can be backed up by phone records:

Our campaign staff first contacted the County Clerk's office to discuss this bracketing question on December 28, 2015 at 10:28 AM. We were very reasonably asked to call back again at the beginning of the New Year.

Which we did, on January 7, 2016 at 4:57 PM. We left a voice message.

On January 8, 2016 at 10:28AM we called them back, this time being directed to the Deputy Clerk's desk where we were told they would unavailable for the foreseeable future but would get back to us.

We decided this would be unacceptable and called again on January 11, 2016 at 2:40PM and 2:48PM where we left another series of messages urgently asking for an appointment.

At this point we decided we would need to test if they were lying when they said they were unavailable. So, as I've described, we sent in an intern at the same time as a campaign director. The intern asked for a meeting with the clerk's office under the guise of writing a paper on the exact subject we were hoping to meet with the Clerk's office about. She was immediately given a meeting time. When that happened, the campaign director identified herself and requested a meeting time during one of the availabilities that were offered to the intern. This was all captured on audio recording. I have provided the recording to PolitickerNJ, and will make it available to anyone that wants to listen to the exchange.

I have disproved Mr. Keashen's obvious lie and shown that for some reason the Clerk's office is committed to deceiving the public rather than simple going with a more plausible fabrication such as "we were very busy and couldn't get to Law's campaign until that day" or "the voicemails never got passed onto us for some reason."

At this point, I must question why the Clerk's office would go to such lengths to make sure that only a certain class of people, aka people that are supported by the Norcross Machine, have access to information and why the other class of people, aka the rest of us should not? Their office is supposed to be apolitical and have the same level of courtesy and helpfulness to all candidates, big or small, liberal or conservative. I don't want to vilify anyone; in fact my campaign has been about elevating politics in South Jersey. But, I am committed to exposing these trickster tactics that have been used to protect the Norcross Machine for a very long time. These are tactics that other challengers didn't have the support to fight. But, unfortunately for them, this campaign does.

One final thing about the meeting I had with the clerk. They directed me to a statute that had virtually none of the information that they promised it would have. (I am happy to make a recording of this meeting available as well). Despite the Clerk's assurances that this was the correct statute, I still have almost no information around the bracketing process even after having lawyers review it. In fact, what I found in the statute was a total lack of legal support for the current "procedure" of only including bracketed candidates in the random drawing for ballot placement, while non-bracketed candidates are forced behind county wide candidates in priority and thus are pushed way to the far side of the ballot. This was so alarming to me that I called the Deputy Clerk's office again today to set up a follow up meeting, but here's the kicker—I got no response back yet again.