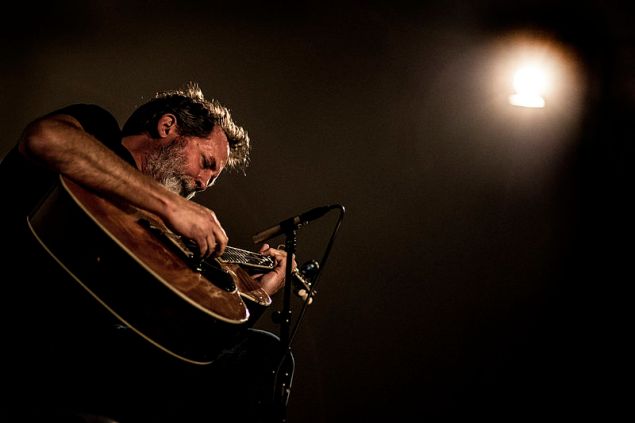 Inspired in part by his hero John Fahey, Steve Lowenthal's VDSQ imprint merges DIY culture with elegance.
"I was going to a lot of noise and experimental shows but when I came home I'd listen to mostly acoustic guitar music: Johnny Smith, Django Reinhardt, Eddie Lang and a lot of jazz guitar. So I thought I'd make a cassette label that was all acoustic guitar music and make them really fancy, in contrast to the spray-paint, lo-fi cassette culture of noise at the time."
Steve Lowenthal—former 'zine czar, underground music lifer and acclaimed author—is tracing the lineage and forward-thinking vision of his current full-time gig: co-chief of VDSQ (Vin Du Select Qualitite), an all-acoustic, cassette-turned-vinyl-only record label steeped in the DIY ethos but with an elegant touch, as the imprint's moniker suggests.
"The idea was a merging of my two interests and I figured maybe some other people might be interested in something like that, too, as there wasn't anything else like that," explains Lowenthal of VDSQ's tasteful yet punk rock-infused sensibilities. That even means mixing up vino with avant-folk. "My goal was to have the records be something you would pair with a nice bottle of wine, something somewhat luxurious but without the pretense or expense."
[youtube https://www.youtube.com/watch?v=1KeeTxvzSyI&w=560&h=315]
For Lowenthal, it's no shocker the label he runs with business partner Peter Kolovos (of L.A.-based experimental imprint Thin Wrist Recordings) specializes in an ever-thriving catalog where each release is meticulously handcrafted and numbered, ostensibly with a fine-toothed comb, complete with artwork that shares, for the most part, a likeminded aesthetic.
Back in 2001, Lowenthal cut his teeth with a similar vision but in the print world. With friend and co-conspirator Sheila Refael, the two teamed to launch the groundbreaking Swingset Magazine—not a copy machine-spit out, shoddily stapled glorious DIY mess but a sublimely constructed underground glossy rife with the independent spirit. Swingset proved way ahead of its time, leading the 'zine movement of the early-to-mid Aughts by operating through a freethinking lens. In any given issue throughout its fruitful seven-year run, a peep into its pages found a hodgepodge of music, art and literature including, Thurston Moore and Ian MacKaye in conversation, the art of Raymond Pettibon, a Liars tour diary or a Black Dice spread.
With Swingset's singular aesthetics helping shape his path, Lowenthal's soon-to-be-discovered mission of an all-acoustic label manifested itself courtesy of a soul-searching stint behind the counter at a now-defunct East Village record store owned by Dominick Fernow, a/k/a noise music pioneer Prurient. "I was working at Hospital Productions by 2008 and I was surrounded by the cassette tape underground, which at the time was generally reserved for noise and punk," says Lowenthal. "There wasn't much going on there with acoustic music, there was just starting to be new age-y revival stuff but not what it has become today."
[soundcloud url="https://api.soundcloud.com/tracks/221962890″ params="color=ff5500&auto_play=false&hide_related=false&show_comments=true&show_user=true&show_reposts=false" width="100%" height="166″ iframe="true" /]
That void in cassette culture would soon be filled by Lowenthal's new record label. "I asked Joshua Blatchley, a finger-picking guitar player from San Diego who had a demo posted on a blog," recalls Lowenthal of VDSQ's origins. "I contacted him via MySpace and we started talking and he agreed to record something for my idea of a label."
Shortly thereafter, Lowenthal's fledgling label found itself a fanbase, thanks to certain customers frequenting Hospital Productions. Enter a luminary of slowcore purveyors Codeine and Come. "Chris Brokaw was a regular at the store so I asked him and he was fantastic to work with and really engaged in the project." Joining Blatchley and Brokaw for VDSQ's inaugural run of releases was Mark McGuire, formerly of electronic experimentalists Emeralds. "Mark was in Emeralds at the time and was very involved in cassette tape culture, so it seemed natural to ask him," says Lowenthal. "He was a young guy and just starting to release solo material, which I was a huge fan of. I thought an acoustic project from him would be amazing as it wasn't something we had heard from him."
It didn't take long for Lowenthal to arrive at the realization that VDSQ wasn't geared to be a label fit solely for cassettes—records were going to be its salvation. "Those three were the initial releases and when the masters came in they were far too good for cassettes," he explains of the change of direction in format. "The quality of the material of all three was album-worthy, the music was serious stuff."
[soundcloud url="https://api.soundcloud.com/tracks/168003313″ params="color=ff5500&auto_play=false&hide_related=false&show_comments=true&show_user=true&show_reposts=false" width="100%" height="166″ iframe="true" /]
While the scene-defying VDSQ has yielded fruit with revelatory Americana-damaged sprawls from grizzled avant godheads Bill Orcutt, Glenn Jones, and Sir Richard Bishop, next to upstarts like Matthew Mullane and Anthony Pasquarosa, Lowenthal has proven master juggler. In 2014, his five-years-long nomadic voyage tracing the life and times of elusive steel string guitar godfather John Fahey—a finger-picking icon whose ghost hovers over VDSQ—culminated with the biographical opus he wrote, Dance of Death: The Life of John Fahey.
Fittingly, one of VDSQ's releases features Thurston Moore, and as Lowenthal tells it, he owes a debt of gratitude to Sonic Youth for turning him on to Fahey. "I first heard Fahey in high school, through Sonic Youth who championed him at the time, and I was transfixed by the existential ennui that he summoned, like nothing else I have ever heard since. As a teenager his music hit me like a truck."
For now, Lowenthal is reveling in a slew of fresh wax. There's garage-rock titan Dan Melchior's turn on the acoustic, paying tribute to his late wife, experimental musician Letha Rodman-Melchior, on the lo-fi spiritual blues mediations of "For Letha"; and the second full-length from Pasquarosa, titled Morning Mediations. Joining Melchior as new blood in the VDSQ stable is Lee Ranaldo Band member and guitarist visionary Alan Licht. As far as this NYC mainstay is concerned, Currents, Licht's VDSQ debut, represents a departure from previous records.
[soundcloud url="https://api.soundcloud.com/tracks/221962732″ params="color=ff5500&auto_play=false&hide_related=false&show_comments=true&show_user=true&show_reposts=false" width="100%" height="166″ iframe="true" /]
"Currents is unusual for me: after doing a number of solo electric guitar albums with 20 to 40-minute pieces that were fairly effect-heavy and semi-improvisational, it's my first and only solo acoustic guitar album and the pieces are comparatively straightforward—relatively short and composed, with only a little improvising involved," Licht writes via email. "Releasing it on VDSQ helped insure its identity as an acoustic record and not just another of my noisy electric guitar records."
Naturally, Lowenthal is thrilled with the results. "Currents is, in my opinion, an urban acoustic guitar record, there is no folk or blues, it's almost as if Steve Reich made an acoustic guitar album and doesn't sound like anything else in the solo guitar world."
In 2016, VDSQ isn't showing any signs of slowing down either. Recordings by Jim O'Rourke, Brit folker Michael Chapman and Asheville, N.C-via-Bhutan six-stringer Tashi Dorji are already in the pipeline. But Lowenthal is thinking even bigger—like Led Zeppelin big.
"Jimmy Page is my dream project. If anyone knows how to get in touch with him, please let him know that VDSQ is ready to work with him on an acoustic, instrumental project. We'll make sure it's among the best records he's ever made."
VDSQ presents the record release show celebrating Currents with Alan Licht, Zachary Cale, Mary Lattimore and Arian Shafiee Wednesday, January 6 at 8 p.m. at Union Pool in Brooklyn. Tickets available here, Facebook invite here.
[soundcloud url="https://api.soundcloud.com/tracks/138234904″ params="color=ff5500&auto_play=false&hide_related=false&show_comments=true&show_user=true&show_reposts=false" width="100%" height="166″ iframe="true" /]