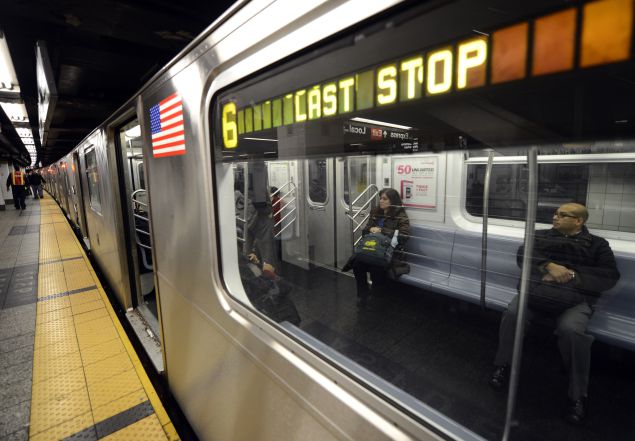 Gov. Andrew Cuomo continued his tour of facilities slated for a major upgrade under his "Build to Lead" agenda today, and dropped clues about how he hoped to finance what he has called "the biggest construction program in our state's history, period."
Appearing at the Metropolitan Transportation Authority's Transit Museum in Brooklyn, Mr. Cuomo continued to hype his vision of a New York with fully refurbished system of public works. His plans call for improvements at the MTA, an overhaul of Pennsylvania Station, a new LaGuardia Airport, a third track on the Long Island Rail Road, an expansion of the Jacob Javits Center, major upgrades to John F. Kennedy Airport as well as to air terminals in Long Island and the Hudson Valley—all on top of new roads and bridges across upstate "like we've never built before."
"The MTA is the heart of it, but we're doing this all across the state," Mr. Cuomo vowed. "It's now our obligation to build a New York for the next 100 years."
The governor had previously described Penn as the "nexus" of his infrastructure ambitions. But one detail glossed over in the recent slew of grand statements and PowerPoint presentations was how exactly Albany would come up with the funds it will have to commit to seeing the proposals become a reality.
Today, the governor indicated that he believed the state could come up with the funding through a combination of income from state taxes and from the issuance of new bonds.
"We have a, a roughly $140 billion budget. Part of it is debt, part of it is revenue," he said.
However, he refused to comment on proposals from Assembly Speaker Carl Heastie to raise state income taxes on high-earners—a suggestion the governor balked at in 2014 when Mayor Bill de Blasio proposed it to fund his prekindergarten initiative.
As it is, the MTA Capital Plan adopted last year—which will bring countdown clocks and Wi-Fi to subway stations and buses, among other things—calls for the issuing of $5.7 billion in bonds. Amtrak will cooperate with the state in contracting for the Penn Station redesign, and Mr. Cuomo has indicated at least some of the upgrades at the airports in Long Island will enjoy federal financing.
More details may emerge when the governor delivers his joint budget and State of the State address next week, a speech he has been teasing with the week's infrastructure announcements.