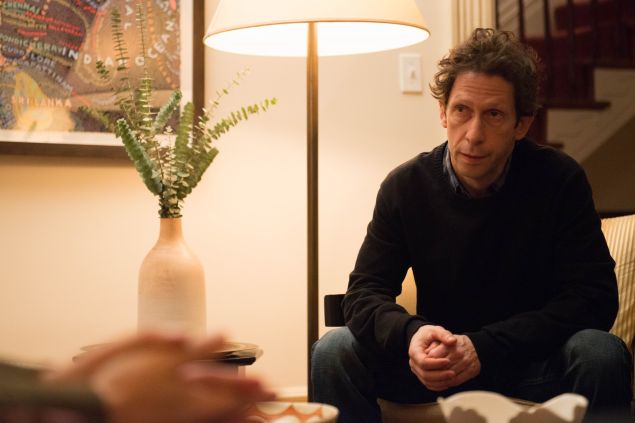 Worse than the summer parade of movies that can only be watched while eating junk food, we now enter a month of disposable box-office blunders that were not good enough to include in the important releases of the previous year and not bad enough to shelve completely. These are the flicks that lie around gathering dust, waiting to get the awards season out of the way. Critics call them "January movies" for a good reason. 2016 hits the ground running with time-wasting stuff nobody will ever see, such as

---

ANESTHESIA ★★
(2/4 stars)

Written and directed by: Tim Blake Nelson
Starring: Sam Waterston, Kristen Stewart and Corey Stoll
Running time: 90 min.

---
Anesthesia and The Benefactor. Proceed at your own risk.
Anesthesia (now there's a title that will lure the masses in droves) is a pile of incomprehensible existential gibberish by the vastly untalented actor-writer-director Tim Blake Nelson about the meaning of life in an age of technology, told in the tiresome style of multiple characters who intersect at odd angles in a follow-the-dots plot centered on a single tragic action. It's a copycat formula that was perfected in radically superior films like Alejandro Iñárritu's Babel and Altman's Short Cuts. But Mr. Nelson lacks their ability to connect the threads with satisfactory coherence, and the interconnected plots about disillusioned New Yorkers drowning in despair are only marginally interesting.
The schematic construct here involves a beloved Columbia philosophy professor named Walter Zarrow (Sam Waterston) who, on the day of his retirement after 34 years of teaching, is senselessly stabbed and left to die in a pool of blood on the doorstep of an apartment building on Manhattan's Upper West Side. In flashbacks, what slowly unravels is a tangled cross-stitch of lives affected by this violent crime, portrayed by a large, capable ensemble cast that struggles with roles so truncated and situations so contrived that they seem to be making it up as they go along.
The tertiary characters include the professor's wife (Glenn Close); their frustrated son (played by director Nelson), who is losing his kids to sex and drugs; his wife (Jessica Hecht), who is being treated for ovarian cancer; their two teenage children, who are too busy enraging the neighbors by smoking pot on the roof of their apartment building to show any real concern; a neglected wife with a drinking problem (a touching Gretchen Mol) who escapes her own miserable married life by moving her two kids to a New Jersey suburb; her unfaithful husband (Corey Stoll), who is shacking up with a woman upstairs in the apartment building where the professor is stabbed; an over-educated heroin addict (Michael K. Williams) with a history of theft and violence and no interest in getting well, because life is purposeless without chemical dependency; and the  professor's sour, suicidal student (Kristen Stewart), who tortures her body with a hot curling iron.
Cynical and depressing, Mr. Nelson means to question the meaning of life in a time when human values have been replaced by technology and "godlessness darkened by the false shade of imperviousness," as the professor Mr. Waterston plays terms it. I like the point that hyper-educated people can't even conduct a simple conversation anymore without the use of a cell phone. But with a pretentious screenplay that defies description, the professor—the only happy character in a movie overcrowded with miserable people so alienated they fail to connect because they're completely irrelevant—is forced to say things like the following exchange:
Professor, quoting from various academic tomes to justify reasons why his favorite student should embrace life: "Choose a life that relates directly to very few but quite directly to everyone."
Student: "What if you fool yourself?"
Professor: "That question is what it's all about."
Student: "Fooling ourselves?"
Professor: "At the heart of human interaction is the agreement that we're all going to fabricate. Which is to agree on certain precepts we call truths, but would be utter nonsense to anyone not in on the game. Consider language. We call an elephant an elephant, with the certainty that we'll go so far as to marginalize—even ostracize—those who will refuse. Society depends zealously on this, so we can structure it. In this case, communicate with one another—even as each of us has his or her own disposition toward elephants."
Student: "Ultimately, who really cares?"
My sentiments exactly about Anesthesia. You can't make up drivel like that. Even Sam Waterston's usual sincerity and intelligence can't save a scene that bad.