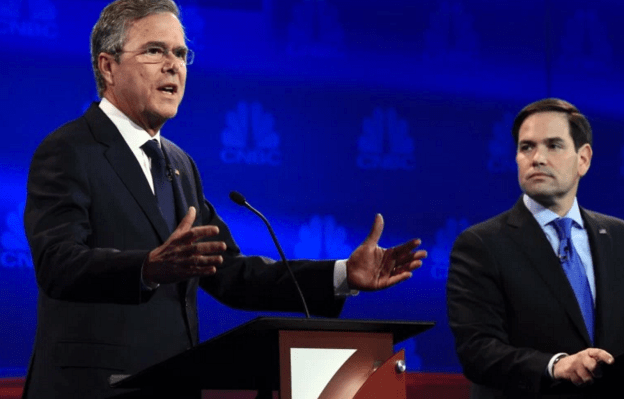 In 2016's bizarre, Trump-dominated presidential cycle, PAC money has flowed freely but failed to do any more than keep establishment candidates afloat as the reality star dominates. At the same time, state and local elections have seen more and more races where independent groups bring a sledgehammer to pound a nail, often putting favored unknowns over the top in competitive districts and low-profile races.
So which makes the difference — money, or attention pure and simple? The answer depends on who and where you are.
Former Florida Governor Jeb Bush, who has the backing of conservative super PAC Right to Rise, has failed to swim against the tide of support for Donald Trump and Senator Ted Cruz (R-TX), tying for third place in the New Hampshire polls  with Senator Marco Rubio (R-FL) and seeing PAC-sponsored attacks against Rubio miss their mark.
"Certainly Donald Trump, in terms of what the polls are saying, is ahead nationally in Iowa and New Hampshire, but there are others that are competitive. And I think that the activities of the independent groups, on their part, are helping to make them competitive," said the New Jersey Election Law Enforcement Commission's Jeff Brindle of the Bush campaign.
New Jersey, however, has seen profligate PAC spending propel newcomers to the state house in the eleventh, sixteenth and first legislative districts in the last year.
The only certainty at every level — municipal, county, state and federal — is that the amount of such spending will increase. But that says nothing of the way that money will behave, and the extent to which national candidates can hope to see the same remarkable outcomes that marked the 2015 New Jersey Assembly races. 
But Brindle said the bigger surprise was last year's Republican primary for the Morris County freeholder board, which saw conservative incumbents John Krickus and David Scapicchio fall to rival Republicans after labor unions and Democratic-leaning PACs contributed to the challengers. Incumbent Freeholder John Cesaro and newcomer Christine Myers won those seats.
"It was a surprise that a super PAC in Washington D.C., that was affiliated with the Democratic party, would be participating in a local Republican primary," said Brindle of that race.
PAC involvement in the Assembly election, Brindle said, was not a surprise. The General Majority PAC contributed $5.9 million, and the Republicans ultimately lost four seats in the state's most poorly attended election on record. Most of those funds came from the New Jersey Education Association, targeting Republican candidates based on their voting records as the public pension debacle threatens teachers' benefits.
Reached for comment, the unseated Krickus said he wasn't surprised either. In his own similarly low-turnout primary bid, however, he said it was a shock when fellow Republicans gave the appearance of courting left-leaning independent groups.
"We had no idea that this was coming, that this wave of money was coming," Krickus said, adding that he wouldn't rule out coordination between the candidates and the PACs, or between the independent union groups among themselves. "When you look at the amount of money that came in, $157,000 of union money coming into a Morris County Republican primary, that's very unusual. I tend to doubt that that was a coincidence."
Communication between candidates and PACs is strictly verboten once a campaign is underway, and independents themselves become subject to contribution limits if they are shown to be coordinating their efforts.
"A county freeholder race is less visible than say, a local or state race because there's less media these days," Krickus continued. "The vote totals are so low you don't have to move the needle much to flip an election. Which not only happened in our election but also in the fall election."
One PAC critic, Monmouth Democratic Party Chairman Vin Gopal, pointed to the irony of state Republicans bemoaning PAC spending when the new terrain for campaign finance since 2010's Citizen's United Supreme Court decision has primarily benefited the GOP nationally. With many insiders saying that Republicans will need a PAC of their own for a respectable showing in 2017's legislative and gubernatorial races, Gopal took the opportunity to twist the knife.
"I think the message have to be effective, whether it's at the state or local level," said Gopal of Bush's struggle to pull ahead and Democrats' surprising gains at home. "If the message of the ads isn't effective, they're not going to be effective whether it's a local ad or a federal ad.
"It shouldn't be legal, but both sides are doing it," he added. 
Senator Joe Pennacchio (R-26), whose leadership helped lure in those PAC dollars to the Morris race, was unflinching in his support for the independents' new role.
"Everybody says 'Oh my goodness we don't want Ford and GE and GM to run the country, but most of the corporations in the country are small businesses," he said, saying that the new rules don't go far enough. "We can't go to these people unless they personally write us a check to get their campaign contributions.
"We're not only fighting the Democrats, we're also fighting the media. And where do you get that kind of money to fight both?"
Krickus, for his part, said that he doesn't think the willingness of his opponents to accept those contributions speaks to any change in the party's convictions.
"I don't think the Republican party has changed, I think you have some people in the Republican Party whose those big campaign contributions and just can't resist," he said.