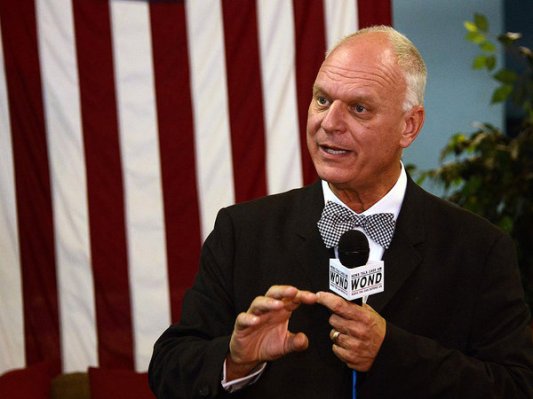 Atlantic City saw a major upset this week when Senate President Steve Sweeney (D-3) announced a new state takeover bill, one that would hand over control of city finances to the state for 15 years. The announcement came as bills to rescue the struggling gambling capitol went back to Governor Chris Christie's desk and the constitutional amendment to expand casino gaming into North Jersey passed the state Senate.
Republican mayor Don Guardian held a press conference Wednesday morning announcing bipartisan opposition to the proposed takeover. Guardian had previously called Sweeney's move to increase state control "Atlantic City's Pearl Harbor," comparing the multiple state agencies with a hand in local government to an "occupying force."
"Everything the state of New Jersey operates turns to crap," said Atlantic County Freeholder Ernest Coursey.
The takeover announcement comes as Atlantic City starts to grapple with the advance of a constitutional amendment to expand gaming to North Jersey, most likely in Jersey City and the Meadowlands. As of this Tuesday, Sweeney's version of the bill had passed in the Senate with a provision to offer one of the two new locations to an existing Atlantic City operator. An Assembly version of the bill was not posted during Monday's session due to an impasse with Sweeney over those entitlements, though Assembly Speaker Vince Prieto (D-32) did compromise on allowing Atlantic City operators to bid within a six month period with a requirement that their plans call for investing at least $1 billion in each location.
Sweeney's "Municipal Stabilization and Recovery Act" would hand the final say over emergency fiscal management to the state Department of Community Affairs' Local Finance Board, or to an official or government body of its choosing. 
Guardian said during his state of the city address that same day that the city cut $14 million from its budget last year, and plans to cut $2 million more for 2016. The only thing he and Sweeney seem to agree on is that a municipal bankruptcy is still a very real possibility.
Though Sweeney said Tuesday after the bill's unveiling that "extreme Atlantic City fatigue in the State House" all but forced his hand in moving against Guardian, the city's local contingent is citing what they call the state's poor record of fostering economic growth — the Casino Reinvestment Development Authority, the Atlantic City Alliance, the Department of Community Affairs, and the Casino Control Commission all have some measure of authority over the city's finances.
"There's no lack of state agencies in Atlantic City, and what has happened?" asked Senator Jim Whelan (D-2), pointing to the state's record of drawing revenue from the city while botching efforts to diversify the city's economy with convention centers and family-friendly non-gaming attractions.
Whelan is the sponsor of a suite of rescue bills, all of which Christie signed into law this week after a conditional veto. The veto called for funds from the lynchpin PILOT plan for Atlantic City casinos to be subject to greater state oversight. The payment in lieu of taxes deal would have the city's remaining casinos pay $120 million total over 15 years, removing the threat of tax appeals in a bid to stop the decline in the city's ratable base.
"They took control of the convention center," Whelan said. "There are less conventions this year booked than there were last year."
We gave them this extraordinary power over the convention center, over the tourism district, this, that and the other, and what have they done?"
Whelan echoed the argument coming from all sides of the Atlantic City delegation, saying that further state control would amount to removing voters' autonomy in deciding which elected officials make crucial decisions.
"This is an extraordinary step to go against the fundamental principles of democracy, and for what?" Whelan asked, circling back to Trenton's record on encouraging new investment. "There are probably 6,000 or more hotel rooms sitting empty right now."
The PILOT bill's co-sponsor, Assemblyman Vince Mazzeo (D-2), also argued for Atlantic City's right to govern itself.
"Removing the city's elected officials leaves residents without a voice in local government — and that's not something I believe in and something we as a state should condone," Mazzeo said.
Tom Forkin, chairman of the city Department of Alcoholic Beverage Control Chairman and former Assistant City Solicitor during Whelan's tenure as mayor, described the takeover as a bid to plunder the city's assets by selling off the Municipal Utilities Authority and Bader field, another vacant area tied to stalled redevelopment efforts.
"This is like the Grinch that stole Christmas," said Forkin. "This is 400-pound Chris Christie sneaking down the chimney and he's going to take everything to Whoville. It's unbelievable to me."
Forkin said that any benefit from state involvement in city planning has gone to those state agencies, not the residents.
"If they spend any money it's on the salaries of the people who work for the CRDA," Forkin said of the Casino Reinvestment Development Authority. "Just drive around town, tell me where the money was spent. That's laughable.
"We built the Camden aquarium, we built the baseball stadium there, we built the Trenton stadiums, a good portion of our money went to fund the Meadowlands projects and other projects all over the state for political pork," he said. "All of that money could have stayed here and made Atlantic City special."