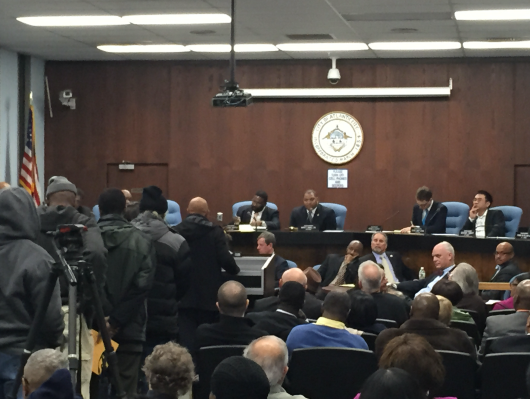 ATLANTIC CITY – Following Governor Christie's endorsement of a state takeover plan from Senate President Steve Sweeney (D-3) Tuesday afternoon, an Atlantic City City Council meeting saw residents and local officials struggle to keep the peace as residents demanded to know the content of a two-hour executive session where Sweeney met with Mayor Don Guardian and members of the city council.
The outcome of that meeting, City Council president Marty Small said, was to agree to further negotiations between the city and the state. The state Local Finance Board and Division of Local Government Services would assume control of the city's finances in what has been termed a 'partnership' rather than a 'takeover.' Bankruptcy remains on the table.
"The people in Atlantic City cannot be disrespected or disregarded, and more importantly disenfranchised on their vote," Small said in a press conference after the meeting.
The meeting, originally scheduled for four o'clock, began with a presentation on the dreaded chapter nine bankruptcy plan from attorney Richard Trenk an hour later. After Trenk's brief Powerpoint, council moved to enter executive session and reappeared two hours later with Guardian.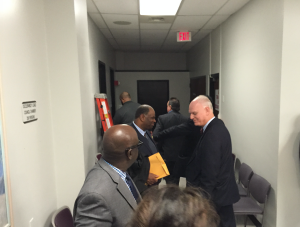 Emotions ran high during the public portion that followed, with one man taken out of the room by security guards after making a crack during Councilman George Tibbitt's remarks. After a first heckler interrupted him, Tibbit stalled and apologized, saying he had "let him get in my head."
"And that was easy to do," said the second. Small then called to have the man removed. The man officers took out of the room cursed and shouted as they escorted him out.
Resident Stephanie Miller said in her comments that the famous sign along Route 29 in Trenton('Trenton Makes The World Takes') should be changed to "Atlantic City makes what Trenton takes."
Former Assistant City Solicitor Tom Forkin pointed to the money that has flowed out of Atlantic City and into the state's hands for years from its $75 million in luxury and parking taxes. Sorkin drew applause after saying that the city's autonomy is a matter of civil rights.
"The state does nothing but take. Seniors are being taxed out of their homes, our children are getting their school programs cut," said Forkin. "This is a civil rights issue and there are violations that are occurring here."
"We have to file a complaint against the state for these civil rights violations," Forkin previously told PolitickerNJ, floating the possibility of a lawsuit. "There may be some need for injunctive relief to enjoin the state from taking over AC and redirecting that money to city coffers."
Addressing comments from the speakers calling for the council to say what its members had discussed with Sweeney and Guardian during the executive session, Councilman Aaron Randolph confirmed that Sweeney was present and said that the original takeover deal is "off the table."
"We're not going to sit behind closed doors and make a deal and not let you know first," he said. "We didn't agree to anything. We listened. We asked for a seat at the table."
Bankruptcy remains a possibility as the city approaches a financial cliff in April, when its combined bonded debt, lost casino revenue and absence of a concrete payment in lieu of taxes deal with remaining casinos will leave it with no cash of its own. Christie said Tuesday that a new deal on a PILOT plan will be part of the new suite of takeover bills.