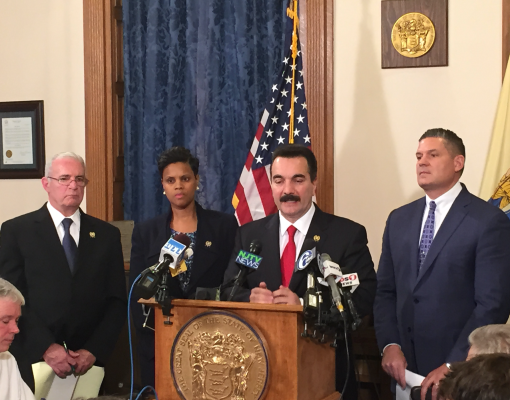 TRENTON — Immediately after Governor Chris Christie's state of the state address Tuesday afternoon, Assembly Speaker Vince Prieto (D-32) defended his caucus' plan to amend the state constitution and require quarterly payments into public workers' pension fund. Christie's speech had been unsparing in its offensive against the plan, saying that it favored the "cynical leadership of a narrow constituency" in catering to unions.
"Under this administration, over $17 billion have not been payed in, while the employees have paid over $9 billion into that fund during the same period of time," said Prieto of the changes Christie has already introduces to the pension fund. The amendment would require that the states' quarterly payments increase incrementally, a provision that Prieto defended as keeping up with an improving economic climate in the state.
"It's getting better in the state of New Jersey, that's why we're being optimistic," he said.
Assembly Majority Leader Lou Greenwald (D-6) said that Christie's showmanship during the address was more about crafting an anti-tax image for the Republican primary than about addressing the state's economic troubles in areas like the pension fund and the Transportation Trust Fund.
"This is the national audience, people that are not familiar with our crisis, they are not familiar with the problems that we face," Greenwald said. "He references from almost a decade ago almost 115 tax increases. He hasn't eliminated any of them. He's spent every penny of them."
Saying that Christie does deserve his share of the credit for pension reforms from his first term, Greenwald insisted that Christie's
"The failure is in not living up to the legislation that we all signed and passed. His failure to pay is as criminal as the governors that came before him. "
On the other major topic in Christie's address, the estate tax that could become a bargaining chip in negotiations for a higher gas tax with a view to funding the Trust Fund, Prieto was adamant that a trade-off would defeat the purpose of raising the tax in the first place.
"You would be creating a $400 million hole," he said of the idea that New Jersey should make deep cuts to its estate tax. "He's spending money for other things and taking away revenues. How do you pay for it?"
Notably absent from Christie's speech was any mention of the Trust Fund itself, which faces insolvency at the end of this year if no changes are made to its funding formula or if a gas tax increase fails.
"That should have been a big component of his speech," said Prieto, adding that during the negotiations between the Assembly, Senate and governor's office earlier this week, Christie stayed mum on all other issues apart from the North Jersey casino expansion effort.
"We didn't talk about anything else, because we have very limited time with the governor," he added.
Asked whether there is any hope of a deal on the Trust Fund while Christie is away on the campaign trail, Prieto kept it brief.
"Of course not," he said.