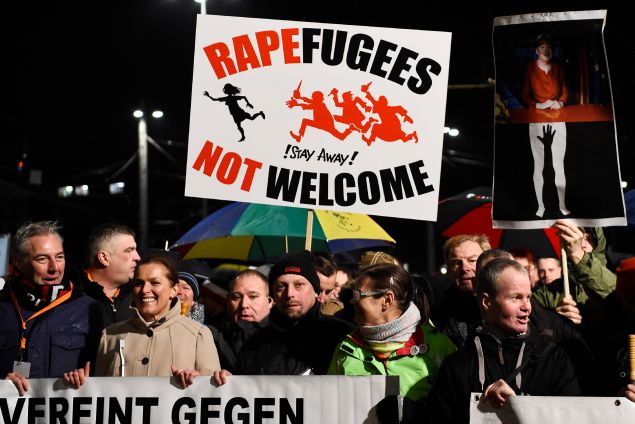 On New Year's Eve, approximately 76 young men in Germany went on a "wilding" rampage in Cologne, in the city's main square. More than 500 attacks were reported, mostly for sexual assault. Among the 32 suspects who have been identified, 22 were recent Arab asylum seekers, while another 44 remain unidentified. There were also two Germans and one American.
On Saturday, The New York Times published an Op-Ed by a German editor who essentially blamed the victims for the attacks. Anna Sauerbrey of Der Tagesspiegel suggested that Germany "wasn't doing an effective job integrating" the new immigrants into German society. Meanwhile, that same day, Chancellor Angela Merkel said she was ready to impose tougher restrictions on new immigrants, and invoke more flexible expulsion provisions for those who broke the law.
It is impossible to look at the destruction of whole cities in Syria, to see television reports of children starving, of watching boatload after boatload of desperate people clinging to tiny boats and not feel compassion; of not wanting to provide at least a partial solution; of at least trying.
Not all cultures, values and behaviors deserve equal acceptance.
Even when we see that most of the passengers in those inadequate, unseaworthy crafts are young men (of army age or potential ISIS recruits) we cannot fault their desire to flee a failed society. How many of us have heard stories from our grandparents of their—or their parents'—desperate efforts to reach safer shores? As Americans, as humans, we cannot turn our backs. Their stories could be ours—with one important caveat.
We used to refer to America as the great melting pot in which immigrants shed their old ways and became Americans by accepting and valuing the norms and behaviors of this country. And that was a good thing. But today, we are more likely to hear references to a mosaic of different cultures and traditions living side by side—a vast tapestry of multicultural harmony. At least that's the plan.
But that does not imply an acceptance of traditions or values that are antithetical to our own. Different? Yes. Novel? Of course. But antithetical, and in direct conflict with what we as a nation hold dear? No. Simply no.
In Scandinavia, the governments are confronting similar problems. Sweden has for the first time stopped the free flow of travelers from Denmark in an effort to stem the tide of refugee seekers. Meanwhile, the governments are gently educating their new guests with videos and colorful pamphlets that it is rude to rape, and that in a civilized society a woman who is unaccompanied or reveals an uncovered shoulder is not "asking for it."
Moral relativism is not acceptable. It may be fashionable. It is certainly meretricious. And all too often it proves pernicious. Germany was at the forefront of accepting refugees; and it appears it will remain there. But Germans are quickly realizing that not all cultures, values and behaviors deserve equal acceptance. As we move ahead with our own open arms, we should keep the German lesson in mind.