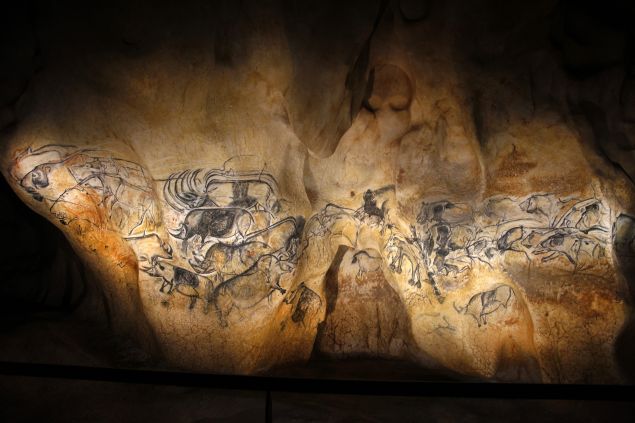 Drawings by prehistoric man found in the Chauvet-Pont d'Arc cave in France are famous for being some of the oldest depictions of humans and animals in the world. Now a series of mysterious, previously unidentified "spray shaped designs" among the cave art have been identified by scientists as likely the earliest known imagery of volcanic activity.
The drawings, found in Ardèche, likely depict volcanic activity that occurred 35 kilometers to the northwest of the cave, according to New Historian.
New findings come from carbon dating that was conducted by a team of researchers and geoscientist Sebastien Nomade. Their studies revealed that volcanic eruptions did happen in the nearby Bas-Vivarais region sometime between 19,000 and 43,000 years ago. The drawings found in Chauvet-Pont d'Arc are believed to be 34,000 to 37,000 years old.
The patterns of squiggly lines are "reminiscent of typical lava fountains associated with Strombolian eruptions," wrote the team in a study published in the the scientific journal Plos One. The team also found that "such symbols have no close equivalent within the considered time period (i.e Aurignacian), or even among the more than 340 known ornate caves in France and Spain," making them unique compared to other prehistoric art from the era. 
While the eruption of Italy's Mount Vesuvius in 79 AD is one of the earliest, and most famous, documented volcanic eruptions in history, a 9,000-year-old Çatalhöyük mural in Central Turkey and an Armenian group of petroglyphs in the Syunik upland are still thought to be among the oldest imagery of volcanos.
However, a cave in Indonesia, on the island of Sulawesi, still contains the world's oldest known artwork, which dates to over 40,000 years ago.