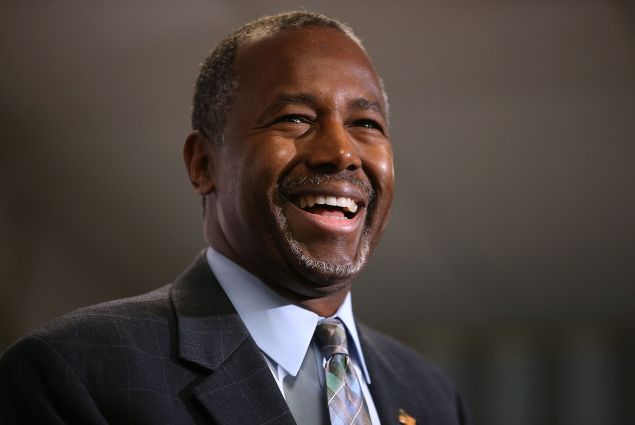 Ben Carson, the retired neurosurgeon and Republican presidential candidate, said he knows how to destroy the Islamic State: "starve" them out in Syria, where their leaders are sitting with "big cigars."
"We cannot let them sit comfortably in their command and control center in Raqqa with their big cigars figuring out what to do next," Mr. Carson said at a town hall meeting on Staten Island tonight. "We need to go in there, shut off all the entrances and exits to Raqqa, there are only four of them, starve them out, soften them."
"None of that is complex," he proclaimed.
Mr. Carson added that defeating ISIS was a matter of attacking in the early morning. "We need to have our special-ops people go in there at 2 a.m. and attack, you know, their places and go away and then come back and attack them until we drive them out of there and then when they run we chase them wherever we go, we eliminate them as we go."
The Republican, who spoke for about an hour, drew plenty of applause from the crowd of several hundred in the Hilton Garden Inn, a popular destination for local Republicans. Once a top contender in the race, at least according to national polls, Mr. Carson's star has since dimmed after a series of gaffes. His knowledge of foreign policy has been repeatedly called into question.
Mr. Carson was plenty defensive about these critiques, challenging his critics to a test on foreign policy "any day of the week." His biggest applause line of the night, in a nod to a controversial remark he made about a Muslim not being fit to be president, was that Shariah law, a body of Islamic law followed by more conservative Muslims, is not compatible with the Constitution.
"I grew up in Detroit which has a very large Muslim community and I know a lot of Muslims who in fact have accepted America as their country, have accepted Americans ways and are willing to abide by our Constitution," he said. "So they are welcome."
This isn't the first time Mr. Carson has come to New York as a presidential candidate. He visited Harlem on a campaign stop last year and spoke at Rev. Al Sharpton's annual National Action Network conference. New York, a Democrat-heavy state which does not play much of a role in the GOP primary, is not typically a place where candidates host town halls.
But Mr. Carson said he happened to be in New York and wanted to talk to people in Staten Island, the city's most conservative borough and the only one with a viable Republican establishment.
Staten Island, he said, is a place where people have "common sense."