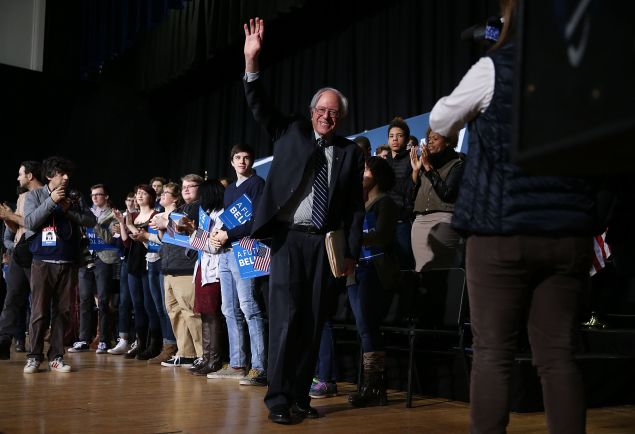 DES MOINES, IOWA—Several weeks after a Clinton ally threatened to attack him over his allegedly fragile health, Sen. Bernie Sanders of Vermont was pronounced in "very good health" today by his physician.
Mr. Sanders' physician, Dr. Brian P. Monahan, the attending physician of Congress, said the 74-year-old was most recently examined in November. He said that, over the years, Mr. Sanders has been treated for gout and the "superficial" removal of skin tumors, as well as an excision of a cyst from his vocal cord and surgery for hernias. His most recent colonoscopy was "normal" and he is up-to-date on recommended vaccinations.
The letter revealed Mr. Sanders is 72 inches tall and weighs 179 pounds. His blood pressure is 136/81 and he has a pulse of 72. He daily takes levothyroxine, a synthetic thyroid hormone, and intermittently indomethacin, a prescription pain medication.
"You are in overall very good health and active in your professional work, and recreational lifestyle without limitation," Dr. Monahan wrote.
If elected, Mr. Sanders would be the oldest president in American history, though his age has not kept him from running a vigorous campaign against Hillary Clinton in the Democratic primary. Ms. Clinton, who is 68, has made no issue of his age, though an ally running a Super PAC, David Brock, was reportedly planning on attacking Mr. Sanders along those lines. After negative reaction from the Clinton campaign and Democratic observers, Mr. Brock never went through with the attacks, and the two candidates have continued to spar on more substantive issues. Ms. Clinton released her medical records, showing she is "fit to serve as President," last July.
The release of Mr. Sanders' medical history comes just days before Iowans go to cast their votes on Monday. The race, according to most polls, is neck-and-neck.