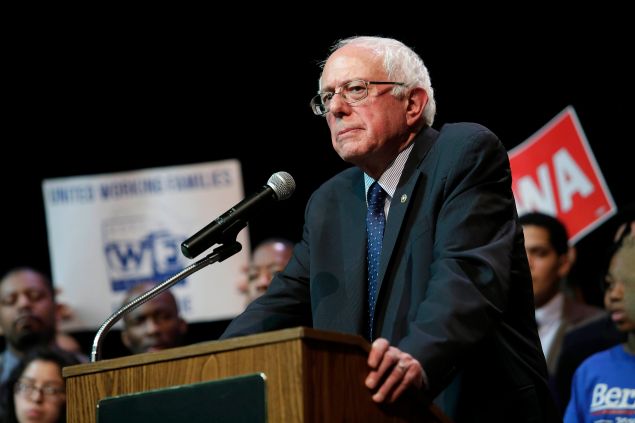 The Republican establishment—and many liberals—may fear the ascendancy of Donald Trump, but Sen. Bernie Sanders of Vermont said he'd be just fine with the Republican billionaire winning the GOP nomination.
"Between you and me, I would love to see Trump win the Republican nomination," Mr. Sanders, an independent running in the Democratic presidential primary, told a television reporter in Manhattan today. "Because we would beat him by 15 or 20 points in the general election."
Mr. Sanders, fresh off a fiery denunciation of Wall Street and the financial industry, walked several blocks from Town Hall in Midtown to Bryant Park, where he conducted the interview. Along the way, Mr. Sanders, a self-described democratic socialist, was surrounded by a pack of cameras and adoring fans, one of whom asked him to make Sen. Elizabeth Warren of Massachusetts, another liberal icon, his running mate. At one point, his entourage even crossed against a traffic light.
Ringed by onlookers in Bryant Park, just off 6th Avenue, Mr. Sanders reaffirmed his belief that he could beat the Democratic front-runner, Hillary Clinton. "I think we have a good chance," he said.
The Trump comment, while possibly true (Mr. Sanders polled ahead of the Republican front-runner in a hypothetical general election showdown) is also a bit of a departure for the senator, who generally laments horse-race coverage. Both men are New York natives who are tapping into deep wells of frustration—Mr. Trump on the right and Mr. Sanders on the left—though it is Mr. Trump, with his many notorious attacks against immigrants and Muslims, who is winning the war of headlines.
Mr. Sanders said today he saw some similarities between the people drawn to Mr. Trump and himself.
"Many people in this country are angry and they're angry for a good reason," he said. "They're angry because they're working longer hours for lower wages. They're angry because they can't afford health insurance. They're angry because they can't afford to send their kids to college."
"What Trump is trying to do is tap that anger and push it against Latinos, push it against Muslims, trying to divide this country up," he added. "What we are trying to do is bring people together."
Disclosure: Donald Trump is the father-in-law of Jared Kushner, the publisher of Observer Media.