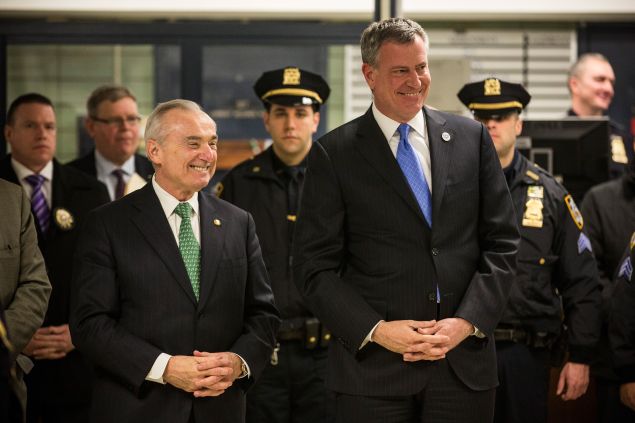 NYPD Commissioner Bill Bratton said today that his boss may be known as a liberal, but he falls right down the middle on law enforcement issues—just like Mr. Bratton himself, according to the top cop.
The commissioner made the surprising assessment of the mayor's stance at the Tina Brown Live Media's American Justice Summit, claiming he and the mayor "are joined at the hip" when it comes to policing. Mr. Bratton added that both of them had worked to reduce the number of "negative police interactions," particularly between the NYPD and minority communities.
"On law enforcement, we are very much centrists. He understands the importance of finding balance," he said. "Like a doctor treating a patient. If you give a patient too much chemo, cancer, you'll kill them. Similarly, if you give the patient—the community—too much enforcement, you're going to kill them. Literally."
Mr. Bratton—who rose to national prominence under Mayor Rudolph Giuliani for his "Broken Windows" strategy of cracking down on minor crimes—acknowledged that on non-policing matters, there was little agreement between him and the man who appointed him. But he insisted they were crafting moderate policies for the NYPD they both agreed on.
"He's a progressive, and much farther to left on many social issues than I might be," Mr. Bratton said. "He is a strong supporter of quality of life, 'Broken Windows,' but balance, with the idea that it needs to be done fairly, impartially and done in a transparent way. And that's the effort we're joined in."
The commissioner, who developed the data-driven Comp-Stat system for combating crime, claimed he had been a "transformational change agent" in every police department he had worked in. He ripped the controversial stop-and-frisk and Muslim surveillance practices of his predecessor and rival Raymond Kelly as "disastrous."
Mr. de Blasio criticized those policies while he served as public advocate, and campaigned against them while running for mayor. The city still uses stop-and-frisk, but considerably less than it did under Mr. Kelly—and as he did today, Mr. Bratton has often compared it to chemotherapy, saying making too many stops is harmful.
The commissioner today also endorsed the suite of legislation the Council is considering that would allow for an array of low-level criminal infractions—ranging from public urination to climbing a tree in a public park—to be charged as civil offenses instead of misdemeanors. This will allow violators to avoid a rap sheet and the danger of arrest, and instead have them pay financial penalties or do community service.
Mr. Bratton also said he hoped to create an official warning form that an officer may issue to a first time offender instead of a fine-bearing ticket.
"What we have to do in policing is find balance," he said. "By giving officer more discretion to offer a warning, a civil warning, rather than criminal summons or arrest, that's another effort to find balance."