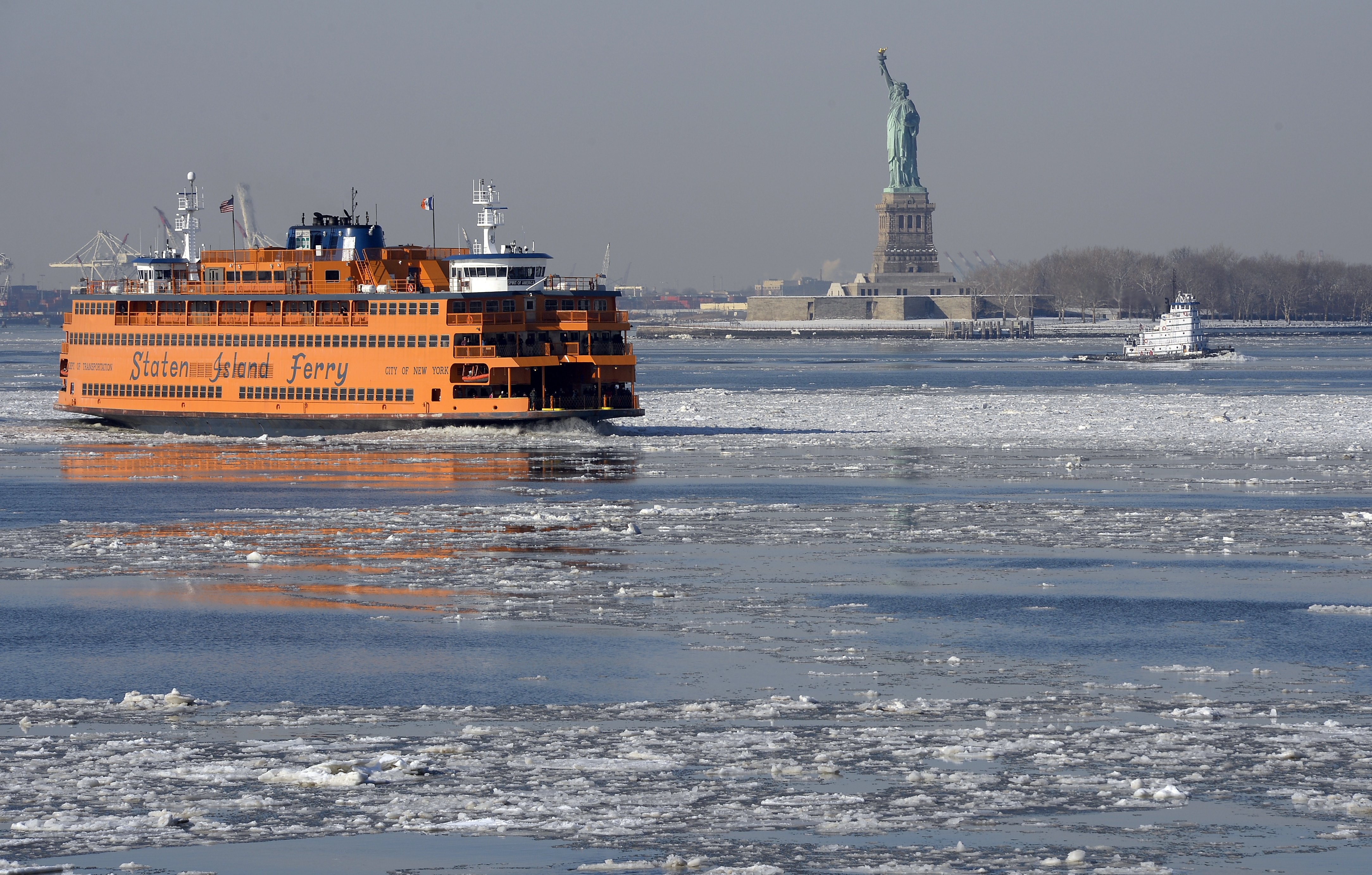 The next new ferryboat to glide across the harbor between Staten Island and lower Manhattan will bear the name Staff Sgt. Michael Ollis, a decorated combat veteran who was killed while shielding another soldier during a suicide bombing in Afghanistan in 2013, Mayor Bill de Blasio announced this afternoon.
"His name will be seen every single day in this city and in this borough," Mr. de Blasio said at the ferry terminal in St. George, Staten Island.
The boat bearing Ollis' name is set to hit the harbor in 2019, the first of three new ferryboats that will replace three older boats. His name will join the ranks of people who played pivotal roles in the history of the borough and the nation: one of the retiring vessels the boat named for him will replace is the Ferryboat John F. Kennedy, who Mr. de Blasio noted today was another war hero. Mr. de Blasio quoted Kennedy this afternoon: "A nation reveals itself not only by the men it produces but also by the men it honors, the men it remembers."
The name of the new boat was first reported by the Staten Island Advance.
Two of the existing ferryboats are named for politicians, former congressman and borough president Guy Molinari and State Sen. John Marchi, and at one point Sen. Charles Schumer had suggested naming a vessel after former borough president James Molinaro. But a grassroots effort grew around naming the boat for Ollis, and that endeavor got a boost from Borough President James Oddo, who had worked with the staff sergeant's parents, Bob and Linda Ollis, to make their dream a reality. (Mr. Molinaro and Mr. Schumer came aboard eventually, too.)
"You are loved by this community," Mr. Oddo told the soldier's parents. "You spend ten minutes with you guys and it's pretty clear why your son became the man he was. I hope you find a small measure of comfort in this. And Staten Island loves you."
Bob Ollis said he got the call about the naming being official yesterday, while he was standing in front of a bank and talking with three priests. "I'm not saying they helped, but, you know," he said, pointing upward.
The Ollis name has been bestowed in his memory before: the Polish soldier saved by Ollis named his son after the Staten Islander. 
"Since the death of our son we've been just showered with kindness and well wishes," Mr. Ollis said. "We thought going to Poland last year was exciting. Today, it's pretty damned exciting today."
Mr. de Blasio lauded the way the Ollis family had taken their pain and used it to try to build on their son's memory. Mr. Ollis said that pain was still there, but that his wife Linda helped him through: "There's a lot of times I miss Michael so bad that it hurts, and she holds me up."
Mr. Ollis said he thought his son would knock him in the back of the head and ask why they'd made such a big deal out of him. But Mr. Ollis said the gesture would keep his son's name alive, something that was particularly important to him as a veteran himself of the Vietnam War.
"I've lost so many people whose names just disappeared," he said.
The ferryboat named for Ollis will be the first in a new class of three boats—which, if the typical naming convention is followed, will be known as the Ollis Class. They will replace three boats that will be retired: the 50-year-old John F. Kennedy, the S.I. Newhouse and the Andrew J. Barberi.
It's likely there will be plenty of suggestions for what the next two boats should be called. Just one ferryboat, the Alice Austen, is named for a woman, and one petition is calling for a vessel to be named for Staten Islander and social justice crusader Dorothy Day, who co-founded the Catholic Worker movement.
Mr. de Blasio said picking the next two names will be "a very individualized process," but that City Hall would look at all different examples of people who contributed to the borough and listen to suggestions. But it may be unlikely that any choice will be as universally popular as the Ferryboat Staff Sgt. Michael Ollis.
"If there was an example anywhere of a consensus name," Mr. de Blasio said, "it was Michael Ollis."